Conn's and hhgregg Are No Best Buy, Folks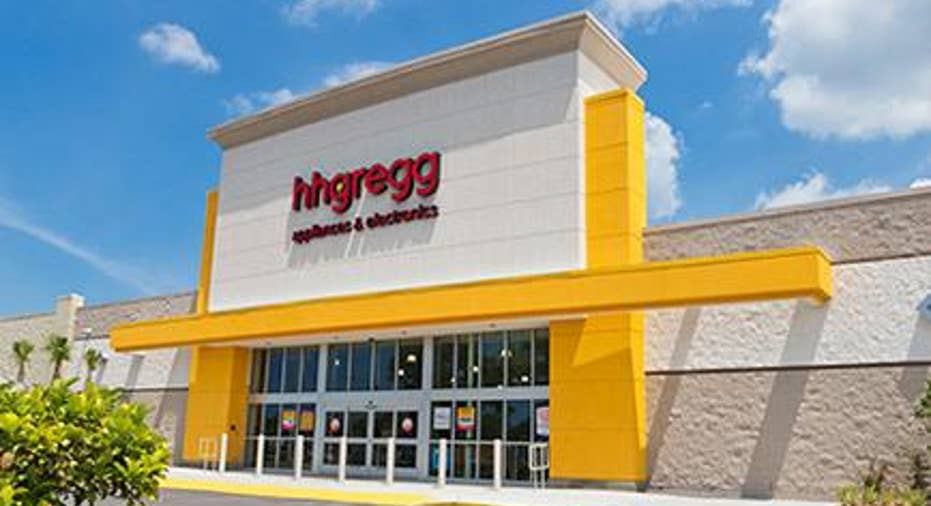 Image source: hhgregg.
It took all of a single week to zap out all of last year's stock gains atConn's , but that's probably what one would expect when your market cap receives a 31% haircut in the first week of trading in 2016. Then again, the volatile retailer of consumer electronics has set a a creepy precedent of trouncing the market on odd-numbered years and crashing on even-numbered ones.
2013: +157%
2014: -76%
2015: +26%
As bad as it may seem to see your stock lose nearly a third of its value in a handful of trading days, one of Conn's peers had it even worse. Shares of hhgregg plunged 42% last week. It was generally a rough week for the market, but these two chains were totally unplugged.
If you're expecting niche leader Best Buy to also be a part of the bloodbath, there's a wrinkle in your khaki pants. The stock slipped by a little less than 5%, actually slightly outperforming the general market's larger slide.
The carnage started on Wednesday morning when hhgregg announced weak preliminary results for the holiday quarter. Net sales and comps declined 11% since the prior year period, and that was with a recent push into furniture padding results. The biggest culprit was a sobering 35% decline in computer and tablet sales, but even appliances -- a category that was hopping for hhgregg through the housing market's recovery -- experienced a 10% decline.
Conn's slipped a bit in sympathy, but then it made matters worse the next day by announcing a problematic performance update for the month of December. Comparable-store sales were 5.6% lower than they were during the same month a year earlier. Like hhgregg, the only positive showing came from home products as furniture and mattresses came through with double-digit percentage gains.
Conn's numbers aren't as rough as what hhgregg had revealed a day earlier, but then we get to the problematic trend of folks financing purchases through Conn's without paying for them later. Conn's 60-day delinquency rate clocked in at 9.9%. That's a sequential improvement from the 10.2% it posted in October and the 10.1% it checked in with for November, but it's still higher than it was at the end of last year's holiday shopping season.
Best Buy didn't announce any performance metrics, but it hasn't been as prone to wild stock price swings as its smaller peers. This doesn't mean it's perfect. It's suffering from many of the same dynamics that are hurting the industry as smartphone-wielding customers kick the tires at a local store before finding cheaper prices online. Best Buy's stock is pocket change away from a fresh 52-week low. However, it held up last week because it's the relative darling. It's the one that has topped Wall Street's profit targets in each of the past four quarters, unlike hhgregg and Conn's, which have managed to surpass bottom-line expectations just once apiece.
It wouldn't be a surprise to see Conn's and hhgregg move higher this week after taking a dive last week, but it's going to take more than just strong furniture and bedding sales to make up all of the ground they lost. An odd performance in an even-numbered year for Conn's also wouldn't hurt.
The article Conn's and hhgregg Are No Best Buy, Folks originally appeared on Fool.com.
Rick Munarriz has no position in any stocks mentioned. The Motley Fool has no position in any of the stocks mentioned. Try any of our Foolish newsletter services free for 30 days. We Fools may not all hold the same opinions, but we all believe that considering a diverse range of insights makes us better investors. The Motley Fool has a disclosure policy.
Copyright 1995 - 2016 The Motley Fool, LLC. All rights reserved. The Motley Fool has a disclosure policy.