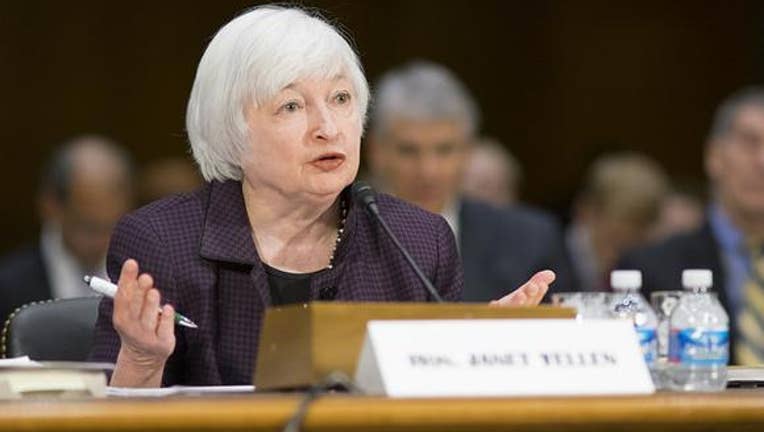 Federal Reserve Chair Janet Yellen will likely face two lines of questioning when she appears before Congress later this week. The first will try to pin Yellen down on when the Fed might be ready to raise interest rates again, and the second will be devoted to second-guessing the Fed's decision to raise rates in December.
Neither pursuit is likely to end in satisfaction for whichever member of Congress chooses to poses the questions.
With regard to the first, neither Yellen nor anyone else for that matter knows when economic conditions both in the U.S. and abroad will stabilize enough to justify another rate hike. As for the second, Yellen had the data and all her colleagues on her side in December when the Fed raised rates for the first time in nearly a decade, and that's what she'll tell her interrogators.
Yellen will appear before Congress on Wednesday and Thursday for her semi-annual report on monetary policy. On Wednesday she will testify before the House Financial Services Committee and on Thursday before a similar Senate committee.
Neither Yellen nor her predecessor Ben Bernanke has appeared at a Congressional hearing in the past five years or so without having to deflect questions on when the Fed will raise interest rates. Both Fed chairs showed themselves equally capable of such deflection while simultaneously justifying ongoing Fed policy.
Yellen will once again have to prove adept at both this week.
Analysts believe Yellen is unlikely to shock markets with her testimony.
"Yellen … will likely acknowledge the turmoil in markets since the start of the year and emphasize that the Fed is not on any preset course of tightening," said David Kelly, chief global strategist at J.P. Morgan Funds. "This should sustain current market expectations of no tightening in March.  At the same time, she is also likely to reiterate that the Fed's base case is one of continued slow but steady growth rather than recession both in the United States and around the world."
In past appearances before Congress, Yellen has faced a slew of committee members intent on getting her to provide some clue as to when the next significant policy shift is coming. For months it was the first interest rate hike. Now it will be the next rate hike.
The problem is that Yellen can only provide broad guidance as to what the Fed might do and when they might do it, and she must qualify that guidance by noting that everything can change if economic conditions change.
That's precisely what happened in December. After raising rates by 0.25%, not a whole lot but huge in terms of the symbolic move away from the Fed's longstanding stimulus policies, members of the policy-setting Federal Open Markets Committee said the U.S. economy seemed to be showing signs of sustained growth, especially in labor markets.
Things appeared so good, in fact, that the Fed forecasted as many four more interest rate hikes in 2016.
Then in early January reports emerged out of China that the world's second biggest economy was slowing, news that contributed significantly to the freefall in the price of oil already underway. The combination of these two danger signs sent U.S. stocks tumbling and the bull market of the past five years has slipped toward bull territory.
No one expected the Fed to raise rates at the central bank's January meeting and they didn't. Instead, policy makers said they are "closely monitoring global economic and financial developments and … assessing their implications for the labor market and inflation."
A March rate hike was once a distinct possibility, however, especially if the Fed hoped to keep its four rate hike in 2016 prediction. But now a March increase is increasingly unlikely.
Members of Congress will almost certainly ask Yellen if the Fed jumped the gun by raising rates too early in December and if Fed policy makers regret the move. In addition, the committee members will try to get Yellen to update that earlier prediction of four rate hikes in 2016, perhaps getting her to commit to a lower number.
And Yellen will do what she always does: attempt to maintain just the right balance of providing guidance that satisfies the committee members' questions without locking the Fed into a specific strategy.