Competition Is Hurting, but Also Helping, Dunkin' Brands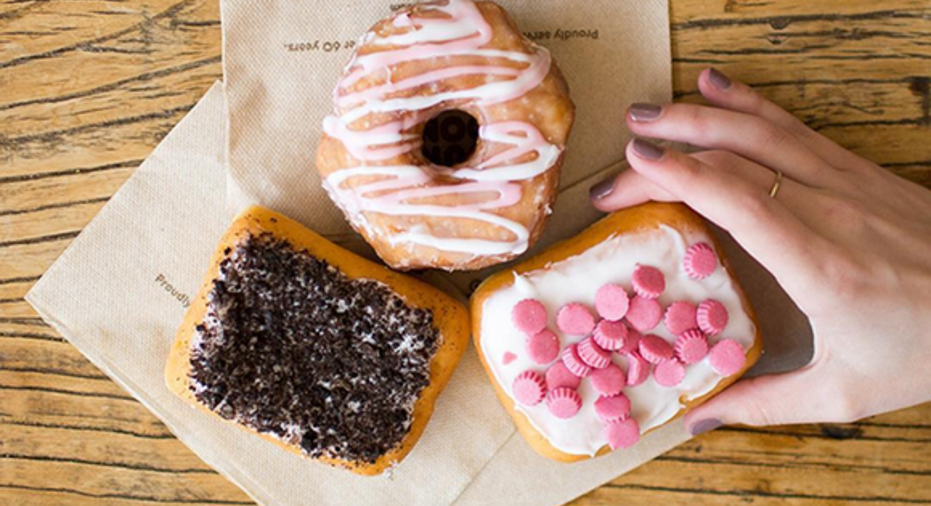 Image source: Dunkin' Donuts' Instagram page.
"However, many of our guests want something more. They have plenty of options from which to choose to get their morning coffee and afternoon pick-me-up. The competition is fierce and getting fiercer, and promotional activities steadily increased in 2015, not only from our traditional competitors, but also from convenience chains and the revitalized burger players."--Dunkin' Brands CEO Nigel Travis, Q4 2015 earnings conference call
When Dunkin' Brands reported fourth-quarter and full-year 2015 earnings back in February, CEO Nigel Travis was eager on the company's quarterly call with analysts to discuss Dunkin's most important relationship: that which it holds with franchisees.
As an organization nearly 100% franchised, Dunkin' must keep the confidence of franchisees and, more importantly, provide its store owners with opportunities for increased cash flow.
And those store owners may have some need of reassurance. An ever-formidableStarbucks Corporation and resurgent McDonald's Corporation are continuing to capture market share at the expense of smaller rivals such as Dunkin' Brands. In the fourth quarter, Dunkin' Donuts U.S. posted a disappointing comparable sales, or "comps," decline of 0.8%. While the quick-service restaurant industry isn't known for blazing growth, negative comps are troubling for investors and franchisees alike.
CEO Travis emphasized the company's need to "win the hearts and minds of franchisees" on the earnings call, and revealed a five-point plan recently presented to operators to improve traffic and sales. Management's action points are as follows:
Focus on coffee culture and innovation.
Drive menu innovation more quickly to market.
Implement targeted value offerings.
Further enhance Dunkin's' digital and loyalty platform.
Reinforce the basics of speed, order accuracy, friendliness, and order customization.
If many these steps sound the slightest bit familiar, it's because they directly respond to strides McDonald's and Starbucks have already made, or are currently making. For example, Dunkin' has been one of the most aggressive of quick-service operators in implementing a digital loyalty platform, as it quickly ascertained in recent years that Starbucks would reap a traffic boom from its Starbucks Rewards program, and so the company has matched features relentlessly within its own DD Perks rewards program.
It's not so much that Dunkin' is copying the practices of its peers, so much as it recognizes that McDonald's and Starbucks in particular represent best-in-class companies. If Dunkin's management is looking for instances of coffee culture and coffee innovation, illustrations abound between these two behemoths. McDonald's is currently experimenting with giving its customers the ability to design and order their own coffee drinks from touchscreen kiosks.Starbucks sells rare microlots from small coffee farms to move its customers up the premium-coffee ladder, to increase loyalty and boost margins.
This isn't to gloss over Dunkin's own adept innovation. And of course, Dunkin' Brands is no lightweight in the coffee category. As the company relays in its 2015 annual report:
"[Dunkin' Donuts] is the national QSR leader in servings in the hot regular/decaf/flavored coffee category and the iced regular/decaf/flavored coffee category, with sales of over 1.7 billion servings of total hot and iced coffee annually."
But management of the company knows that this isn't enough. To maintain its lead in coffee over McDonald's, and wrest some sales away from Starbucks, it will have to continue to create new premium coffee offerings at a brisk clip. It will also have to balance out premium drink introductions with the right value deals to drive traffic -- a practice McDonald's pioneered long ago.
How closely is Dunkin' mimicking its peers? As a final example, take the company's action point to reinforce the basics of speed, order accuracy, friendliness, and order customization. These are favorite talking points of Steve Easterbrook, CEO of McDonald's, when he speaks to investors and analysts -- literally. Just a few weeks before Dunkin's earnings release, Easterbrook discussed top-of-mind metrics in his own conference call:
"Our customer feedback systems are showing improvements in many important aspects of the customer visit, including food quality, order accuracy, speed, and friendliness."
In the final analysis, competition is hurting but also helping Dunkin', by forcing it to respond in real time to competitive threats, in perhaps a more urgent manner than it might have if the company's business model was more balanced between corporate-owned and franchised locations.
Recent decisions have probably compounded this urgency. As I've noted before, Dunkin' has chosen to leverage its balance sheet in the past few quarters. The company increased oustanding debt by 35% in 2015, primarily to fund a $625 million share repurchase.
This has left Dunkin' with a financial debt-to-EBIT (earnings before interest and taxes) ratio of 6.8. For comparison, McDonald's current financial debt to EBIT ratio is 2.0, and Starbucks' is just 0.55. To deleverage in the future, Dunkin' must use the few levers available to it. It can spur franchisee revenue and cash flow expansion by helping stores increase comps, thus improving its own royalty revenue, and it can continue its aggressive trend of new store openings.
That's why it's not a bad business strategy for the time being, for Dunkin' to play by virtually the same book it sees its larger peers operating from. The first item of business is to get those comps moving. If you're trying to win a marathon, it helps to try to simply catch up with the lead runners first. Once you've acclimated to the faster pace, you can then choose the opportune time to challenge, and move beyond them.
The article Competition Is Hurting, but Also Helping, Dunkin' Brands originally appeared on Fool.com.
Asit Sharma has no position in any stocks mentioned. The Motley Fool owns shares of and recommends Starbucks. Try any of our Foolish newsletter services free for 30 days. We Fools may not all hold the same opinions, but we all believe that considering a diverse range of insights makes us better investors. The Motley Fool has a disclosure policy.
Copyright 1995 - 2016 The Motley Fool, LLC. All rights reserved. The Motley Fool has a disclosure policy.