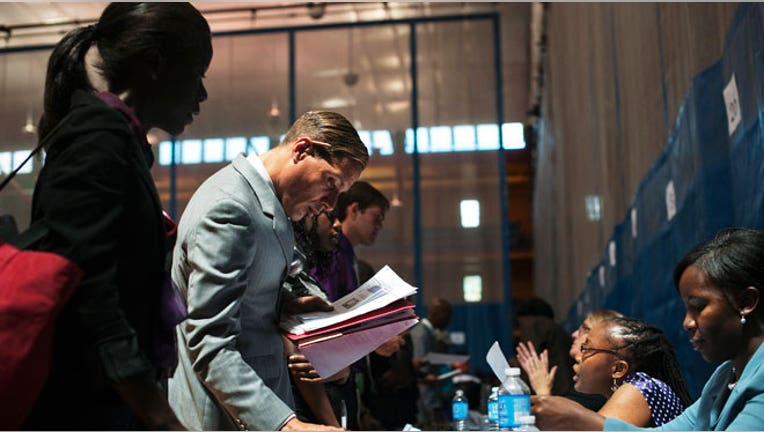 Faced with weakening revenue, two big companies warned on Tuesday that they would cut jobs as a way of protecting their profits.
DuPont Co said it planned to lay off about 1,500 workers - roughly 2% of its global headcount - as the chemical company grapples with weakening demand from the construction and renewable energy sectors.
United Technologies Corp did not specify the magnitude of the cuts it was considering but said it would raise its full-year restructuring budget by 20% to $600 million as demand for its military equipment declines.
Both companies reported weaker-than-expected sales for the third quarter, following an overall trend. Of the companies in the broad Standard & Poor's 500 index that had reported results for the quarter as of Monday, 62% came in below analysts' revenue forecasts - well above the 38% sales-miss rate in a typical earnings season, according to Thomson Reuters I/B/E/S.
"Obviously we're looking carefully at the macro environment," United Tech Chief Executive Louis Chenevert told Reuters. "In Europe, the economy continues to be very sluggish, and in North America, it's a slow recovery.
DuPont and United Tech are by no means the only big U.S. companies to begin cutting jobs. Most dramatically, chipmaker Advanced Micro Devices said last week that it would reduce its 12,000-person workforce by 15% as it copes with weak demand and a consumer shift towards tablet computers.
Engine maker Cummins Inc , the PayPal arm of eBay Inc and for-profit college operator Apollo Group Inc announced smaller rounds of cuts earlier this month.
While the U.S. unemployment rate ticked down to a four-year low of 7.8% in September, it remains one of the main roadblocks to a stronger U.S. recovery from the 2007-2009 recession. More job cuts will do nothing to improve that number, although it is important to note that the layoffs announced on Tuesday are far smaller than the thousands of pink slips that U.S. companies sent out during the recession.
PROFIT VIEWS
United Tech held its full-year profit forecast steady, but DuPont and 3M Co cut their targets for the year due to the weakening global economy.
3M in February named Inge Thulin chief executive, and his initial focus has been on controlling costs.
"Management's additional focus on 'the bottom line' has clearly helped them meet headline earnings expectations," Bernstein Research analysts Steven Winoker said of 3M. "But weakening demand across end markets should continue to be of concern."
All three companies' shares fell, dragging the broad markets lower. DuPont was down 7.7% at $45.94, 3M declined 2.8% to $89.96, and United Tech dipped 0.4% at $77.51 in morning New York Stock Exchange trading.
HAPPY HOLIDAYS?
United Parcel Service Inc , the world's largest package-delivery company, reported lower third-quarter sales as customers increasingly chose slower and cheaper ways of shipping merchandise.
Chief Financial Officer Kurt Kuehn warned that it was unclear how robust results would be in the year-end holiday shipping season, when UPS planes and trucks haul gifts.
"There is some uncertainty around the magnitude of the holiday shopping season," Kuehn said.
Shares of UPS, whose earnings met analysts' estimates, were up 2.6% at $73.43.
Companies that sold to consumers, rather than corporate buyers, sounded a somewhat brighter note on Tuesday.
Appliance maker Whirlpool Corp reported better-than-expected third-quarter earnings and raised its profit forecast for the rest of the year as it succeeded in a campaign to push through price increases.
Higher prices boosted the company's profit margins but weighed on sales, which fell 2.8% in the quarter.
Likewise, Coach Inc beat Wall Street's earnings expectations as consumers proved ready to buy the company's handbags, wallets and other luxury leather goods that shoppers saw as more affordable alternatives to those made by rivals such as France's LVMH Moet Hennessy Louis Vuitton SA or Italy's Prada SpA.
That price strategy also helped the company to expand sales in China, said Chief Executive Officer Lew Frankfort.
"Our price points are extremely compelling relative to the European luxury brands," he said in an interview.
Investors welcomed those reports, with Coach up 6.9% at $57.87 and Whirlpool up 4.3% at $89.99.
(Editing by Patricia Kranz and Lisa Von Ahn)