Commodities Rout Sparks Selloff on Wall Street, Snaps 3-Day Rally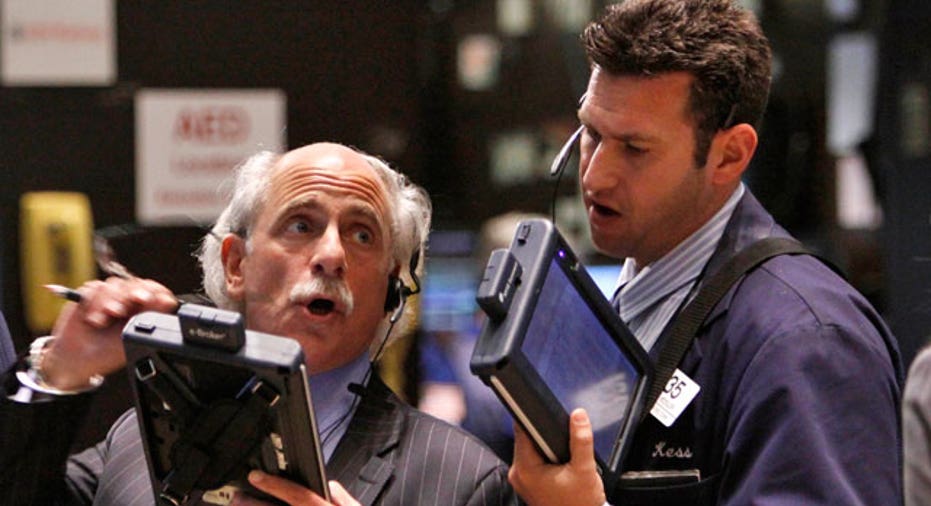 FOX Business: The Power to Prosper
Intense selling across the board in commodities markets, coupled with reemerging worries that European authorities won't be able to act in unison to stave off a Greek default, ignited a late-session selloff that snapped a three-day winning streak for Wall Street.
Today's Markets
The Dow Jones Industrial Average fell 180 points, or 1.6%, to 11,011, the S&P 500 dipped 24.3 points, or 2.1%, to 1,151 and the Nasdaq Composite dropped 55.3 points, or 2.2%, to 2,492.
Materials and energy shares took some of the steepest declines. Aluminum-giant Alcoa (NYSE:AA) shed more than 4%, while oil-field servicing firm Halliburton (NYSE:HAL) was close to 6% to the downside.  Every blue chip ended in the red on the day, a stark contrast from the big gains seen earlier in the session.
The commodities complex was under intense selling pressure. Gold dropped $34.40, or 2.1%, to $1,618 a troy ounce.  Industrial metals suffered worse, with copper shedding 5.6%.
Energy markets tumbled, too, after a mixed weekly inventory report from the Energy Department pointed to weakening energy demand the dollar picked up strength in late trading.  Oil inventories were up 1.9 million barrels, a much bigger build than the 800,000 analysts anticipated.  Gasoline stocks, meanwhile, rose 791,000 barrels, short of the million barrel build forecast.
Light, sweet crude plunged $3.24, or 3.8%, to $81.21 a barrel.  Wholesale RBOB gasoline slumped 4 cents, or 1.7%, to $2.65 a gallon.
The markets had been on a strong wining streak since last Friday, with the Dow tacking on more than 400 points.  Indeed, the blue chips would have to shed more than 270 points to erase the rally.
The European sovereign debt crisis has captivated the markets over the past two weeks as small developments on that front have often caused wild swings in stock prices both domestically and abroad.  The worry among analysts has been that if Greece, which has nearly half a trillion dollars in public debt, were to default, it could ignite a cascading financial event not unlike the Lehman Brother bankruptcy, potentially harming an already weak global financial system.
This week, the European Union and International Monetary Fund have cautiously signaled that they are taking steps to make sure the Mediterranean country gets a round of rescue aid due in October before it runs out of cash to service its debt.
The EU said Wednesday it plans on sending inspectors to Athens next week to continue negotiations on the bailout. While that development was initially seen as a positive, German Chancellor Angela Merkel's comments later in the day, suggesting the terms of the bailout may need to be re-negotiated depending on what the inspectors find, spooked market participants.
Finland also approved changes to the European Financial Stability Fund that would allow for more robust rescue packages.  The changes need to be approved by every one of the 17 countries in the euro currency bloc, and Germany, Europe's economic powerhouse, votes Thursday.
Also concerning to market participants was the finalization by the Basel Committee, a global regulatory body, of a proposal to increase capital requirements on so-called systemically-important banks, such as Goldman Sachs (NYSE:GS) and JPMorgan Chase (NYSE:JPM).
The global economy has also been a major concern among market participants.
Traders shrugged off a slightly disappointing durable goods orders report, which showed orders falling 0.1% in August from July, compared with estimates for no change, and a 4.1% jump in July. Excluding the transportation component, orders were down 0.1%, also worse than calls for no change. The auto parts segment took an 8.5% drop, the worst since February 2010.
Orders for long-lasting goods are seen as an important barometer of performance across many business sectors, from technology companies like IBM (NYSE:IBM) to conglomerates like General Electric (NYSE:GE). These data also factor into broader measures of economic expansion.
Federal Reserve Chairman Ben Bernanke is also expected to make a speech in Cleveland after the closing bell. While the Fed chief isn't forecast to give any direction on monetary policy, economists will be looking for clues as to what the central bank's next move may be.
In currencies, the euro fell 0.34% on the U.S. dollar, while the greenback rose 0.31% against a basket of world currencies.
Treasury yields have staged a strong comeback after sinking last week as traders raced out of equity and commodities markets.  The benchmark 10-year Treasury note is yielding 1.98% from 1.971%.
Corporate News
Amazon.com (NASDAQ:AMZN) also saw its shares soar after it unveiled a new tablet designed to tap into the quickly-growing marketplace and a much lower price than the super-popular Apple (NASDAQ:AAPL) iPad, and updates to its e-reader.
Foreign Markets 
The euro zone blue chip Euro Stoxx 50 dipped 0.24% to 2,189, the English FTSE 100 fell 0.58% to 5,263 and the German DAX rose 0.04% to 5,630.
In Asia, the Japanese Nikkei 225 rose 0.07% to 8,616 and the Chinese Hang Seng fell 0.66% to 18,011.