Colombian President Juan Manuel Santos Wins Nobel Peace Prize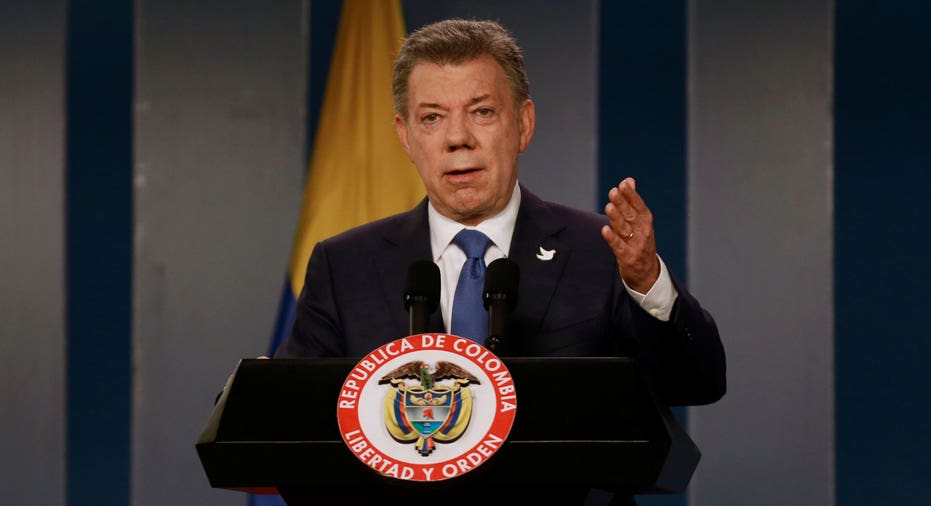 Colombian President Juan Manuel Santos won the 2016 Nobel Peace Prize on Friday (October 7) in a surprise after Colombians voted "No" to an agreement he signed with Marxist rebels to end 52 years of war.
Santos has promised to revive a peace plan even though Colombians, in a referendum on Sunday, narrowly rejected the accord. Many voters reckoned it was too lenient on the FARC guerrillas.
The Nobel Peace Prize, worth 8 million Swedish crowns ($930,000), will be presented in Oslo on Dec. 10.
Santos, 64, began peace talks with the FARC in 2012, carried out in Havana.
Four years later, the two parties reached an accord on five phases of talks to end a conflict that has killed more than 220,000 people since it began in 1964.
Both sides have agreed to the creation of special tribunals to try former combatants and have embraced an amnesty that would exclude those who committed war crimes or crimes against humanity, and provide reparations for victims.
Previously, the government and the rebels reached a partial agreement on co-operating to end the illegal drug trade, in addition to other agreements on land reform and the legal political participation for rebels once they disarm.
Santos' push for peace has isolated former allies including ex-president Alvaro Uribe, who has lambasted the Colombian leader for selling out citizens during the FARC talks.
A former defence minister of Uribe's right-wing administration, Santos had overseen the conservative government's military campaign that largely drove the FARC into remote regions and saw the dramatic rescue of French-Colombian hostage Ingrid Betancourt.
Santos' military feats saw Uribe personally recommend his minister to the 2010 presidency.
Upon taking the country's leadership, Santos kept up his army-led and U.S.-backed attacks on the FARC which included the killing of the FARC's top leader Alfonso Cano and military commander Mono Jojoy.
Santos saw his approval ratings drop considerably, however, with many Colombians believing that the security gains during Uribe's presidency were being reversed.
Halfway through his first four-year term, the president staked his reputation and political future on the new round of peace talks.
His hardline stance against the leftist rebels also sparked tensions with neighbouring Venezuela after allegations from Bogota that Hugo Chavez had harboured Colombian guerrillas.
Chavez, however, had played a key role in pushing the talks between Colombia and the rebels.
Recovering from prostate cancer surgery in 2012, Santos was re-elected in 2014 on promises that peace would bolster economic growth, and that he would continue to reduce unemployment and poverty.
Santos continued peace talks in Havana with his six-man negotiating team, led by former Vice President Humberto de la Calle and including former police chief, an industrialist, a former military head, the president's chief security adviser and a former environment minister.
In September 2015, he and FARC leader Timoleon Jimenez announced that the leftist guerrillas would lay down arms within 60 days of signing the accord, marking an official deadline of March 23, 2016, which eventually passed without a deal.
A bilateral ceasefire and end to hostilities were signed in June 2016, with the complete peace accord published in August.
Santos and Timochenko signed the accord on September 26, 2016.