Cohen's Point72 Bets Big Ahead of Ophthotech Corp. Trial Results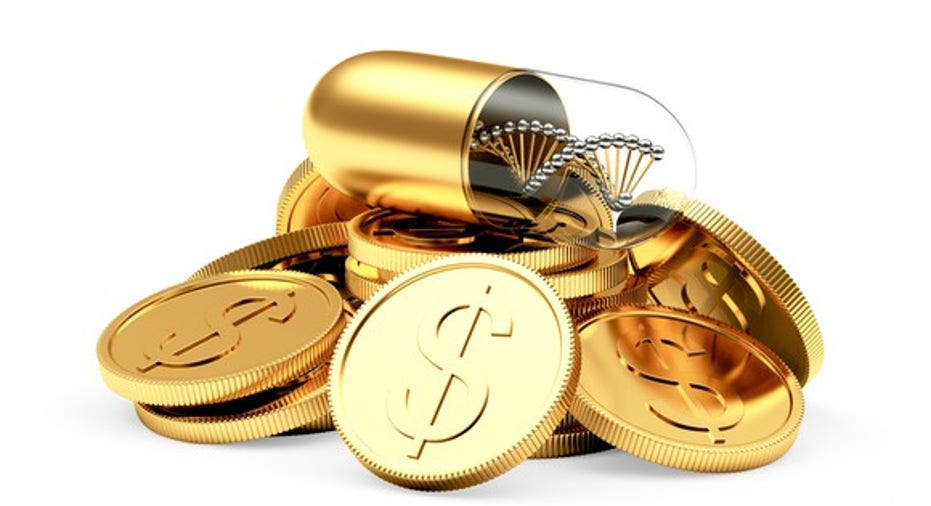 Ophthotech Corp. (NASDAQ: OPHT) is poised to report registration-ready late-stage trial results for its vision-restoring drug Fovista, and it appears at least one iconic hedge-fund manager thinks that those results will be good.
On Thursday, Point72 Asset Management, the family office run by legendary hedge-fund pioneer Steven Cohen, who is best known for founding S.A.C. Capital, reported that its acquired 1.8 million shares in the company equal a 5% ownership stake.
Does Point72's interest in Ophthotech make it a stock worth buying?
IMAGE SOURCE: GETTY IMAGES.
What's at stake
Ophthotech is developing Fovista for the treatment of wet age-related macular degeneration (AMD). Specifically, Fovista is being evaluated for use in combination with Novartis' (NYSE: NVS) Lucentis and Regeneron Pharmaceuticals'(NASDAQ: REGN) Eylea, two multibillion-dollar blockbuster therapies commonly used in the indication.
The market for wet AMD is undeniably large, and it's getting bigger: The condition typically affects seniors, and baby-boomers are turning 65 at a rate of 10,000 per day.
Commonly, patients who are diagnosed with wet AMD are given Avastin off-label, or Lucentis, or Eylea to improve their vision. Ophthotech's management thinks that dosing Fovista along with those drugs may improve upon their efficacy, and so far, the evidence suggests that they're right.In mid-stage studies, dosing Fovista in combination with Lucentis resulted in a 10.6-letter improvement in vision on a standard eye chart. For comparison, Lucentis monotherapy improved vision by just 6.5 letters.
Those results prompted Novartis to give Ophthotech $200 million up front, with promises of up to another $800 million in milestone payments plus 30% royalties on sales, to license the ex-U.S. rights to Fovista.
Soon we'll discover if that was a bargain. Ophthotech's C-suite has said that they'll release phase 3 results for the Lucentis plus Fovista combination regimen before the end of 2016.
If the data is good enough to support a FDA filing and eventual approval, then Ophthotech could find itself in for a big payday. In addition to potential milestone payments, the company's holding onto Fovista's U.S. rights could set it up to profit handsomely. In the third quarter, Lucentis' U.S. sales were $1.1 billion and Eylea's net U.S. sales were $854 million.
The size of Ophthotech's opportunity doesn't seem to be lost on Cohen's Point72.
According to his 13F filing with the SEC, Point72 established a new 786,000-share position in Ophthotech during the third quarter. And according to his 13G filing with the SEC on Dec. 8, that position has jumped to nearly 1.8 million shares worth roughly $64.4 million at yesterday's close.
Fool-worthy thinking
The potential to market a new drug for this multibillion-dollar indication makes this stock incredibly intriguing, but investors need to remember that there's no guarantee that Fovista's trial results will be good, or that the FDA will ultimately approve this drug.
Further, investors should bear in mind that while Point72 owns a lot of shares in Ophthotech, its stake is relatively small in proportion to its total $13 billion equity portfolio.
Overall, because this stock could soar on good news, or plummet on bad news, buying it is a high-risk binary bet. Point72 is highly diversified, so it can afford to take that gamble, but most individual investors probably shouldn't.
Risk-tolerant investors who can withstand losses from a failure, however, might want to consider owning a little of it. I've owned Ophthotech shares for a long time, so I'm not adding any more to my position -- but an argument can be made that, if this trial is a success, the company is worth more than its current $1.4 billion market cap.
10 stocks we like better than Ophthotech When investing geniuses David and Tom Gardner have a stock tip, it can pay to listen. After all, the newsletter they have run for over a decade, Motley Fool Stock Advisor, has tripled the market.*
David and Tom just revealed what they believe are the 10 best stocks for investors to buy right now... and Ophthotech wasn't one of them! That's right -- they think these 10 stocks are even better buys.
Click here to learn about these picks!
*Stock Advisor returns as of Nov. 7, 2016
Todd Campbell owns shares of Ophthotech.Todd owns E.B. Capital Markets, LLC. E.B. Capital's clients may have positions in the companies mentioned.Like this article? Follow him onTwitter where he goes by the handle@ebcapitalto see more articles like this.
The Motley Fool has no position in any of the stocks mentioned. Try any of our Foolish newsletter services free for 30 days. We Fools may not all hold the same opinions, but we all believe that considering a diverse range of insights makes us better investors. The Motley Fool has a disclosure policy.