Clorox Co. Has One of the Best Dividends Around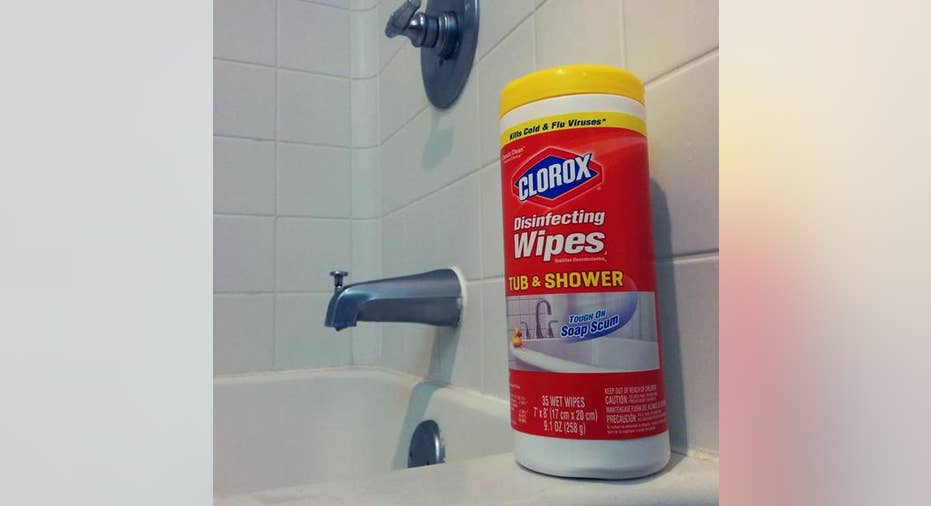 I've recently been taking a closer look at consumer-goods companies with powerful brands and strong dividend histories as I look to add some more yield to my portfolio. Clorox stood out to me because of its size (much smaller than the likes ofColgate-PalmoliveandKimberly-Clark), strong stable of brands (extending well beyond Clorox bleach), and smooth historical financial results. This is a dividend payer I want in my portfolio.
IMAGE SOURCE: CLOROX.
Size is no objectClorox has a market cap around $17 billion. Generally speaking, it's easier for smaller companies to double or triple in size than it is for a $100 billion behemoth. A new product line that generates $1 billion in annual sales would have a more sizable impact on Clorox than on Colgate-Palmolive, with around a $64 billion market cap. Even though Clorox is relatively small, it has a portfolio of brands that would lead many, including this Fool, to think it's a much larger company.
Great stable of brandsClorox cleaning products, Brita water filters, Kingsford charcoal, Pine-Sol, and Hidden Valley dressings are just a few of the brands in Clorox's stable. Strong brands, especially when it comes to household necessities such as cleaning supplies, lend durability to businesses. Consumers buy Pine-Sol and bleach in good times and bad, and this leads to predictable (and growing) revenues. In fact, 80% of Clorox's sales come from brands with a No. 1 or No. 2 share position.
IMAGE SOURCE: CLOROX.
Brands bring in cashOver the past decade, Clorox has grown annual revenue from $4.6 billion to $5.7 billion. There were some small ups and downs along the way, but the overall trend is positive. There was no newly approved drug or piece of technology developed over this period, just selling more bleach and charcoal for slightly higher prices over time. Net income improved 55%, but EPS improved 79% as a result of excess cash being used to bring down the number of outstanding shares. Shareholders who hung on to their shares benefited from growing net income, a bigger piece of that income pie, and dividends.
Clorox sports around a 2.5% yield, which undersells just how good of a dividend investment it's been. A thousand shares purchased a decade ago would have dropped $1,140 into your brokerage account during 2006. Without reinvesting dividends, that amount rose to $2,960 in 2015. Clorox's ability to grow its payout puts real money in shareholders' pockets. Its payout ratio is around 60%, which leaves plenty of room to grow the dividend in the future, even if growth slows.
Plenty of ways to win10 years from now I expect Clorox to be selling more of its products, for higher prices, to a broader swath of consumers around the world. International currently contributes only about one-fifth of total sales. Excess cash will be funneled into share repurchases, which will further boost EPS, and toward growing the dividend payout. It's not the most glamorous investment, but it can sure be a lucrative one.
Because of Clorox's relatively small size and valuable cache of brands there is always the possibility of a merger or acquisition. I would not base an investment on this, and over time might even prefer Clorox to remain independent, but the possibility of Clorox being bought is greater than that of a company three, five, or 10 times its size.
There are few things more exciting in the investing world than watching shares of a company explode upwards by hundreds of percentage points in a short period of time. But stocks that do that bring more risk, whereas many fortunes have been steadily built on toothpaste, cola, and bleach. Sometimes the best thing to do is buy shares of a company like Clorox, decide whether to reinvest dividends, and hold tight for a decade (or more). I'm fairly certain that you'll be pleased with what you see.
The article Clorox Co. Has One of the Best Dividends Around originally appeared on Fool.com.
James Sullivan owns shares of Colgate-Palmolive. The Motley Fool has no position in any of the stocks mentioned. Try any of our Foolish newsletter services free for 30 days. We Fools may not all hold the same opinions, but we all believe that considering a diverse range of insights makes us better investors. The Motley Fool has a disclosure policy.
Copyright 1995 - 2016 The Motley Fool, LLC. All rights reserved. The Motley Fool has a disclosure policy.