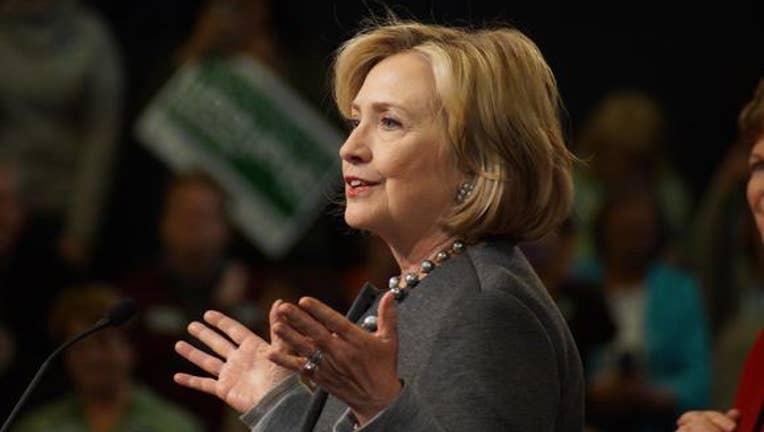 With the Democratic primary behind her, Hillary Clinton said she now plans to put Republican Donald Trump's business record and economic agenda at the center of her campaign, calling his ideas "deeply misguided" and "dangerously incoherent."
In an interview Wednesday, Mrs. Clinton said she would deliver an economic speech soon contrasting Mr. Trump's record and policies with her own. It will be modeled after a foreign-policy speech she gave last week where she used sometimes identical language to offer a biting critique of the presumptive Republican nominee, charging he was unfit to serve as commander-in-chief.
"While he may have some catchy sound bites, his statements on the economy are dangerously incoherent," she said in the interview. "They are deeply misguided, and they reflect an individual who is temperamentally unfit to manage the American economy."
Mr. Trump is hardly shrinking from the fight. He promised Tuesday night to deliver a "major speech" as early as Monday laying out the case for how Mrs. Clinton and her husband, former President Bill Clinton, have perfected what he called the "politics of personal enrichment."
With the general election in effect now under way, the exchanges left no doubt that the next five months will be particularly bitter and divisive as both candidates strive to patch up divisions within their own parties while asserting the other shouldn't be president.
For her own part, Mrs. Clinton promised in the interview to put forth a middle-class tax-cut plan, which she said would be a critical part of the case she makes to voters. She wouldn't say whether she supports bipartisan efforts to overhaul the corporate tax code by lowering rates and eliminating some tax breaks, but she promised more details in the weeks ahead.
The interview came a day after the former first lady, senator and secretary of state made history as the first woman to claim the nomination of a major political party. She plans to travel to Ohio and Pennsylvania next week, two states where some analysts have predicted that Mr. Trump's brand of economic populism will resonate, particularly with white, working-class men.
Mrs. Clinton said she was also working to unify Democrats. She spoke to rival Bernie Sanders, a Vermont senator, on Tuesday evening and said she would continue making the case to his supporters that there is more that unites than divides them.
While Mr. Sanders lost the contest, he succeeded in helping to push Mrs. Clinton to the left on some issues, including her stance on possible changes to the Social Security program, though she was also responding to a changing Democratic Party.
During the long primary campaign, Mr. Sanders repeatedly hit Mrs. Clinton for her ties to Wall Street, including donations from employees of big banks and paid speeches.
Asked if she would consider including people who have worked on Wall Street in her economic team, she said the question was premature but that she was "not ruling in, not ruling out" such an appointment.
"I will always look for the best people when and if that opportunity arises, and I think there's a lot of people around the country, not just in one place in our country, with the kind of experience that would be useful," she said.
Her economic address will come later this month, an aide said, but the candidate offered an unsparing preview on Wednesday, pointing to Mr. Trump's plan for large tax cuts, threats made to trading partners and his suggestion, later rescinded, that the U.S. might seek to renegotiate the national debt.
"It's not hard to see how a Trump presidency could actually lead to a serious global economic crisis," she said.
She also invoked the civil suit that charges the Republican's Trump University with fraud, calling it a "scheme" to drain people's money to "enroll them in a fake university." The lawsuit charges the school exploited the billionaire businessman's celebrity status to lure people to enroll in pricey seminars on real-estate investing that failed to deliver on their promises
A Trump spokeswoman said Mr. Trump, in his speech next week, would respond to "the many inaccurate statements" made by Mrs. Clinton.
Polling suggests the Democrat has a tough task on the economy. While she is seen by voters as better able to handle foreign policy, on economic issues, Mr. Trump opens the general election with the edge, Wall Street Journal/NBC News polling last month found.
Asked about four economic issues, voters rated Mr. Trump as better equipped to handle three: dealing with Wall Street, trade and the economy overall. Mrs. Clinton drew the stronger marks only on which candidate could best look out for the middle class. Voters feeling the most economic distress are more likely to gravitate to Mr. Trump. Of voters who said they were still feeling "a lot" of effects from last decade's recession, 56% favored Mr. Trump for president, and 26% backed Mrs. Clinton, the Journal/NBC News poll found.
Running for a third-straight Democratic term, Mrs. Clinton regularly says that President Barack Obama doesn't get the credit he deserves for rescuing the economy from the brink of collapse. But economic headwinds remain. The number of jobs added monthly has slipped in recent months, for instance, and fell to just 38,000 in May, the lowest number since 2010. Mr. Trump has aimed his campaign squarely at voters who feel deep anxiety.
"We are going to hav fantastic trade deals," he said Tuesday evening. "We're going to start making money and bringing in jobs."
Mrs. Clinton's style could hardly be more different. Over the course of the primary, she announced 53 different policy proposals totaling 201 pages, an aide said. She would use the tax code to deter short-term investing, encourage companies to share profits with their workers and ease burdens on the middle class through targeted credits.
The open question is whether this raft of ideas is sufficiently blunt for the large chunk of voters who have lost confidence in the political system's ability to improve their lives. Facing an unconventional opponent in an unpredictable year, Mrs. Clinton acknowledged that her approach might require deeper explanation. But she suggested the fact that she garnered more primary votes than either Mr. Trump or Mr. Sanders means Americans may be drawn her wonkier approach.
"I think it's clear we've got a lot of work to do, we're going to have a lot of explaining to do," she said. "But it's important that voters know that, No. 1, I am listening, and I'm also learning about what will work...to make the economy stronger."
Write to Laura Meckler at laura.meckler@wsj.com