Clinton, Sanders Spar Over Immigration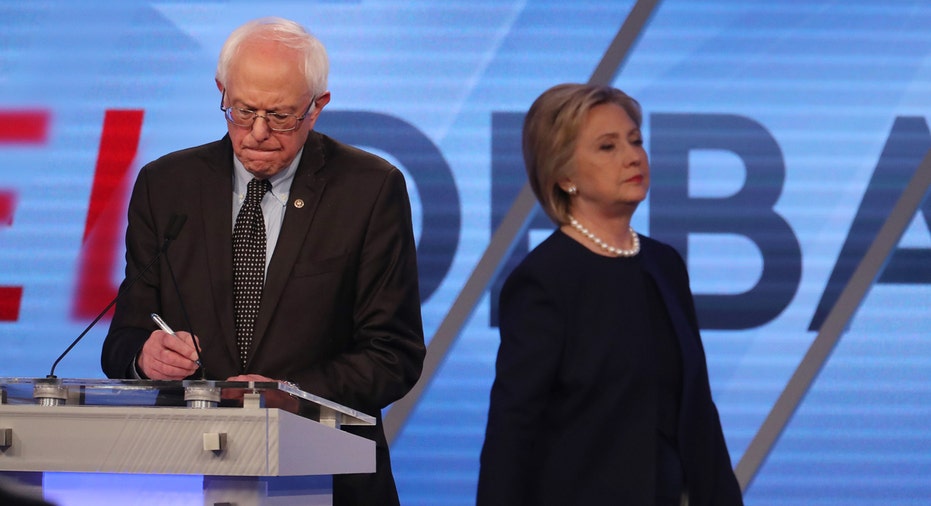 Hillary Clinton and Sen. Bernie Sanders faced off Wednesday night a day after he scored a crucial win in the Michigan presidential primary, sparring over immigration and making direct appeals to Latino voters ahead of next week's contest in Florida.
The two Democratic contenders delved into the details of immigration law, invoking long-ago votes and critiquing the intricacies of each other's record. Mr. Sanders reflected on his own immigrant heritage, and both candidates cited spots in the other's record that are out of step with Latino voters and immigration rights activists.
Mrs. Clinton was questioned about the right way to handle the 2014 influx of Central American children at the southern border. Mr. Sanders was under fire for his opposition to the 2007 immigration bill that would have legalized people in the U.S. illegally.
Under aggressive questioning from Univision anchor Jorge Ramos, Mrs. Clinton promised not to deport children who are already living in the U.S., and to target for deportation criminals and those who pose a risk. Mr. Sanders also pledged not to send children away.
But the former secretary of state stuck to her position that children newly entering the country illegally should be sent back if they don't meet qualifications for asylum or other programs that would allow them to stay legally.
Mrs. Clinton also took several opportunities to refocus the discussion on Mr. Sanders's 2007 vote against the comprehensive immigration bill.
"Our best chance was in 2007 when [the late Sen.] Ted Kennedy led the charge," she said. "I voted for that bill. Sen. Sanders voted against it."
Mr. Sanders said he was against the bill because of the guest-worker provisions in the bill, siding with labor unions who argued that these low-wage immigrants would undercut U.S. workers. He voted for the 2013 version of the bill.
Mrs. Clinton also pointed to two 2006 votes Mr. Sanders cast while he was in the House, running for the Senate. One would have allowed the indefinite detention of immigrants pending deportation. The second was a largely symbolic measure meant to protect the Minutemen, a self-styled, private patrol that aimed to prevent illegal crossings on the southern border.
Mr. Sanders didn't respond directly to the assertion on indefinite detentions. He said the Minuteman bill simply "codified existing legislation."
During Wednesday's debate, both candidates declined to label GOP front-runner Donald Trump a "racist" in response to a direct question about his references to Mexican immigrants as racists and drug dealers.
Still, they hurled several other criticisms Mr. Trump's way. Mrs. Clinton attacked his "trafficking in prejudice and paranoia," and said, to loud applause, "You don't make America great by getting rid of everything that made America great." She added that she had been the first to call out Mr. Trump, saying that when he began with the offensive rhetoric, she said "basta."
Mr. Sanders recalled Mr. Trump's efforts in the so-called birther movement to "delegitimize the president."
He noted that his own father was born in Poland, yet "nobody has ever asked me about my birth certificate," and that was probably because of the "color of my skin."
"The American people are never going to elect a president who insults Mexicans, who insults Muslims, who insults women, who insults African-Americans," he said.
The debate came on the heels of Mr. Sanders's unexpected, narrow win in Michigan, a victory that provided him with a burst of momentum and all but guaranteed that the Democratic primary wouldn't end anytime soon.
Now, Democrats are bracing for a prolonged and protracted fight that could stretch through the spring and into early summer.
As Mr. Sanders tried to make the most of his moment, calling his Michigan win a "major political" upset, Mrs. Clinton sought to reassert herself as the front-runner in the Democratic race. She retains a commanding lead in pledged delegates.
Faced with questions about her use of a private email server during her time as secretary state, she said: "I made a mistake," adding that "it wasn't prohibited."
Mrs. Clinton's records management during her tenure at the State Department has spawned lawsuits, a Federal Bureau of Investigation inquiry, an internal State Department probe, an intelligence community review and congressional inquiries.
During the debate, Mrs. Clinton dismissed questions about whether she would end her campaign if investigations into her records eventually resulted in an indictment. "Oh, for goodness--I'm not even answering that question," Mrs. Clinton said.
(END) Dow Jones Newswires