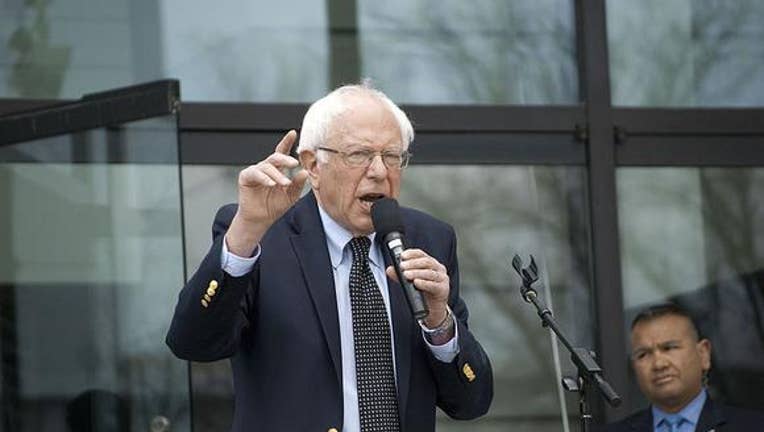 Facing speculation over how long he will continue to fight for the Democratic nomination, Vermont Sen. Bernie Sanders was unusually quiet Monday, holding no campaign events in the day before the Democratic primary season's final contest in Washington, D.C.
The senator -- under pressure to help unify the party ahead of a contentious general election battle with presumptive GOP nominee Donald Trump -- has not publicly stated when or if he intends to end his campaign, but said he will meet with presumptive Democratic nominee Hillary Clinton Tuesday evening to discuss her policy agenda.
While Mr. Sanders fell short of blocking Mrs. Clinton from becoming the presumptive nomination, his impact on the Democratic race has been profound. When the independent launched his Democratic candidacy more than a year ago, he was pinned as a long-shot candidate with unrealistic aspirations. In what was supposed to be an easy primary season for Mrs. Clinton amid little serious competition, the Vermont senator's straightforward message on economic inequality and social justice resonated with young voters in particular, who had grown weary establishment politics and flocked to his campaign rallies.
Having won 22 states and more than 1,800 delegates, Mr. Sanders has leverage to influence the party's platform heading into the convention next month. During the campaign, he staked out positions to the left of Mrs. Clinton, including supporting a $15-an-hour minimum wage and making public colleges tuition-free.
In a series of TV appearances Sunday, Mr. Sanders indicated he will help the Democrats defeat Mr. Trump, but wouldn't say if he will still try to take his fight all the way to the Philadelphia convention -- something he had pledged before Mrs. Clinton won California, New Jersey and two other states June 7, and declared victory.
Aides to Mrs. Clinton said the campaign views the meeting between the candidates as the next step in the process of coming together as a party, as the two candidates wrap up their final primary battle.
"As we have said all along, we are committed to earning every last vote in this Democratic primary," Clinton campaign spokesman Brian Fallon said. "We have a campaign operation in place in the District of Columbia and will be encouraging voters to turn out and support Hillary Clinton."
Mr. Sanders's spokesman didn't respond to a request for comment.
Mr. Sanders, who will be on Capitol Hill as D.C. voters head to the polls, said Sunday he will speak with Mrs. Clinton about "what kind of platform she will be supporting."
"And after we have that kind of discussion and after we can determine whether or not we are going to have a strong and progressive platform, I will be able to make other decisions," Mr. Sanders said.
Mrs. Clinton's aides said they expect the candidates will be able to work out their differences and move forward together.