Cisco Systems, Inc Earnings: Where's the Growth Coming From?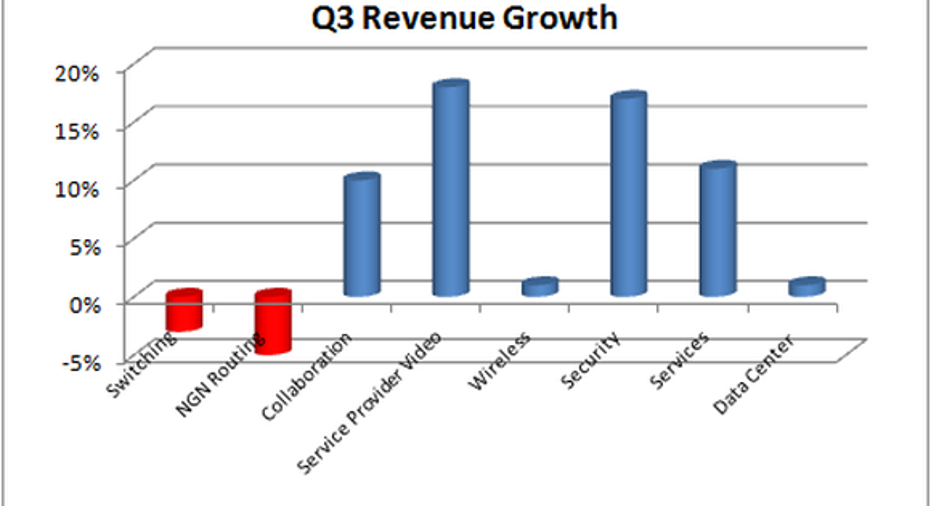 The headline numbers from ' third-quarter results, reported May 18, were good on a superficial basis, but let's take a closer look at the underlying themes and trends in order to better see what's going on. In truth, it's hard to argue that the earnings weren't a net positive, but there are some underlying concerns from the report.
Starting with the headline numbers:
Adjusted revenue growth of 3% in the third quarter came in at the high end of guidance for 1% to 4%.
Non-GAAP EPS of $0.57 was above the guidance range of $0.54 to $0.56.
Non-GAAP gross margin of 65.2% was significantly ahead of guidance for 62.5% to 63.5%.
Non-GAAP operating margin of 30% was ahead of guidance for 28.5% to 29.5%.
Clearly, revenue growth was good, but margin growth was even better, leading to EPS ahead of expectations -- a good quarter, especially in the circumstances of a moderate global economy.
The best way to think about Cisco's earnings is to look at four separate item: (1) core products (I'm defining these as switching and routing), (2) non-core (collaboration, data center, wireless, security, service provider, and other products), (3) services (which tends to lag product revenue growth), and (4) deferred revenue growth. The fourth is important because Cisco is selling more software on a subscription basis, therefore shifting some upfront revenue toward a stream of revenue that's recognized over time.
Frankly, switching and routing revenue were disappointing. Switching revenue declined 3%. Going into the fiscal year, Cisco's management expected switching revenue would pass an "inflection point" in the second half thanks to next-generation data center switching offsetting any weakness in historical data center switching.
The good news is that, according CEO Charles Robbins on the earnings call, data center switching is playing out as "we had indicated," but because of an uncertain environment, enterprises are not refreshing their campus networks.
Similarly, NGN routing (Next Generation Network routing) revenue declined 5%, with Robbins saying the following on the earnings call:
So, if it wasn't a good quarter for Cisco's core business, where did the guidance-beating numbers come from?
Starting with services revenue (up 11%), any way you look at it, Cisco had a good quarter. The headline number is somewhat flattering -- Cisco had an extra week in the quarter -- but as CFO Kelly Kramer explained, when service revenue growth is normalized, growth was still up4% compared to 3% in the second quarter and 1% in the first -- a nice trend.
However, the real story relates to the strength of non-core revenue growth. As you can see below, revenue growth was particularly strong in non-core activities -- helping offset declines in core revenue growth.
Data source: Cisco Systems, Inc. presentations.
Ultimately, total revenue grew by around $350 million, or 3%, with around 90% of the growth coming from services. For those trying to work out where the remainder came from, it's due to non-core product revenue offsetting core product declines.
A look at deferred revenue shows 8% year-over-year growth, but on a sequential basis, it was relatively flat. This is definitely something to look out for in future quarters, because as you can see in the chart below, Cisco will come up against some tougher comparisons from the fourth quarter onward.
Data source: CIsco Systems, Inc. presentations.
It was a good quarter from Cisco -- it's hard to argue with margins and earnings ahead of expectations -- but investors will want to see a return to growth in its core businesses in future quarters. Similarly, Cisco is coming under pressure to keep growing services revenue, particularly when core product revenue is declining and deferred revenue growth could slow in the coming quarters.
The article Cisco Systems, Inc Earnings: Where's the Growth Coming From? originally appeared on Fool.com.
Lee Samaha has no position in any stocks mentioned. The Motley Fool recommends Cisco Systems. Try any of our Foolish newsletter services free for 30 days. We Fools may not all hold the same opinions, but we all believe that considering a diverse range of insights makes us better investors. The Motley Fool has a disclosure policy.
Copyright 1995 - 2016 The Motley Fool, LLC. All rights reserved. The Motley Fool has a disclosure policy.