Cintas' Strength Is "Uniform," in More Ways Than One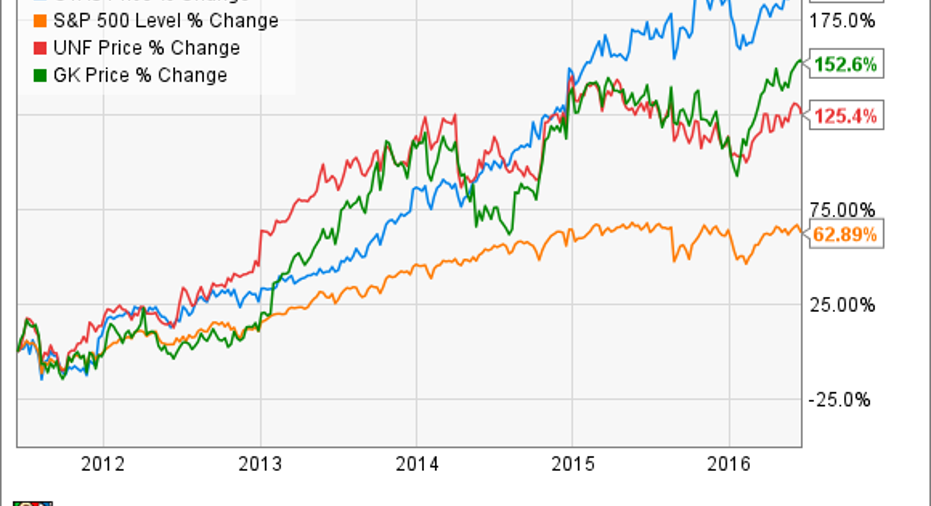 Usually, when you think "industrials," you think of companies making big, heavy pieces of machinery, likeGeneral Electric. But that's not always the case. Take, for example, Fortune 500 companyCintas. Headquartered in Cincinnati, Cintas primarily makes its money by renting uniforms and floor mats to businesses large and small.
Sound dull, compared to the high-tech world of big industry in which GE operates? It is. But as legendary investor Peter Lynch famously pointed out, companies that do something dull are often good companies in which to invest. And besides dullness, Cintas also exhibits a lot of strengths that are the hallmarks of good companies.
The view from the top
Cintas is the undisputed market leader in uniform and floor mat rental, with nearly a million customers across North America.And while the company also has a burgeoning fire and safety business, the rental business comprises 77% of the company's revenue.
The total North American market for uniform rentals is worth approximately $16 billion, and Cintas controls about 25% of it. To put Cintas' size in perspective, its three largest competitors in this space,Aramark,UniFirst, andG&K Services,combine to control only about another 25%. The rest of the market is fragmented among many other smaller local or regional players.
This competitive landscape is great for Cintas, because it not only is sitting in the undisputed top spot, but also has many opportunities to grow through acquisition of smaller competitors. Additionally, size and scale really matter in this kind of route-based service business, since the fixed cost of deliveries can be spread out, while there isn't much room for differentiation in the product.
The view from the corner office
When a company's management is heavily invested in its stock, it's considered a good sign for two reasons. First, it indicates that the people with the most intimate knowledge of the company believe in the company's (and therefore the stock's) prospects. Also, it shows that management's interests are aligned with those of shareholders.
Cintas succeeds on this score as well. According to the company's website, most of Cintas' executives have the majority of their net worth invested in Cintas stock. CEO Scott D. Farmer alone owns 16.9% of the company's stock.And it's turned out to be an amazing investment over the last five years:
Note, too, that this price appreciation is independent of the company's dividend, which it has paid every year since going public in 1983.And while its 1.1% yield is currently lower than G & K's 2% or the S&P's 2.1%, it's still a nice icing on an already-sweet piece of cake.
The view from the street
Wall Street is happy with Cintas right now, and for good reason. The firm posted better-than-expected results for the quarter ending Feb. 29, 2016, with numbers up pretty much across the board year over year.
Revenue was up 9.7% over the prior year. Core organic revenue growth was 6.8%. Operating income margins increased to 15.9% from 15.7%, and net income from continuing operations was $117.3 million compared to $100.3 million. Earnings per share were up, too, at $1.05, compared to $0.85 for the prior-year period. As a result of this strong performance, the company raised its revenue guidance for the year to $4.86-$4.89 per share, exclusive of share buybacks -- an increase of 8.6%-9.2% from 2015.
Unsurprisingly, management seems particularly pleased that 2016 is shaping up to be the company's sixth consecutive year of double-digit EPS growth.And they've made it clear that continued growth is their priority. To facilitate this growth, the company is pursuing several strategies, including the recent purchase of first aid kit supplier Zee Medical, launching a national branding campaign featuring the tag line, "Ready for the Workday," and converting their uniform rental operations to a SAP software system.
These efforts seem to be paying off, as revenue and earnings have grown for the last three quarters. Prior to that, comparisons are made difficult by the divestiture of the company's Shred-It document shredding business, but performance was still strong.
Cintas is a company that's firing on all cylinders, with a proven track record of superior performance, shareholder-friendly management, top-dog status in its industry, and strong current results. And while past performance is no guarantee of future returns, there haven't been any recent fundamental changes in the industry to suggest that the company's fortunes are going to turn around any time soon. Cintas is a buy.
The article Cintas' Strength Is "Uniform," in More Ways Than One originally appeared on Fool.com.
John Bromels owns shares of Cintas. The Motley Fool owns shares of General Electric Company. The Motley Fool recommends Cintas. Try any of our Foolish newsletter services free for 30 days. We Fools may not all hold the same opinions, but we all believe that considering a diverse range of insights makes us better investors. The Motley Fool has a disclosure policy.
Copyright 1995 - 2016 The Motley Fool, LLC. All rights reserved. The Motley Fool has a disclosure policy.