Chipotle's Recovery Looks Shaky -- But Investors Should Be Patient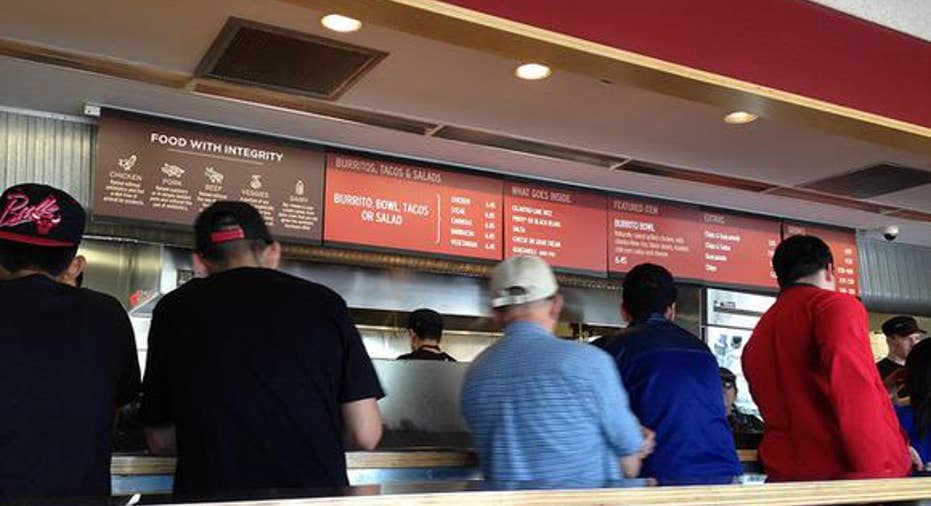 Investors haven't exactly been thrilled by the pace of Chipotle Mexican Grill's comeback following a series of food safety problems late last year. While the stock had risen about 30% from its mid-January low by early March, it has since surrendered nearly all of those gains.
Chipotle Stock Performance, data by YCharts
It's understandable that some investors are losing confidence in Chipotle -- the sales recovery appears to have lost momentum during March. However, Chipotle is a high-quality company with plenty of tools left in its arsenal as it tries to return to growth. Investors should give it time.
The sales recovery stallsBetween late January and early March, Chipotle saw a huge improvement in its sales trend. The uptick in traffic was aided by an influx of customers redeeming coupons for free entrees. But importantly, Chipotle was able to maintain most of its gains even after coupon redemptions started to tail off in late February.
However, after employees at a Boston-area Chipotle restaurant got sick in early March, the company suffered another slew of negative headlines -- even though its food safety procedures worked and no customers became ill. As a result, Chipotle's sales recovery took a step backward.
For the full first quarter, comparable store sales slumped 29.7% year over year and total revenue declined 23.4% year over year, leading to Chipotle's first-ever quarterly loss.
Furthermore, while sales increased sequentially in April, the increase wasn't quite as strong as Chipotle typically sees moving from March to April. As a result, Chipotle's comp sales trend actually deteriorated slightly in the first half of April.
Chipotle's trademark long lines still haven't returned. Image source: The Motley Fool.
On the company's earnings call last week, Chipotle CFO Jack Hartung suggested that the weaker trend in April might have been caused by bad weather. Hartung noted that in the last few days before the earnings call, sales results had improved along with the weather. However, it was too early to be sure that this was another trend change as opposed to a blip.
Chipotle has optionsAs a Chipotle investor myself, I was hoping to see more concrete signs of a turnaround in sales by now. Nevertheless, long-term investors shouldn't give up on the company. Chipotle's decade of strong performance outweighs its six months of futility in evaluating its comeback odds.
Up until now, Chipotle has tried to regain traffic by luring in customers with coupons for free meals and then impressing them by executing well on the basics of serving good food with efficient and attentive service.
Going forward, it's likely to try some new things to regain its sales momentum. First, Chipotle is considering adding a new protein to its menu: chorizo. This is a big deal, because Chipotle has historically been averse to menu changes. However, the company tested chorizo in Kansas City last year and found that it was extremely popular with the most loyal Chipotle customers.
Chipotle may try some new things to boost sales this summer. Image source: The Motley Fool.
Rolling out chorizo more widely represents a big opportunity, because a key driver of Chipotle's sales declines has been a decrease in the number of visits by loyal customers. A new menu item might get these customers more excited about Chipotle, encouraging them to visit more frequently.
Chipotle executives also talked about a second, more direct way to get loyal customers to visit more often: a limited-time loyalty program. They didn't provide many details, but the idea would presumably be that customers could earn free food by visiting more often.
The sky is the limitLonger-term, Chipotle could create a permanent loyalty program to drive more customer visits. It can improve its mobile ordering apps to better appeal to customers who are on the go. It might contemplate a move into the breakfast market. And it could invest more heavily in growing its tiny ShopHouse Southeast Asian Kitchen and Pizzeria Locale chains.
In short, even if Chipotle's free burrito offers didn't drive a complete recovery in sales, it is way too early for investors to despair. The company still has a lot of fans and numerous tools in its arsenal as it tries to drive a lasting turnaround. Based on Chipotle's long track record of success, I wouldn't recommend betting against it.
The article Chipotle's Recovery Looks Shaky -- But Investors Should Be Patient originally appeared on Fool.com.
Adam Levine-Weinberg owns shares of Chipotle Mexican Grill. The Motley Fool owns shares of and recommends Chipotle Mexican Grill. Try any of our Foolish newsletter services free for 30 days. We Fools may not all hold the same opinions, but we all believe that considering a diverse range of insights makes us better investors. The Motley Fool has a disclosure policy.
Copyright 1995 - 2016 The Motley Fool, LLC. All rights reserved. The Motley Fool has a disclosure policy.