Chipotle's Big Buyback: What Would Warren Buffett Say?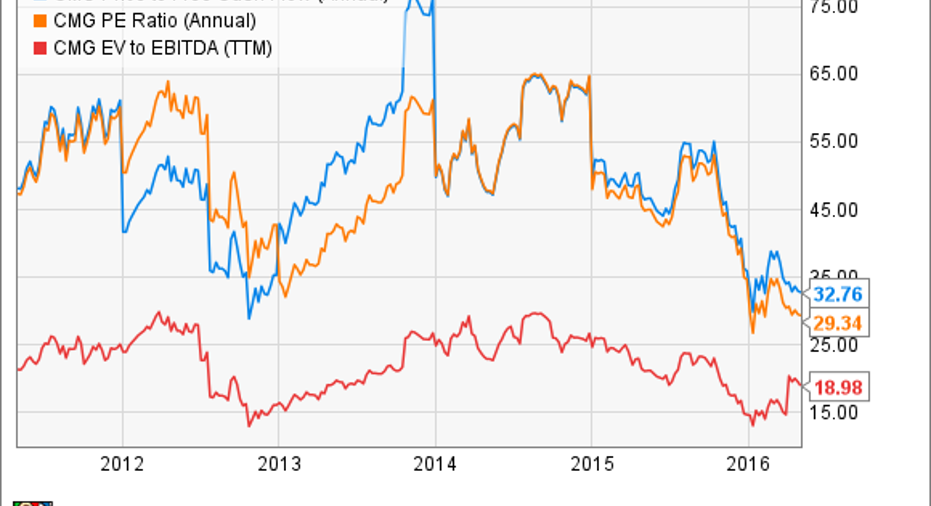 Image source: Chipotle.
Chipotle Mexican Grill is being hurt by a series of food-safety problems that affected the company in late 2015. The situation is already under control, and Chipotle believes it has implemented the necessary measures to avoid any new problems in the future. However, the business is still suffering from declining sales and earnings, and Chipotle stock is down by more than 40% from its highs of the last year.
The company is implementing a series of initiatives to jump-start sales, such as increased promotions and aggressive marketing campaigns to bring customers back into the restaurants. In addition, management is allocating huge sums of money to share buybacks: Chipotle assigned $583.8 billion to buybacks in the first quarter of 2016, a big increase from only $23.3 billion in the same quarter last year.
Is Chipotle doing the right thing by increasing buybacks in difficult times, or should the company save those resources?
What would Warren Buffett say?Stock buybacks are a topic of much discussion. Some analysts believe they're a corporate gimmick used to artificially inflate earnings per share, while others say share buybacks are a smart and efficient way to return capital to investors. At the end of the day, it all depends on the particular company and the specific circumstances.
Warren Buffett is perhaps the most successful investor ever, and one of the biggest world experts in capital allocation matters, so he knows how to differentiate between productive and destructive buybacks. In Warren Buffett's own words, from Berkshire Hathaway's letter to investors in 2011:
Under this rationale, Buffett has designed for Berkshire Hathaway a clear and straightforward share buyback policy. Berkshire Hathaway will repurchase stock under two conditions: The company must have more than $20 billion in excess cash at hand, and the stock must also be trading at an attractive valuation, which Buffett has defined as a price to book value ratio below 1.2. Berkshire Hathaway has not remained cheap enough for long periods of time, so buybacks have been almost insignificant, as the company repurchased a marginal amount of stock in 2011. Nevertheless, investors in Berkshire Hathaway can sleep smoothly at night, knowing the company will only repurchase shares when the transaction is in their best interest.
Is Chipotle doing the right thing?As of March 2016, Chipotle has $250.8 million in cash and equivalents and $455.7 million in long-term investments on its balance sheet, for a total of $706.5 million in liquid assets. The company has no financial debt whatsoever, so financial soundness is unquestionable.
The company produced $683 million in operating cash flow during 2015, and capital expenditures absorbed only $257 million of that money. While most restaurant chains need to use debt to pay for capital expenditures, Chipotle generates more than enough cash from internal sources to expand its store base, and this speaks volumes about the company and its financial strength.
Valuation can be tricky for a company such as Chipotle, since it has always traded at a premium versus the overall market because of its above-average growth. On the other hand, when looking at Chipotle Mexican Grill in terms of ratios such as price to free cash flow, price to earnings, and enterprise value to EBITDA, the company has been trading near the low end of its valuation range over the last five years.
CMG Price to Free Cash Flow (Annual) data by YCharts.
If Chipotle can overcome the impact from its food-safety problems over the middle term, then the stock is offering material room for gains from current price levels. Under such a scenario, the recent stock buybacks at temporarily depressed prices would look like a smart use of the company's capital.
In a nutshell, Chipotle has more than enough financial resources to reinvest in the business, and the stock looks quite cheap by historical standards. For this reason, chances are, Warren Buffett would approve of the burrito company's succulent buyback program.
The article Chipotle's Big Buyback: What Would Warren Buffett Say? originally appeared on Fool.com.
Andres Cardenal owns shares of Berkshire Hathaway. The Motley Fool owns shares of and recommends Berkshire Hathaway and Chipotle Mexican Grill. Try any of our Foolish newsletter services free for 30 days. We Fools may not all hold the same opinions, but we all believe that considering a diverse range of insights makes us better investors. The Motley Fool has a disclosure policy.
Copyright 1995 - 2016 The Motley Fool, LLC. All rights reserved. The Motley Fool has a disclosure policy.