Chipotle: We Walk From Here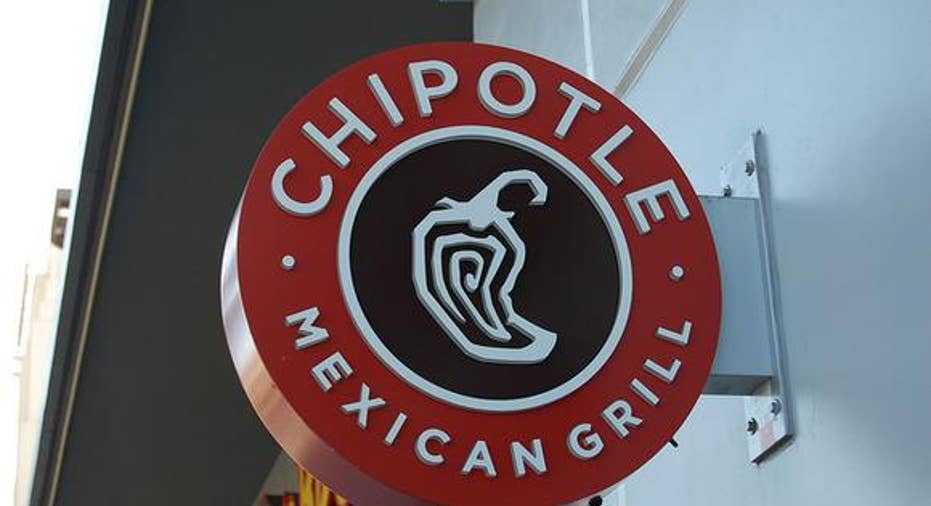 "We walk from here" is a solemn line delivered by Harrison Ford in Indiana Jones and the Temple of Doom when the expedition that he's leading needs to switch to a more fleet-footed mode of transportation. This is also whereChipotle Mexican Grill finds itself after posting a gloomy financial update following Tuesday's market close.
Comps last month plunged a brutal 26.1% since a year earlier, and that was with an extra day in 2016 since it was a leap year. Chipotle now expects to post a loss of roughly $1.00 a share for the quarter that ends later this month, its first deficit as a public company.
The stock went on to open nearly 5% lower on Wednesday following the news, but it went on to almost claw its ways back to even by the close of trading. The intraday bounce is encouraging, but obviously Chipotle itself isn't near a turnaround.
The severity of the decline improved as February played out. Comps may have declined by 33.8% during the first two weeks of the month, but improved to a slide of 24.7% during the latter half of the month. The year-over-year dip in comps clocked in at 21.5% during the first week of March, but widened again to a 27.3% plunge during the second week of the month.
It's not a pretty picture. Restaurant-level operating margin is expected to be in the mid-single digits for the quarter, a far cry from the 27.5% it clocked in at a year earlier. Increased marketing and promotional expenses, higher food costs, and lower volumes are weighing on results.
They say there's no such thing as a free lunch, and for Chipotle that means that there's a price to pay for the free burritos it gave to folks that took the chain up on the freebie following its chainwide closure during lunchtime on Feb. 8 for a food safety meeting. It has gone on to offer discounts and freebies through its app and direct mail.
The former fast-casual darling will regain most of the margin hit if and when sales recover, but this will leave a scar. Chipotle expects the food safety measures it has taken to protect itself from future health scares to eat into 200 basis points of its operating margin.
That isn't fatal. If Chipotle finds itself back in favor with mainstream burrito buffs, it should have the flexibility to pass along the increased costs to its customers through price hikes.
Wall Street is finding it hard to get excited about Chipotle. Maxim downgraded the stock following the grim financial update. Maxim lowered its rating to sell, slashing its price target from $450 to $350. Maxim feels that the recovery process has been rough, and that discounting to woo back customers will linger. The stock's quick recovery on Wednesday despite the problematic financial update and analysts downgrade suggests that investors are willing to forget sooner than the marketplace is ready to forgive. That may seem encouraging in terms of a stock's chart, but ultimately Chipotle will have to win back both consumer and investors if it wants the upticks to be sustainable.
We walk from here, even if that means that we have to hobble to get there.
The article Chipotle: We Walk From Here originally appeared on Fool.com.
Rick Munarriz has no position in any stocks mentioned. The Motley Fool owns shares of and recommends Chipotle Mexican Grill. Try any of our Foolish newsletter services free for 30 days. We Fools may not all hold the same opinions, but we all believe that considering a diverse range of insights makes us better investors. The Motley Fool has a disclosure policy.
Copyright 1995 - 2016 The Motley Fool, LLC. All rights reserved. The Motley Fool has a disclosure policy.