Chipotle Wants to Sweet-Talk You Back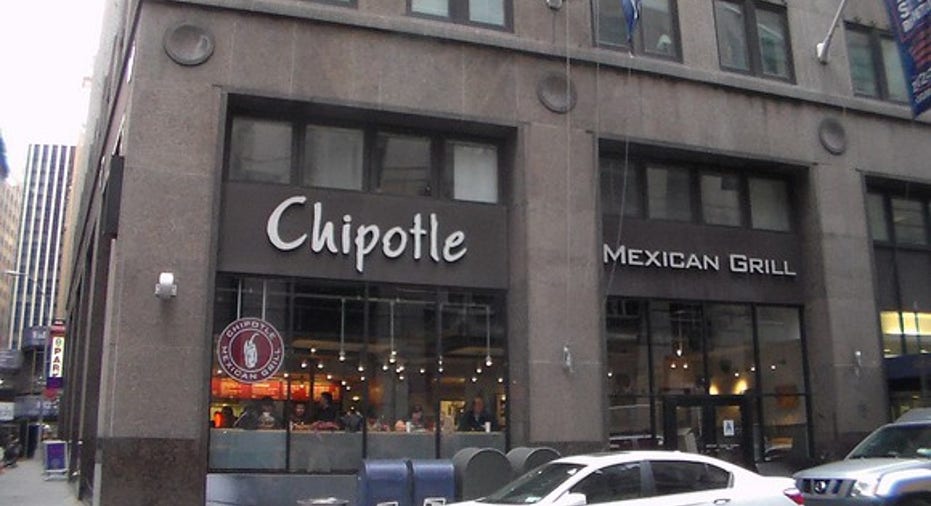 Image source: The Motley Fool.
It's been just a couple of months since chorizo was introduced to Chipotle Mexican Grill's (NYSE: CMG) menu, and it looks like it won't be the last thing that the struggling burrito roller adds to its offerings. Chipotle is getting ready to add a dessert item, and it may be coming soon.
Chief marketing officer Mark Crumpacker, speaking at the annual ICR Conference yesterday, posed the possibility of introducing a new meal ender in the spring. Chipotle revealed during its third-quarter earnings call that it was quietly testing two different types of dessert. It has now settled on the one that it likes the best, which won't pose much of a disruption to its present operations.
"It only has one ingredient not already found in the restaurants," Crumpacker said. "It's easy to prepare. It's delicious."
The need to add just one ingredient would seem to cancel out some of the obvious premade choices, including flan, key-lime pie, and tres leches cake. It would also seem to nix churros and fried ice cream. Chipotle could always just add cajeta (caramelized goat's milk) or honey to a tortilla in lieu of fried flatbread, but that doesn't sound like a very savory compromise.
Save room for dessert
We'll find out soon enough whether adding a new treat to the menu will be a game-changer. It probably can't hurt. This isn't a casual dining chain, where a round of desserts slows how quickly the eatery can turn the table over. Folks will likely order the dessert item with their meals, and that will be incremental to Chipotle's sales volume.
The last time that Chipotle tried to roll out a new product category -- margaritas -- it didn't necessarily move the needle in terms of sales, but it's not as if diners go to the fast-casual chain to get their drink on. There's less resistance and veto power in dessert, calorie counters notwithstanding.
Chipotle needs to do something: The turnaround is taking a lot longer than bulls were initially expecting. The chain is warning this week that comps for the fourth quarter declined 4.8%, worse than some analysts had predicted. It's the fifth consecutive quarter of negative comps, for a chain that had never fallen into negative territory on that metric as a public company until the foodborne-illness outbreak of 2015.
Comps improved in December and so far in January, but even the double-digit percentage improvement there is only making back about half of the decline it posted a year earlier. The chain is not back. Chipotle is taking steps in the right direction, but it's going to be a long path before it claws its way back to where it was when its store-level popularity peaked two years ago.
A new dessert is a smart idea. It will woo back the curious. It may hook a few new fans, as long as this isn't guacamole pie or carnitas a la mode. Chipotle has a lot to do before it truly turns things around, but you can't blame it for trying to sweeten the pot.
10 stocks we like better than Chipotle Mexican Grill When investing geniuses David and Tom Gardner have a stock tip, it can pay to listen. After all, the newsletter they have run for over a decade, Motley Fool Stock Advisor, has tripled the market.*
David and Tom just revealed what they believe are the 10 best stocks for investors to buy right now... and Chipotle Mexican Grill wasn't one of them! That's right -- they think these 10 stocks are even better buys.
Click here to learn about these picks!
*Stock Advisor returns as of January 4, 2017
Rick Munarriz has no position in any stocks mentioned. The Motley Fool owns shares of and recommends Chipotle Mexican Grill. The Motley Fool has a disclosure policy.