Chipotle Shareholders Are Going Back in Time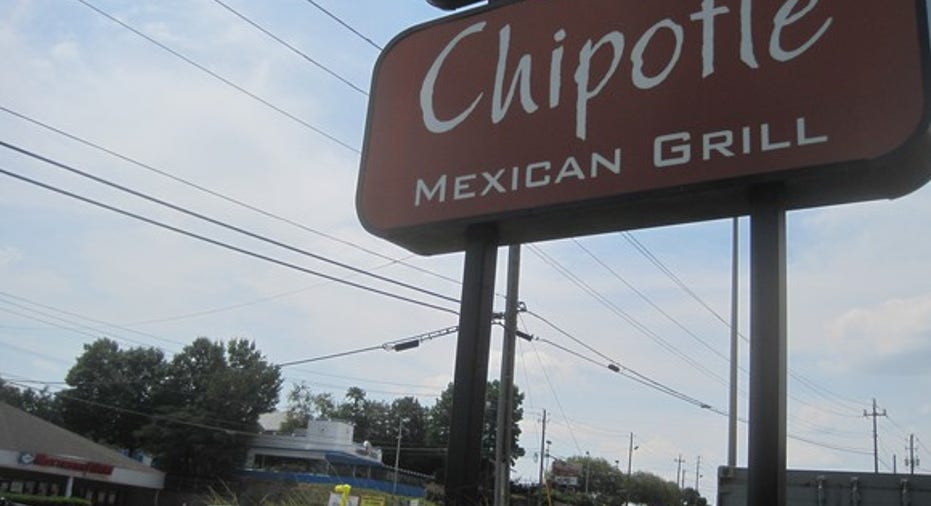 Image source: The Motley Fool.
2016 is looking more and more like a lost year forChipotle Mexican Grill. The stock now sits below $400 for the first time since 2013, as the burrito roller struggles to regain customers lost from a series of foodborne illness outbreaks last year.
Even as the fast-casual chain has announced a new rewards program, released another animated ad, and rolled out another protein source (chorizo) for its menu, its progress has been undermined by its Chief Creative and Development Officer being put on leave after drug charges, and a tweet about a possible illness at a Manhattan location.
Chipotle investors have not received an update on the company's performance since April, when it said that first-quarter comparable sales fell nearly 30%. The market seems to have interpreted the intermittent silence as bad news, considering the stock's slide since then, as Chipotle was giving monthly sales updates prior to its last quarterly report.
Analysts are expecting a modest profit of $0.93 a share and a 12% drop in revenue in the earnings report due out later this month.
Despite the doom and gloom from naysayers who claim the E. coli scandal will permanently damage the brand, Chipotle's metrics are stronger than you might think. In fact, the operating performance seems to be in line with the company's stock price, considering where it was in 2012-2013. The best way for investors to think about this year's setback may be to see it as Chipotle taking a couple steps back along its growth path.
Still beating the competition
2016 has been unquestionably the worst year in thecompany'shistory. It reported its first quarterly loss ever in the first quarter, and the stock is down nearly 50% from its peak last year. But on an average unit volume (AUV) basis, the company is still ahead of most of its competitors. Analysts are projecting $4.2 billion in sales this year, on an approximate store baseof 2,100, which equals average sales of $2 million per store. That's down from $2.5 million last year, but still well ahead of Taco Bell ($1.44 million), Del Taco Restaurants($1.28 million), Moe's Southwest Grill ($1.09 million), and Qdoba ($1.07 million).Of fast-food chains with more than 1,000 locations, only Chick-fil-A($3.06 million),McDonald's ($2.5 million), andPanera Bread (2.5 million) have average unit volumes above $2 million.
Not only is Chipotle still ahead of most of its competitors in terms of average unit volume, but its projected AUV for 2016 is not far from its 2013 level at $2.17 million.
2017 will be better
No one knows how strong Chipotle's rebound will be next year, but the company will bounce back. Virtually every other restaurant chain to suffer an E. coli outbreak, including Jack in the Box,Taco Bell, and McDonald's, has recovered. Taco Bell was the most recent major fast-food chain to experience an E. coli outbreak, in 2006; it posted five consecutive quarters of negative comps after an outbreak sickened 71 people, but it bounced back in 2008 with the chain recovering most of those lost sales.
Chipotle's first quarter was worse than most had expected, and the rest of the year is likely to be ugly as well. Still, the company has shown no hesitation in opening new stores, with plans to add 220 to 235 this year. And it has been aggressively buying back shares, which should inflate earnings per share once sales start to recover.
Chipotle may be in a deeper hole than many had expected, but the stock price reflects that: shares are worth less than they were more than four years ago, when the company had fewer than 2/3 of the restaurants it does today. The burrito chain still has room to more than double its store count in the U.S, and its growth seed concepts remain promising. Despite the current challenges, this growth story isn't over.
The article Chipotle Shareholders Are Going Back in Time originally appeared on Fool.com.
Jeremy Bowman owns shares of Chipotle Mexican Grill. The Motley Fool owns shares of and recommends Chipotle Mexican Grill and Panera Bread. Try any of our Foolish newsletter services free for 30 days. We Fools may not all hold the same opinions, but we all believe that considering a diverse range of insights makes us better investors. The Motley Fool has a disclosure policy.
Copyright 1995 - 2016 The Motley Fool, LLC. All rights reserved. The Motley Fool has a disclosure policy.