Chipotle launches queso nationwide amid stock slump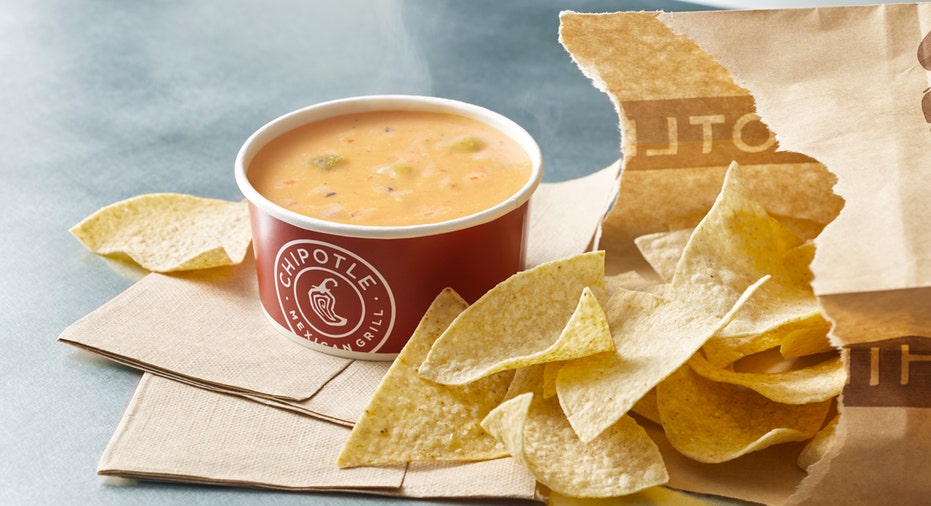 Chipotle Mexican Grill (NYSE:CMG) is aiming to reverse its months-long slump with the nationwide release of an all-natural queso product on Tuesday.
After a test period earlier this year, the popular cheese dip will be available at all of the fast casual restaurant chain's U.S. locations. Pricing will vary by store, but Chipotle said it will cost about $1.25 to add queso to an entrée or $5.25 for a side order with chips. Chipotle's version is made from organic ingredients, including aged cheddar cheese and several types of peppers.
Some Wall Street analysts are optimistic that the product's launch will help Chipotle recover from its recent struggles, including a now-infamous E.coli outbreak in 2015 that forced the temporary closure of hundreds of locations. Chipotle shares are down more than 20% since July, when customers fell sick after eating at a restaurant in Sterling, Virginia, and nearly 40% since May.
Maxim Group equity analyst Stephen Anderson upgraded Chipotle's stock rating to "Buy" last July. In a note to investors, Anderson said the addition of queso would drive traffic to Chipotle restaurants and boost the company's margins.
"We believe [Chipotle's] queso is differentiated enough to be not only a potential traffic driver in its own right, but also take market share from immediate rivals, including Qdoba," Anderson wrote.
Anderson isn't alone in his bullish assessment of queso's impact. Credit Suisse analysts predicted last month that queso could boost Chipotle's sales by up to 3% -- enough to "move the needle" for the embattled chain, but not enough to serve as a "silver bullet" to solve all of its problems.
Repeated instances of foodborne illnesses among Chipotle customers have raised consumer doubts about the trustworthiness of the chain's food. A recent Cowen & Cowen survey found just 47.2% of the population rated Chipotle's food as above average in terms of quality.
Chipotle founder and CEO Steve Ells said queso "was the number one requested menu item" before its launch.
"We never added it to our menu before now because we wouldn't use the industrial additives used in most quesos," Ells said in a press release. "Additives make typical queso very consistent and predictable, but are not at all in keeping with our food culture."