Chipotle Buying Opportunity Is a Matter of When, Not If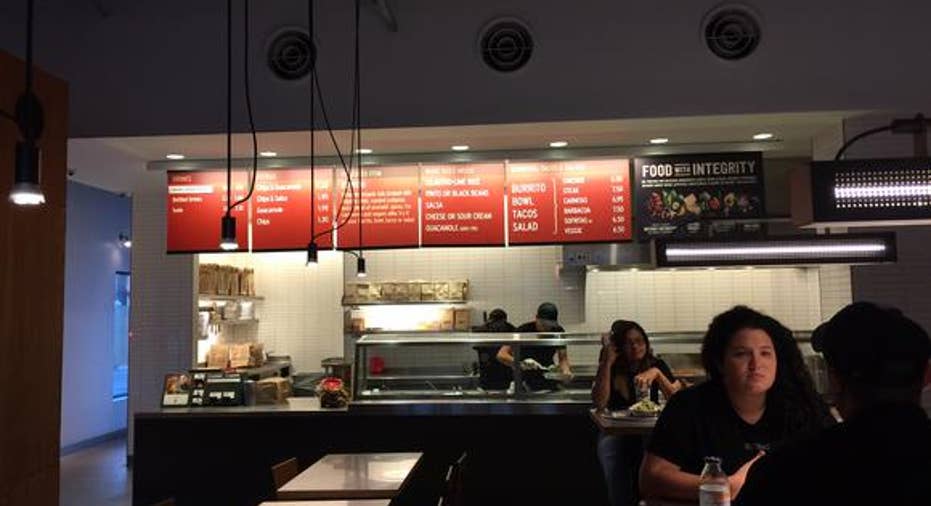 These are challenging times forChipotle Mexican Grill investors. The former market darling has been getting smacked around in recent weeks as E. coli reports expand, culminating in Chipotle itself hosing down its guidance late last week.
It was bound to happen. You don't make customers sick and get to keep winning. We live in a world of awareness thanks to the Internet in general and social media in particular. The same tools that were used by folks to turn a cult fave into a mainstream juggernaut can also cut the other way.
There have been a lot of people rallying around the stock as the negative reports mount. They've been arguing that you should buy on the dip, but if they've been ringing the dinner bell all the way down can you really trust them now?
I'm not one of them. I'm the one who walked into a practically empty Chipotle on an early weekday evening three weeks ago, snapped a picture of the queue-less burrito roller, and asked if this perhaps wasn't a buying opportunity.
Image source: Author's photo.
"If comps ultimately prove mortal by the time that the market darling reports fourth-quarter results early next year, it will prove that I wasn't just seeing things in an odd fluke of an experience last night," I wrote at the time.
The stock has gone on to surrender another 11% of its value since then, and is now trading 28.5% below its summertime peak. It turns out that I didn't have to wait for that quarterly report. Chipotle itself warned that comps would be negative for the holiday quarter at the end of trading last week.
It's awfully tempting to say that this news will come and go. Chipotle will lick the E. coli scare and the assembly lines across its 1,931 units will be buzzing again. Well, it's never quite as easy as that. Customers don't just come back. A brand doesn't miraculously bounce back right away unless Chipotle's found a way to wedge amnesia pills into the barbacoa.
Analysts don't think that the pessimism will lift quickly. Their forecasts since Friday's bombshell have naturally taken a hit for the current quarter, but 2016 has also been marked down. Wall Street pros now see Chipotle earning just $16.99 a share next year. That is 14% lower than where they were perched a week ago and 18% behind where they were when the stock was hitting fresh all-time highs in August. The stock has taken a big hit, but it's not as if the forward earnings multiple has followed suit.
That's the rub for assessing when the ideal time to is to take advantage of the markdown to either initiate a position (lucky you) or add to an existing position (godspeed). Chipotle isn't that much cheaper on a forward earnings valuation basis than it was a few months ago, and it's actually more expensive on that front than it was a week ago. The stock has taken it on the carnitas chin, but it's still fetching 32 times next year's reduced profit target. That's a bit rich for a company that's now only expected to grow its sales and earnings per share by just 10% and 8%, respectively, next year.
However, I'm changing my tune to say that there's a compelling case to be made for buying back now, just as many of the bulls that have been burned on the way down are starting to lose their faith. It's not just the contrarian in me. Chipotle remains an elite player. The ironic "food with integrity" mantra is gnawing on the brand at the moment, but it may not be long before the negative headlines turn into folks feeling that now is an ideal time to eat at Chipotle because the lines are theoretically shorter. That becomes a self-fulfilling prophecy. That's the way "stellar" gets its groove back. The next few weeks and quarters may not be easy, but this isn't a knockout blow to Chipotle. The sell-off has finally gotten to the point where it's overdone.
"I am concerned that most bulls are merely dismissing the recent E. coli outbreak as a way to lock up a classic growth stock at a discount -- without considering that there may be real ramifications," wrote last month. Well, after another double-digit percentage hit to the stock, I've fallen into the camp of those that now see this as a way to "lock up a classic growth stock at a discount" but I am considering the real ramifications. Chipotle will bounce back; now it's just a matter of when that will happen.
The article Chipotle Buying Opportunity Is a Matter of When, Not If originally appeared on Fool.com.
Rick Munarriz has no position in any stocks mentioned. The Motley Fool owns shares of and recommends Chipotle Mexican Grill. Try any of our Foolish newsletter services free for 30 days. We Fools may not all hold the same opinions, but we all believe that considering a diverse range of insights makes us better investors. The Motley Fool has a disclosure policy.
Copyright 1995 - 2015 The Motley Fool, LLC. All rights reserved. The Motley Fool has a disclosure policy.