Chinese Solar Manufacturers Are Their Own Worst Enemies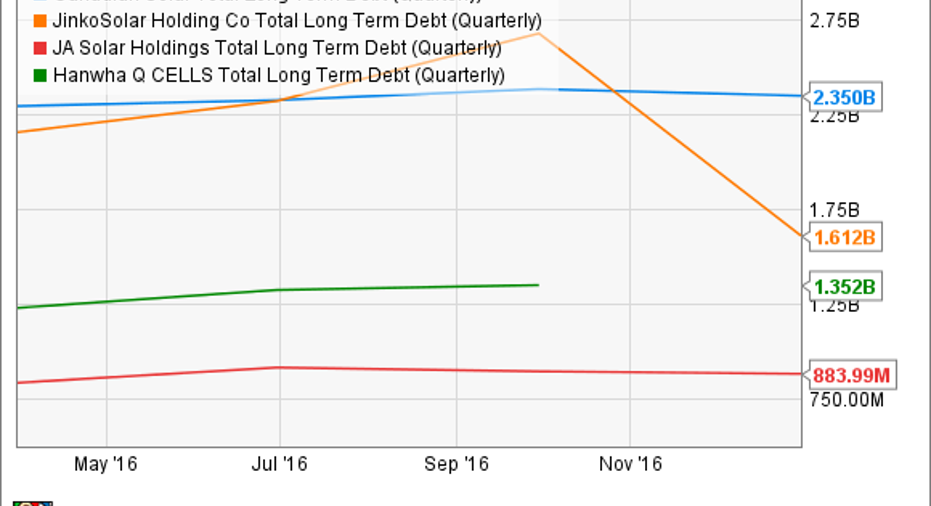 As solar-panel prices plunged in 2016, panel manufacturers began to face a challenging financial future. According to data from GTM Research, panel prices fell about one-third from the start of the year, with most of the decline happening late in the summer.
Financial results didn't immediately show the impact of the price decline, because the sales of panels happen months or even years ahead of time. But eventually, the decline in prices started hitting the income statement and manufacturers' profitability. In the past month,Canadian Solar Inc. (NASDAQ: CSIQ), Hanwha Q Cells Co. (NASDAQ: HQCL), JA Solar Holdings (NASDAQ: JASO), and JinkoSolar Holding Co. (NYSE: JKS)have shown just how challenging making money in the solar industry can be as panel prices decline.
Image source: Getty Images.
The deterioration of solar finances
Most businesses operate on a relatively simple financial model. You have a certain amount of sales and then a gross margin on those sales. The gross margin then has to pay for operating costs and any financing or tax costs you have, resulting in profits or losses at the end of the day.
Operating and financing costs are relatively static because you don't hire or fire administrative or sales staff every month and financing costs don't change a lot unless there's some borrowing or payback of debt. So the gross margin is what drives a company's profit and loss in the short term. Higher gross margin makes it easier to make money, and lower gross margin makes it harder.
As solar-panel prices fell in 2016, it became clear that solar manufacturers were going to face declining margins unless they cut costs, and a one-third reduction in expenses in a matter of months was unlikely. So a gross margin contraction appeared to be on the horizon. And in the fourth quarter, the trend took hold:
| Company | Q1 2016 | Q2 2016 | Q3 2016 | Q4 2016 |
| --- | --- | --- | --- | --- |
| Canadian Solar | 15.6% | 17.2% | 17.8% | 7.3% |
| JinkoSolar | 21.3% | 20.4% | 22.1% | 14.3% |
| JA Solar | 16.3% | 15.3% | 13.8% | 12.9% |
| Hanwha Q Cells | 21.2% | 23.7% | 19.9% | 9.5% |
Data source: Company earnings releases.
Margins have declined across the board and are in some cases in single digits. As manufacturers fight one another for customers, there's no end in sight to the low-margin manufacturing environment.
The future doesn't look much better
What's crazy is that in the face of an already oversupplied market and a 5 GW reduction in demand in 2017 (to an estimated 69 GW), manufacturers are doubling down and expanding production. Canadian Solar expects to increase cell capacity by 2 GW to 4.5 GW and module capacity by 800 MW to 7.0 GW. JA Solar expects to add 1.5 GW of cell capacity to 7.0 GW and 500 MW of new module capacity to 6.0 GW. And JinkoSolar expects shipments to grow from 6.7 GW in 2017 to a range of 8.5 to 9.0 GW in 2017.
Sometimes the decision to expand capacity is made years ahead of time, and by the time a blip in demand is seen, it's too late. But in the commodity solar business, particularly in module assembly, the lead time for capacity expansion is a matter of quarters, not years. There's uncertainty on the demand side, but projections have been for a down year in 2017 and tepid growth in 2018 before the market begins expanding again. Expanding today as demand and margins are falling is crazy.
On top of the terrible financial picture and mistiming of expansion, these companies are very indebted.
CSIQ Total Long Term Debt (Quarterly) data by YCharts.
It wouldn't be surprising to see at least one of these companies run into serious financial trouble in 2017.
Chinese solar manufacturers are struggling as the solar-panel market becomes more price competitive, and that's a challenge that they've spent years managing. But they're all making the situation worse by expanding with borrowed money. I don't see how this ends well for investors.
10 stocks we like better thanWal-MartWhen investing geniuses David and TomGardner have a stock tip, it can pay to listen. After all, the newsletter theyhave run for over a decade, the Motley Fool Stock Advisor, has tripled the market.*
David and Tomjust revealed what they believe are theten best stocksfor investors to buy right now... and Wal-Mart wasn't one of them! That's right -- theythink these 10 stocks are even better buys.
Click hereto learn about these picks!
*StockAdvisor returns as of March 6, 2017The author(s) may have a position in any stocks mentioned.
Travis Hoium has no position in any stocks mentioned. The Motley Fool has no position in any of the stocks mentioned. The Motley Fool has a disclosure policy.