China's lobster imports keep US price high, but no tariffs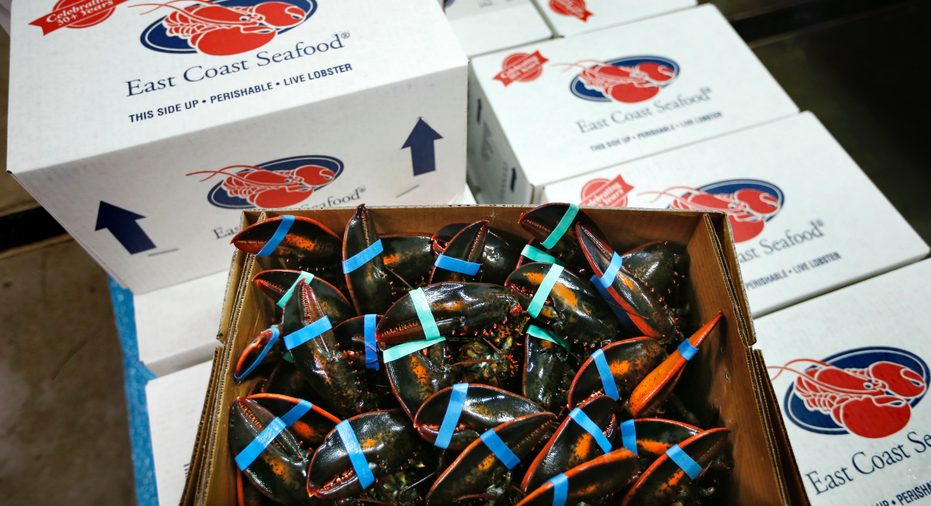 China's hunger for American lobsters is helping keep prices high to U.S. consumers, but a tariff on the seafood does not appear imminent.
The Asian country imported more than 17.8 million pounds of lobster from America in 2017, eclipsing the previous record of about 14 million pounds in 2016, federal statistics state. The value of the imports also surged from $108.3 million in 2016 to $142.4 million last year, according to data from the National Oceanic and Atmospheric Administration.
China's growing interest in the premium U.S. seafood item is happening just as the Trump administration is engaging in a trade battle with the country. China has targeted dozens of U.S. products for new tariffs, including some food items such as nuts and pork, but lobsters aren't on the list.
The increased imports are also happening just as American fishermen might be starting to slip in volume of catch. Fishermen in Maine, the biggest lobster fishing state, saw catch fall from 132.5 million pounds to 110.8 million pounds last year.
Prices have been high to consumers at home, with lobsters fetching more than $12 per pound in some New England markets. More exports to Asia coupled with smaller catches could keep those prices up, said Bill Bruns, operations manager with Lobster Company of Arundel, Maine, a lobster exporter.
"It's commodity based. You raise the price. It wouldn't be any different with apples, oranges or pickles," Bruns said. "But if it's too expensive, nobody wants it."
Chinese lobster imports from the U.S. began surging in 2011, when they exceeded a million pounds for the first time. The value of America's lobster exports to China have also ballooned in that time, increasing by a factor of almost 20 since 2010. Exports to Hong Kong, which are tallied separately, have also increased, though they plateaued at around $50 million around 2013 and have stayed there since.
The growth is happening against the backdrop of a strained relationship between the world's two largest economics. The Trump administration announced Thursday that it would impose tariffs on $60 billion on Chinese goods. China then announced its own new tariffs on everything from American aluminum scrap to dried fruits.
The value of China's lobster imports is likely to fluctuate, but the sheer volume of the crustaceans that the country is taking from the U.S. shows interest is at an all-time high, said John Sackton, a market analyst who publishes the SeafoodNews.com website.
"What that shows is the expansion of lobster sales in China is continuing to grow very rapidly," he said.
Industry members have tied the growth of lobster exports to China to the expanding middle class in the country. Exports have also increased in recent years to other Asian countries, such as Thailand, which imported its largest total in history last year at more than 675,000 pounds. The country imported less than 50,000 pounds in 2010.
South Korea imported less than 700,000 pounds of American lobster in 2010 and more than 2.4 million pounds last year. Vietnam imported almost nothing in 2010 and took more than 4 million pounds last year.