China trade with North Korea up but imports off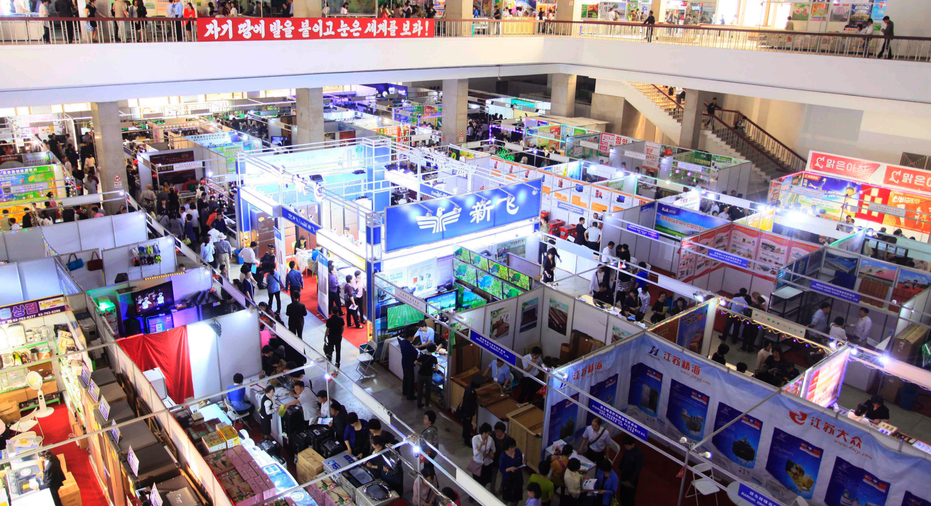 China's trade with North Korea has risen despite Beijing's promise to enforce U.N. sanctions over the North's nuclear program, but Chinese purchases of most North Korean exports have fallen.
Customs data show total trade in the first five months of this year rose 15 percent from a year earlier, driven by North Korea's purchases of Chinese oil and consumer goods. China bought more iron ore but suspended purchases of coal, a key North Korean revenue source.
Trump wants Beijing to use its status as North Korea's only significant ally, trading partner and aid donor to pressure it to renounce nuclear development. Chinese leaders express growing frustration with North Korea but have resisted pressure to push harder for fear leader Kim Jong Un's government might collapse.
Total trade in the first five months of this year was just over 14 billion yuan ($2.1 billion), a tiny sum for China, the world's biggest trader. But the relationship with North Korea, which shares a border with China, is politically significant.
"Unless North Korea starts a war against China or some other country, China will not cut off all trade," said Shi Yinhong, an international relations specialist at People's University in Beijing.
"Some (economic) activities are not for making money but for political concerns, so the people in Pyongyang will want to listen to us sometimes when we talk," said Shi. "The United States does that too."
Trump might use this week's meeting of leaders of the Group of 20 major economies in Germany to lobby for support, said Rajiv Biswas, chief Asia-Pacific economist for IHS Markit.
"A key focus is likely to be on imposing sanctions on additional banks and companies that are considered to be involved in facilitating illicit North Korean financial activity," Biswas said in an email.
Stepped-up sanctions against North Korea include a U.N. Security Council decision on June 3 to expand a travel ban to cover more people involved in the North's nuclear weapons program.
Sanctions on North Korea's Koryo Bank and two companies were tightened. A Chinese bank accused by Washington of helping North Korea hide prohibited financial activity was barred from the U.S. financial system on June 29.
"Global banks are likely to step up their compliance measures in order to ensure that their counterparty banks are not involved in any illicit transactions," Biswas said.
Washington also might target remittances by North Koreans working abroad or Chinese and other companies that deal with North Korea, Biswas said.
On Wednesday, Trump cited a Chinese Customs agency statement that two-way trade with North Korea rose 36.8 percent from a year earlier in the first quarter of the year.
That appeared to be at odds with Chinese data that showed a rise of 7.4 percent. But the Customs agency said Thursday in an emailed response to questions that the change was bigger due to a revision in last year's figures that was not published. It gave no other details.
Beijing suspended coal imports in February following North Korea's fifth nuclear test in November in defiance of U.N. demands. The following month, Chinese imports from North Korea plunged 35 percent.
Meanwhile, Chinese purchases of North Korean iron ore, another key export for the mineral-rich country, rose 34 percent from a year earlier in the first five months of the year, according to a South Korean industry group, the Korea International Trade Association.
Chinese oil sales to North Korea rose 18 percent in the first five months of the year to $35 million, according to KITA. Other top Chinese exports included telephone equipment, textiles, soybean oil and vehicles.
In a show of frustration, Beijing agreed for the first time in March 2016 to enforce U.N. sanctions following North Korea's test of a missile possibly capable of carrying a nuclear warhead.
China banned coal imports the following month but allowed some purchases for civilian use. That reflected Beijing's strategy of trying to press North Korea to comply without destabilizing its economy.
Without coal sales, trade growth is driven instead by rising Chinese exports to North Korea, leaving the North with a widening trade deficit. In May, three-quarters of total trade consisted of Chinese exports to North Korea.
China still has the right to sell goods that are not under U.N. sanctions, such as food, pesticides and fertilizer, said Chen Xiaohe, an international relations specialist at People's University.
"Cutting off all trade may lead to famine," Chen said.
___
AP Business Writer Youkyung Lee in Seoul and researcher Fu Ting in Beijing contributed to this report.