China takes over Anbang insurance, owner of the Waldorf Astoria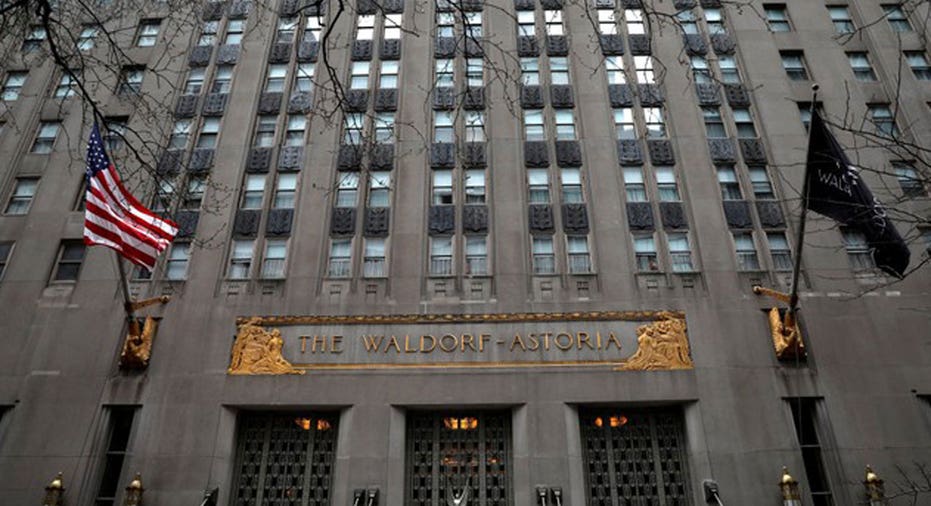 China's insurance regulatory agency Friday took control of hard-charging, acquisitive Anbang Insurance Group Co., saying the action is needed to avoid collapse of the firm following suspected illegal activity and the downfall of its once-highflying chairman.
Anbang was among a handful of privately run, fast-growing Chinese firms that appeared to enjoy unusual levels of political support to borrow money and build global footprints. For instance, it owns New York's iconic Waldorf Astoria hotel. Many of those companies are now in retreat, including airline-turned-conglomerate HNA Group Co., which has been selling assets.
The China Insurance Regulatory Commission published a letter to Anbang management saying duties of the board and management will now be overseen by a working group of regulators from various agencies for one year. "All transactions of your company, asset trading, information dissemination, contract signing other than traditional insurance business are subject to the consent of the working group," said the statement dated Feb. 12.
Separately, Wu Xiaohui, who led Anbang until he was detained eight months ago, has been indicted on charges of fraudulent fundraising and abusing his position, according to a one-sentence notice by prosecutors in Shanghai on Friday. The insurance regulator's statement refers to Mr. Wu as Anbang's former chairman.
An Anbang spokesman in Hong Kong declined to comment.
Just two years ago Anbang was among China's fastest-growing financial companies, as well as one of its boldest global investors with acquisitions including the Waldorf Astoria and insurers in Europe and Asia. Chinese authorities last year put the brakes on the company's expansion over questions about the sustainability of a business model that relied on the sale of short-term investment products and expansion beyond insurance.
In June, authorities detained then-chairman Mr. Wu, who hasn't been heard from since. It isn't known if he has a lawyer. Anbang has previously said he was unable to discharge his duties. Friday's statement from the insurance regulator referred to him briefly saying, "Wu Xiaohui, former chairman and general manager of your company, was prosecuted according to law on suspicion of economic crimes."
The woes at Anbang raised questions over the supervision of China's private financial conglomerates, which have operations in sectors such as insurance and banking. The head of the insurance commission, who had championed a relaxation in regulation, was cashiered last April and placed under investigation by an antigraft watchdog agency.
The government is now working on new regulations aimed at improving oversight of such entities, according to people familiar with the matter.
An official task force that includes insurance regulators had already been monitoring the company's operations since Mr. Wu's detention last year. Anbang in recent months has been instructed to sell shares it held in some banks as regulators seek to slim it down.
The CIRC statement said regulators would invite outside investors into the restructuring of Anbang. It said the company would remain a private insurer. It didn't elaborate, but said the one-year period could be extended for another year.
Ivan Shi, research director at consultancy Z-Ben Advisors, says he doesn't think authorities will break up the company. "I think their goal is probably insuring the stability of the company," he said. "It's such a big company with so many clients that I think it will cause more problems for them to break it up."
The regulatory takeover could accelerate efforts by Anbang to sell some of its overseas assets. For months, investment bankers and private-equity firms have been ruminating over what properties or assets the insurer could unload, but there has been little deal activity so far.
Inside the Waldorf Astoria in Manhattan, construction has been under way to remodel the hotel's interior in accordance with the Chinese insurer's plans. Last week, Christopher Nassetta, the CEO of Hilton Worldwide Holdings Inc., which has a long-term contract to operate the hotel, told investors that "Anbang has been moving forward" with its development plan for the hotel and said there was "heavy demolition" work going on. Mr. Nassetta said on a conference call that his understanding from Anbang was that the Waldorf wasn't one of the assets the company was selling, but he didn't rule out a future sale.
In its statement, the Chinese insurance regulator said that given Anbang's "business operations are in violation of the provisions of the Insurance Law and may seriously endanger the company's solvency, to protect the legitimate rights and interests of consumers and safeguard public interests, the CIRC decided to take over your company."
It cited Article 144 of the country's insurance law. That clause refers to illegally changing business registration filings. The statement said Anbang's takeover won't change its prior financial obligations. While many of China's largest companies are government-controlled, an announced takeover of management by a regulatory agency is unusual. In the past, problem firms have often quietly been folded into larger firms in government-orchestrated workouts.
Lingling Wei, Chao Deng and Grace Zhu in Beijing and Julie Steinberg in Hong Kong contributed to this article.
Write to James T. Areddy at james.areddy@wsj.com