China Stocks End Sharply Higher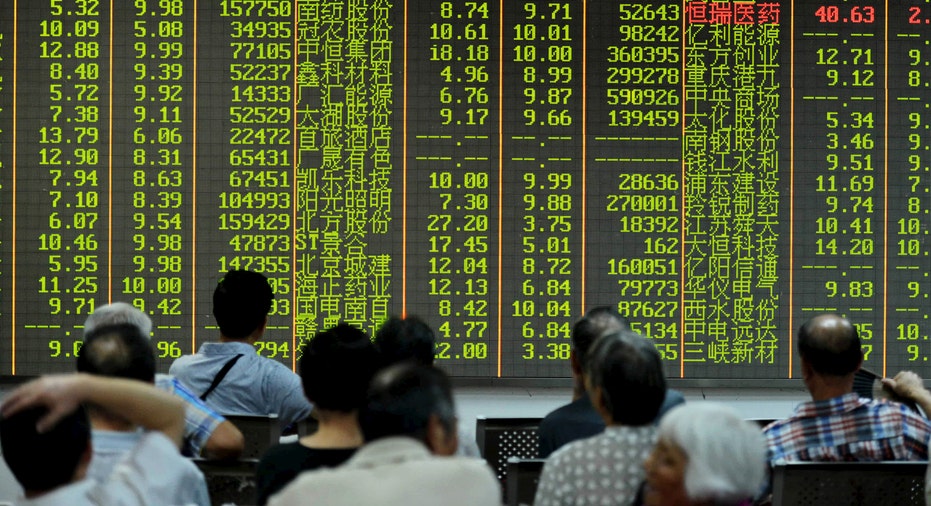 China shares rose the most in nearly a month on Wednesday, as hopes build for broad stimulus measures from Beijing.
The Shanghai Composite Index rose 2.3% to 3536.91, marking its largest daily percentage gain since Nov. 4.
Hong Kong's Hang Seng Index rose 0.4%.
Elsewhere, Japan's Nikkei Stock Average fell 0.4%, Australia's S&P/ASX 200 fell 0.2% and South Korea's Kospi fell 0.7%.
Analysts say that Beijing could roll out more stimulus measures as soon as year-end, as it seeks to reach its growth target of about 7% for 2015. An official reading of Chinese manufacturing activity Tuesday fell to its lowest level in more than three years Tuesday.
Speculation has built about what shape that stimulus could take.
"The expectation is something targeting property purchases and an interest-rate cut or a [bank reserve requirement ratio] cut," said Gerry Alfonso, managing director at Shenwan Hongyuan Securities. The central bank has cut interest rates six times since last November and lowered the amount of reserves banks are required to hold a number of times.
On Tuesday, such expectations drove a rally in Chinese property shares, after reports circulated that stimulus measures could target the real-estate market, including a potential cut to mortgage down payment ratios for first-time home buyers.
The Shanghai Composite traded near flat for most of the day, before soaring in the last hour, a pattern analysts identify with state-led buying. State funds have played a huge role in stabilizing the mainland market, which fell more than 40% during the summer before bottoming out in late August.
"Some of the state-linked funds may have been trying to capitalize on the rise on financials and give them a further boost," said Mr. Alfonso.
Chinese brokerages rose 6% and banks gained 6.3%, according to a gauge of the sectors on the mainland market by Shenwan Hongyuan Securities. Last week, authorities' crackdown on three of China's largest trading houses for potentially violating rules regarding margin loans battered the sector.
While the mainland property sector fell 0.4% Wednesday, a number of individual property shares rallied. China Vanke rose by the 10% daily limit on China's smaller Shenzhen exchange, and 2.6% in Hong Kong. That adds to gains of 10% and 7% on the respective exchanges on Tuesday.
Elsewhere in the region, attention shifted to the European Central Bank policy meeting on Thursday and U.S. jobs data later this week. The latter could support expectations that the Federal Reserve will raise rates at its meeting later this month. The U.S. futures markets on Tuesday pointed to a 75% chance of a rate increase at the Fed's next policy meeting.
In currencies, the Australian dollar touched its highest level in nearly seven weeks Wednesday, after Australia reported surprisingly strong third-quarter growth.
The local dollar briefly hit 0.7342 against its U.S. counterpart earlier Wednesday, its highest level since Oct. 15, after the Australian Bureau of Statistics said gross domestic product in the third quarter grew 0.9% quarter-over-quarter and 2.5% from a year earlier. The local dollar has since pulled back to $0.7312 and traded at $0.7321 late Tuesday in Asia.
Strong growth diminishes the chances of further rate cuts and buoys the Australian dollar, said Steven Leung, a director at UOB Kay Hian in Hong Kong. The local dollar's strength comes even as iron ore reached a new decade-low on Tuesday. Iron ore is Australia's biggest commodity export.
Brent crude oil prices, the global benchmark, fell 0.5% to $44.21 a barrel. U.S. crude oil rose 0.3% to $41.74 a barrel overnight.
Gold prices rose 0.4% to $1,067.50 a troy ounce.
Robb M. Stewart contributed to this article.
Write to Chao Deng at Chao.Deng@wsj.com