China Factory Activity Shrinks in March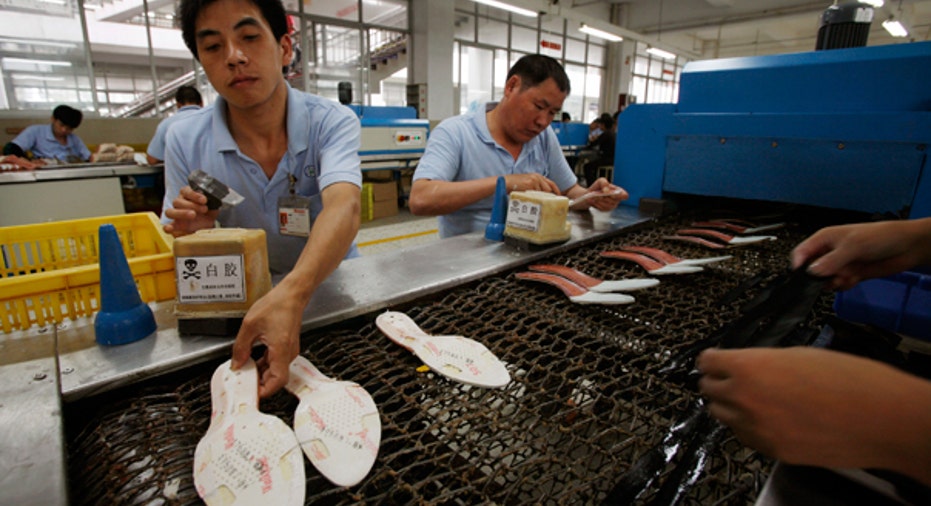 China's economic momentum slowed in March as factory activity shrank for a fifth straight month, leaving investors fretting about the risks to global growth and anticipating fresh policy support from Beijing.
The HSBC flash purchasing managers index, the earliest indicator of China's industrial activity, fell back to 48.1 from February's four-month high of 49.6. New orders sank to a four-month low, an expected rebound in export orders failed to emerge and new hiring slumped to a two-year low.
"With new export orders sluggish and domestic demand still softening, China's slow down has yet to finish. This calls for further easing to come from Beijing," HSBC chief China economist, Qu Hongbin, said in a statement.
Investors immediately hedged exposures to trades betting on a rebound in global growth. Brent crude oil shed half a percent, Hong Kong's Hang Seng stock index sank 0.1 percent into the red to reverse early gains of 0.7 percent and the Australian dollar skidded to a two-month low.
Broad-based weakness in the five key components that generate the headline index level surprised analysts, particularly those who had anticipated a clear cut rebound in factory activity in March after the Lunar New Year disrupted output in the first two months and distorted the data.
"This data suggests there's something more profound at work, that it's not just a Lunar New Year problem and that it's not just affecting exports, but domestic demand," Tim Condon, chief economist and head of Asian research at ING in Singapore, said.
"We'll be talking about this all day. This will be news on (TV) tonight in the U.S., the weak China PMI," he told Reuters.
An index reading of 50 marks the line between expansion and contraction, according to the methodology of the survey compiled by UK-based data provider, Markit.
Index sponsor HSBC reckons factors unique to the Chinese economy make 48 especially significant, given that an index at that level still implies industrial production growth at a healthy 11-12 percent and overall GDP growth around 8 percent.
Annual growth of 8 percent for the full year would be the slowest in at least a decade for the world's second-biggest economy, but comfortably above the government's 2012 target of 7.5 percent.
BEARISH VIEWS
The flash PMI reading will reinforce the more bearish views on China's economic trajectory.
The HSBC Manufacturing PMI index has not been consistently above 50 since June 2011, though it is far above readings of low-40s delivered at the depth of the global financial crisis in late 2008 and early 2009.
The new orders sub-index fell to 46.2, which weighed on the overall index because it is the single biggest of the five components comprising the PMI.
Manufacturing output, the second-biggest component of the overall index, slipped back below the 50-point dividing line to hit a two-month low.
New export orders signalled a second-straight month of shrinkage, albeit at a slower pace than in February.
Backlogs of work shrank to their lowest level since January 2009, near the depths of the global financial crisis as world trade -- a core driver of Chinese economic growth - ground to a halt and Beijing began implementing a 4 trillion yuan ($635 billion) economic stimulus package.
Of the 11 aspects of business analysed by the survey, only one had not changed from the previous month; input prices were static and pointed to lingering inflation risks.
That highlights the dilemma for China's policymakers in containing price pressures while giving adequate support to growth.
But Bank of America/Merrill Lynch economists cautioned about reading too much into the HSBC survey because it captures data mainly from small and medium-sized firms, which have relatively large exposure to exports and less access to bank credit than big companies.
"The number could make some sell-side analysts to claim (again) that China is undergoing a hard landing. But we disagree," Ting Lu, Hong Kong-based China economist at the bank wrote in a note to clients. "We confidently maintain our 8.6 percent annual GDP growth forecast."
Indeed, the government's official PMI, which surveys mostly big companies, has painted a different picture of China's economy. It was 51.0 in February, its highest since September as new export orders expanded. The next official PMI is due for release on April 1.
Many analysts have revised up their forecasts for 2012 growth and the consensus view is that the first quarter is likely to be the bottom of the current economic downswing.
UNSETTLED GLOBAL MARKETS
Concerns about a slowdown in the Chinese economy unsettled global markets earlier this week after BHP Billiton, the world's largest miner, said it was seeing signs that iron ore demand from China was flattening.
The price of three-month copper futures on the London Metal Exchange fell 0.67 percent after the PMI was released.
Data for the flash PMI was collected between March 12-20 and is typically based on approximately 85-90 percent of total PMI survey responses each month.
A Reuters poll earlier this month revealed a consensus call for required reserve ratios (RRR) at the biggest banks to be cut by 150 basis points in 2012 to support money supply and growth. The first 50 bps cut was not forecast until the second quarter.
The RRR was at a record high of 21.5 percent before the central bank called a halt to a near two-year long policy tightening campaign in November, cutting the rate by 50 bps. It followed it with another 50 bps cut in February.
China's economy is expected to return a fifth successive quarter of slowing growth. Analysts anticipate growth will slide towards 8 percent in the first three months of 2012 compared with a year ago, weakening from 8.9 percent in the final quarter of last year.
China's official growth target has been cut to 7.5 percent this year, a pace the government hopes will give it room to deliver on promised structural reforms without causing an inflationary spike. Analysts broadly expect the growth target to be exceeded and few expect a hard landing.
Yu Bin, a senior economist at the Chinese cabinet's Development Research Centre think-tank said he expected growth to hit 8.5 percent in the first quarter and expand at the same rate for the full year, provided there was no external economic deterioration and that China's property market was stable.
But he said a combination of shrinking short-term demand and falling long-term potential productivity had to be addressed and that Beijing policymakers had to be ready to cope with shocks.
"We should have emergency plans to respond to extreme risks," Yu said.