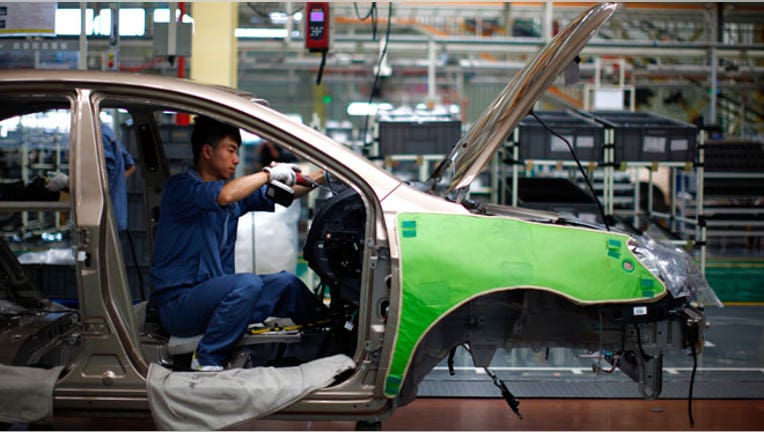 Evidence is growing that the world economy is on the mend. Business surveys on Thursday showed better-than-expected growth in the euro zone and a rebound in China's vast manufacturing sector.
Figures later in the day are similarly expected to confirm a continued strengthening of U.S. factory output, probably clearing the way for the Federal Reserve to start ending its immense bond purchase programme next month.
Markets are struggling to adjust to the idea that the Fed will ease off its stimulus programme and pare back the $85 billion of bonds it has been snapping up every month. But at its most basic level, the move would signal that the world's largest economy is firmly on the road to recovery.
"Tapering would be a sign that the Fed believes the U.S. economy is gaining some traction. It signals that the recovery is more solid," said Philip Shaw, chief economist at Investec.
"There are signs that momentum is building, albeit slowly, in the pace of the euro zone recovery, and in China too."
The world economy has struggled for momentum, hobbled by debt problems ravaging Europe while China grapples with waning foreign and domestic demand for its goods.
But Markit's Flash Composite Purchasing Managers' Index (PMI) on Thursday showed business activity across the euro zone picked up this month at a faster pace than expected, bouncing to 51.7 from last month's 50.5.
Anything above 50 indicates expansion.
It was the highest reading since June 2011 and beat all predictions in a Reuters poll whose median forecast was for 50.9. Readings above 50 signify expansion in activity.
An flash composite PMI from Germany, the bloc's largest economy, showed the growth rate was the fastest in seven months. In France, however, activity declined across the board.
A sister survey from China rose to a four-month high of 50.1 from July's final reading of 47.7, although only barely passing the watershed 50 line.
The Chinese government has announced a series of targeted measures to support the economy, including scrapping taxes for small firms, offering more help for ailing exporters and boosting investment in urban infrastructure and railways.
"It confirms that the economy has stabilised in the short term and downside risks for (the second half of the year) have declined," said Zhiwei Zhang, China economist at Nomura in Hong Kong said of the PMI.
The flash reading for U.S. factories, due at 1258 GMT, is expected to come in at 54.0 compared to July's 53.7.
GROWTH GAIN
Growth data last week showed support from Germany and France
helped the 17-nation euro zone escape from its longest recession on record last quarter, expanding at a better-than-expected but still modest 0.3 percent.
Markit said Thursday's composite PMI, which surveys thousands of companies across the region and is used as an indicator of growth, pointed to a 0.2-0.3 percent economic expansion in the current quarter.
That is similar to a Reuters poll taken earlier this month that predicted a third-quarter growth of 0.2 percent.
"It's looking good. If the euro zone is picking up then that bodes well for the global economy. The wobble in France is a bit of a worry, but hopefully that will be corrected," said Chris Williamson, Markit's chief economist.
Both French manufacturing and services PMIs were weaker than expected and remained below 50, in contraction.
There was other tempering elements, too.
Expectations among euro zone services firms dipped from July's 16-month high and manufacturers reduced their workforce at a faster pace than last month.
Chinese factories also reduced headcount this month as growth is slowing in the world's second largest economy.
But the overall picture from Thursday's data was for a global economy dragging itself out of decline.