China Becomes Big Business for Boeing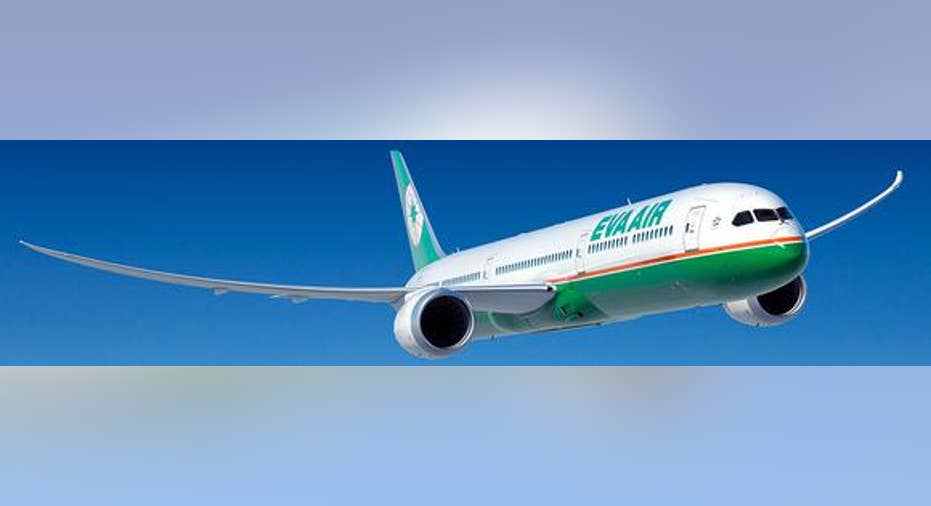 Taiwan's EVA Airways has become the newest "launch" customer for Boeing's 787-10 Dreamliner. Image source: Boeing.
If you ask aerospace analysts -- and if you ask Boeing itself -- China is going to be one of Boeing's biggest markets for commercial airplanes over the next 20 years. In total, Boeing has predicted that China will need to buy some 6,330 planes from Boeing, Airbus , and other suppliers through 2034, and that Chinese companies will spend roughly $950 billion acquiring them.
And Tuesday was a nice start toward that goal.
From China, with cash (to China, with airplanes) On Tuesday, in a paired release of Chinese airplane sales news, Boeing announced that BOC Aviation has placed an order for 11 Next-Generation 737-800 aircraft and 11 737 MAX 8s. (According to S&P Capital IQ, by the way, "BOC" stands for "Bank of China.")
At the same time, Boeing confirmedthat it has inked a separate deal to supply a company from Taiwan. In what Boeing called "the largest single commercial airplane purchase in Taiwan aviation" history, Taiwanese carrier EVA Airways will buy "up to" 24 787-10 Dreamliners and two Boeing 777-300ER (Extended Range) airplanes.
In total, that's 48 new airplane orders reported -- not bad work for a Tuesday.
The horse race Now what does this all mean for Boeing's perpetual horse race against Airbus, and for which of these companies will end up winning the crown for biggest airplane seller of 2015? Clearly, it gives Boeing a big leg up -- albeit not all the way up.
According to Boeing's most recent updateon plane orders received through the penultimate week of November, only 42 of the Chinese planes have actually made it into Boeing's books as "firm" orders. While all 22 of the 737s ordered by BOC made it onto the order book, only EVA's two 777s, and 18 of its Dreamliners, are officially classified as "firm." (This suggests the remaining 787s have been "optioned" for later purchase.) Nevertheless, Tuesday's news did wonders for Boeing's order book, which now looks a little something like this:
438 gross orders for single-aisle 737s
97 Dreamliner 787s
58 widebody 777s
48 Boeing 767s
and six 747s.
In total, that's 647 gross plane orders for Boeing. With no new cancellations reported this week, the cancellation tally stands at 79 planes, and Boeing's net order tally for the year is now 568 planes.
What it means to investors That said, with 850 net orders to Boeing's 568, Airbus continues to hold a commanding lead over Boeing. What's more, it's a lead that is likely to grow rather than shrink in the near term. Next week -- probably Thursday or Friday -- should see Airbus release its sales report for all of November (adding a month's worth of orders to its tally), whereas Boeing will be reporting only an incremental week's new sales next week.
Sharp-eyed investors should try not to get distracted by any big expansion in Airbus' order book relative to Boeing's, however. Instead, you'll want to look at an even more interesting dynamic -- how Airbus'valuation just got bigger than Boeing's.
As of today, Airbus shares cost 18.7 times earnings, but Boeing's cost only 18.5 times earnings.
Does that make Boeing stock a better buy than Airbus? Tune in next week, when we have both companies' latest order book numbers to compare, and we'll find out.
The article China Becomes Big Business for Boeing originally appeared on Fool.com.
Rich Smithdoes not own shares of, nor is he short, any company named above. You can find him onMotley Fool CAPS, publicly pontificating under the handleTMFDitty, where he's currently ranked No. 317 out of more than 75,000 rated members.The Motley Fool has no position in any of the stocks mentioned. Try any of our Foolish newsletter services free for 30 days. We Fools may not all hold the same opinions, but we all believe that considering a diverse range of insights makes us better investors. The Motley Fool has a disclosure policy.
Copyright 1995 - 2015 The Motley Fool, LLC. All rights reserved. The Motley Fool has a disclosure policy.