Chevron, Exxon Commit to $37B Expansion Project in Tengiz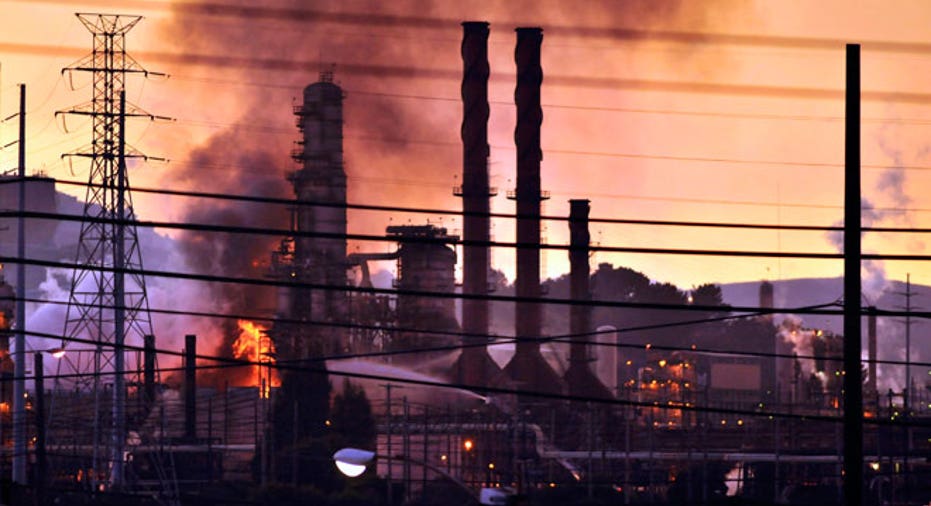 Chevron Corp., Exxon Mobil Corp. and their partners on Tuesday committed to a $36.8 billion oil expansion project in Kazakhstan--one of the biggest investments in new barrels since oil prices collapsed two years ago.
Last week, BP PLC said it was building another plant to liquefy natural gas and associated infrastructure at its Tangguh project in Indonesia. The investment is around $8 billion, according to a person familiar with the matter. It follows the U.K. oil giant's announcement in June that it is fast-tracking a major offshore gas discovery in Egypt. Earlier this year, Italy's Eni SpA sanctioned development of its massive offshore Zohr gas field in Egypt where initial investment is estimated to be around $4 billion.
So far this year, energy companies have taken the plunge on eight big expensive developments, according to Houston energy investment bank Tudor Pickering Holt & Co. And more are expected this year, the bank added. In 2015, just four such projects went forward.
The announcements come as the industry appears to be starting to climb out of a period of turmoil after oil prices collapsed from around $115 a barrel in mid-2014 to a low of $27 in January. The rout has forced producers, both big and small, to cut jobs and pull back spending on new developments and exploration in efforts to cut costs.
With those lowered costs combining with oil prices rising to more than $50 a barrel, oil producers are taking a new look at projects that had been shelved.
"It's a terrific time to be making this sort of investment," said Todd Levy, Chevron's president for Europe, Eurasia and Middle East exploration and production division.
It is still early days. Big-energy company executives have said they are treating the oil-price rally with caution, warning that as prices rise, investment could kick in from U.S. shale producers and American output could quickly ramp up again.
A similar price rally in 2015 fizzled before the end of the year. Companies have delayed or canceled about $270 billion in projects through March, including expensive Arctic developments, according to Rystad Energy, and that trend isn't likely to change quickly. Great Britain's decision to leave the European Union adds another level of uncertainty, with the effect on markets, oil demand and investment still to be determined.
But the Chevron announcement on Tuesday is "an inflection point," said Jefferies senior oil analyst Jason Gammel, noting that it is the first investment of more than $10 billion this year. "It's a very large project and it's a reflection of the companies having got their cash cycles under control," he said.
The decision, which has been on hold since last year, is a signal of the international oil industry's growing confidence that oil prices have stabilized and are set to move higher, say analysts. Barclays forecast this week that Brent crude prices will average $57 a barrel next year, up from a forecast average of $44 this year. Oil production across the world has been flat or fallen in some cases, because of production outages in Nigeria and Canada and falling output from U.S. shale drillers.
"It shows that the market is on its way up," said Matthew Sagers, head of Russia and Caspian research at IHS Energy. "It's not going to be fast or smooth, but generally the trend is up," he added.
The investment in the expansion of the field known as Tengiz--one of the world's largest--comes on top of around $37 billion already spent by Chevron, the operator, and its partners: state-owned energy firm KazMunaiGas, Exxon and Russia's Lukoil. Construction is already under way.
For oil companies that do invest now, they get to benefit from a huge drop in drilling costs that has accompanied the oil-price fall. Pumps, valves, drilling rigs, construction and engineering services and even labor are cheaper because the contractors that provided those services have less work that in the boom years after the financial crisis when oil prices traded around $100 a barrel.
The prices of commodities such as steel are also depressed, further bringing down the cost of constructing oil-production equipment, said Mr. Levy of Chevron. Also, the company has used the additional time to engineer more than half of the project--an unprecedented level at this stage in the development and that can help reduce construction risk.
It isn't clear whether U.S. oil companies focusing on oil and gas in shale formations will also restart investment, a development that could bring oil output back much more quickly than big international projects like Tengiz.
First production from the expansion there is due in 2022, taking the field up to 1 million barrels of oil equivalent a day from around 800,000 barrels of oil equivalent a day currently.
Oil companies that invest now, with crude prices at about $50 a barrel, will only pursue projects that make economic sense at lower oil prices, such as Tengiz, which has had average production costs of around $6.50 a barrel over the past five years, according to Mr. Gammel's estimates.
Already, Tengiz is one of the most profitable fields in the history of the modern oil era. Some analysts estimate that it has brought Chevron more than $70 billion in revenue, and $40 billion in profits, since 1993, when the U.S. company became the first foreign oil company to strike a deal with the former Soviet republic.
Write to Selina Williams at selina.williams@wsj.com