Charter Notches Wins in Video and Broadband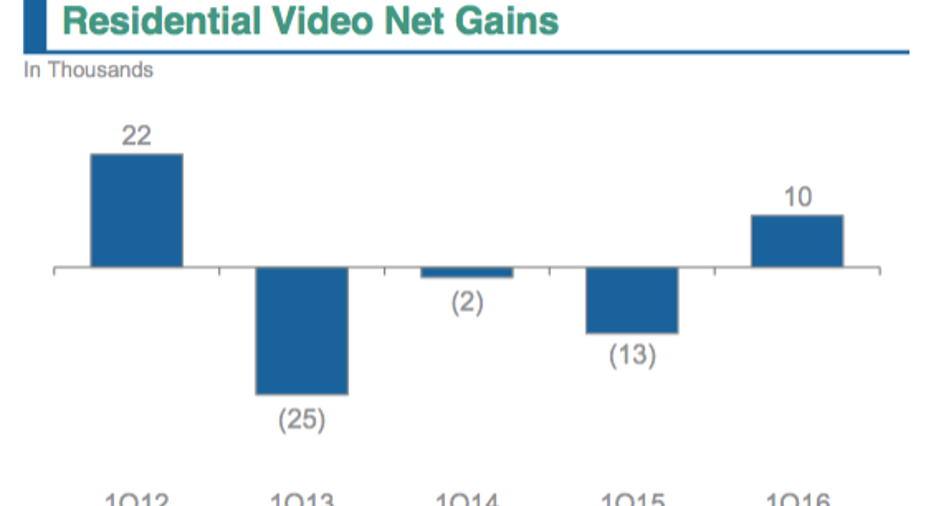 It's beginning to look like cord-cutting may not lay waste to the traditional pay-television providers as many expected.
After 2015, when the entire industry lost only about 385,000 customers, signs continue to mount that the trend may peter out. That's especially good news forCharter Communications, which just became the No. 2 cable company in the United States with the Federal Communications Commission's (FCC) recent approval of its purchase ofTime Warner Cable .
In a broad sense, Charter has actually been bucking the overall industry trend where a slight decline has been the norm. The company gained 11,000 customers in 2015, according to data from Leichtman Research Group,while its new purchase Time Warner Cable did even better, adding 43,000. That positive momentum continued into Q1 when Charter added 15,000 video subscribers. The news was also good in broadband where the company added 155,000, a slight improvement on the 135,000 it gained in the first quarter of 2015.
"Our products, service, customer growth and financial results continue to improve, as we deliver more value to our residential and business customers," said CEO Tom Rutledge in the earnings release. "The operating, service and financial benefits of our strategies are as we expected and demonstrate the growth opportunity that our consumer-friendly practices can drive on a larger set of underpenetrated assets through our pending transactions with Time Warner Cable and Bright House Networks."
Image source: Charter.
How was the financial performance?In addition to growing its user base, Charter also inched up its revenue per customer by 1.4% to $111.04. Overall Q1 revenue climbed to $2.5 billion, up 7.1% from the same period in 2015.
The company reported that its cost to service customers "remained virtually unchanged year-over-year despite year-over-year residential and SMB customer relationship growth of 5.9%." Charter did, however, see its programming costs rise by $37 million over 2015, and its "other" expense category also rose by $34 million "reflecting higher corporate and administrative labor costs, including the insourcing of IT and software development resources, property taxes and insurance."
So, despite adding customers and mostly keeping costs in check, the company lost $188 million in Q1 2016, an increase from its $81 million loss the previous year. Charter attributed the bigger loss to a $165 million increase in interest expense, driven by the financing of the deal to buy Time Warner Cable and Bright House.
The loss works out to $1.68 per share compared to $0.73 during the same quarter in 2015.
Everything's different nowReally, the only thing that can be taken from Charter's first-quarter numbers is that growth prospects look good for the about-to-be-No. 2 cable and broadband provider. Cord-cutting does not seem to be decimating the pay television side of the business, and it's possible the trend has already plateaued. On the broadband side, there's a clear growth pattern with no real reason to think demand will subside anytime soon.
The new bigger Charter, which will be called New Charter, still has a number of hurdles to clear. Integrating a company that is bigger than itself on a subscriber basis presents plenty of challenges, and the company does risk losing customers during the transition.
Still, these numbers are encouraging for Charter, which if you subtract the financing charges, more or less broke even for the quarter. Going forward -- as long as it can manage the transition well with Time Warner Cable and Bright House customers -- Charter should, eventually, be able to translate efficiency into profitability.
The article Charter Notches Wins in Video and Broadband originally appeared on Fool.com.
Daniel Kline has no position in any stocks mentioned. He enjoys that cold-brew coffee has become a thing. The Motley Fool has no position in any of the stocks mentioned. Try any of our Foolish newsletter services free for 30 days. We Fools may not all hold the same opinions, but we all believe that considering a diverse range of insights makes us better investors. The Motley Fool has a disclosure policy.
Copyright 1995 - 2016 The Motley Fool, LLC. All rights reserved. The Motley Fool has a disclosure policy.