Champion Regains His Title at Nathan's Hot-Dog Eating Contest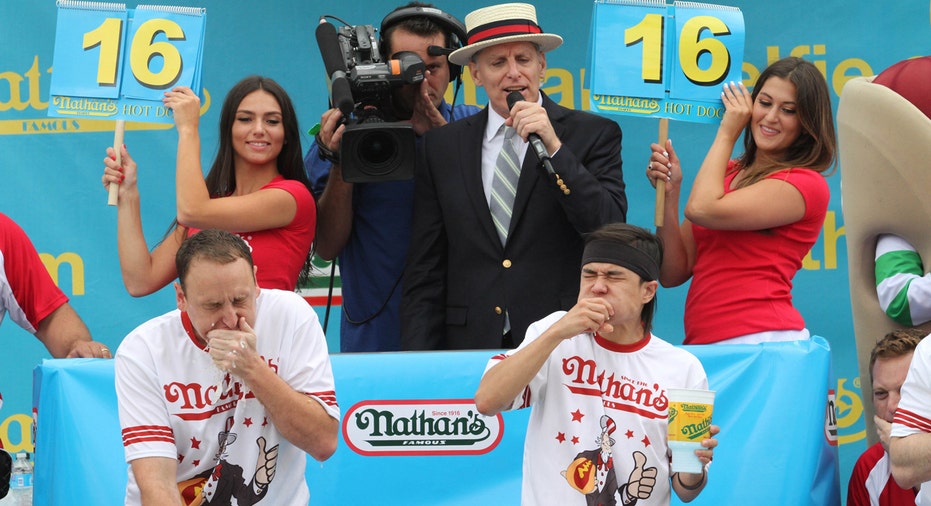 Last year, when his loss at the Nathan's Famous hot-dog eating contest shocked the world of competitive eating, Joey Chestnut realized he had to reinvent himself.
"I went back and lost some weight, got healthier," Mr. Chestnut said after he downed 70 hot dogs in 10 minutes Monday to reclaim his crown in the event, which is held each year in the Coney Island section of Brooklyn, N.Y.
"I worked on my capacity, grew a little beard, and came back and won."
Mr. Chestnut, who hails from San Jose, Calif., had won eight-straight times before losing in a stunner last year to Matt Stonie by just two franks. This year, he beat Mr. Stonie by 17 dogs.
Mr. Chestnut said he had been gunning for 70 hot dogs at the Fourth of July event for years. The win comes just days after Mr. Chestnut set a world record at a qualifying event in Washington, D.C., where he downed 73.5 hotdogs and buns.
On Monday, Mr. Chestnut took the lead early and with six minutes left, he had eaten 36 franks to Mr. Stonie's 28. With five minutes to go, Mr. Chestnut was squinting his eyes, breathing in dog after dog and after each slurping down buns he had doused in water.
The crowd rang cow bells and waved signs.
Coming down the stage stairs after the clock ran out, one of the judges could be heard saying, "Wow. I've never seen anything like that."
Mr. Stonie appeared cheerful in defeat, and he congratulated Mr. Chestnut.
"No excuses. Joey did great. I'll be back next year prepared," said Mr. Stonie, who, like Mr. Chestnut, is from San Jose. He said he would take a few days off from eating but imagines it won't be long before he is enjoying frankfurters again. "A good hot dog is a good hot dog."
In the women's competition, Miki Sudo, of Las Vegas, took home the first place prize with 38.5 dogs.
The competition went bite-for-bite between Ms. Sudo and Sonya Thomas, of Alexandria, Va., who devoured 34 franks to capture second place.
Backstage, where staffers had worked a special assembly line preparing dogs for the competitors and staff, Ms. Sudo said her main challenge was having to dunk her hot-dog buns in a different flavor of Crystal Light than she is used to.
"It was mind over matter, you know," Ms. Sudo said. "When you hit a wall, you grab a hammer and you hit it down. You make it happen."
Among the estimated 40,000 spectators who gathered for the beachside spectacle was a mix of regulars and first-timers.
Aaron John and his girlfriend, Mia Holt, moved from the United Kingdom to Park Slope a month ago. "We feel like we're tourists," said 24-year-old Mr. John. "Hence, [why I'm] eating a hot dog at 10 a.m. It's amazing."
Locals included 63-year-old George Diaz, who lives in Gravesend now, but said he had come every year since he was a boy growing up in Williamsburg.
"I always come," he said. "I'm a Brooklyn boy."
Write to Hannah Furfaro at hannah.furfaro@wsj.com