Challenging Conditions Cause Westinghouse Air Brake Technologies Corp's Sales to Slump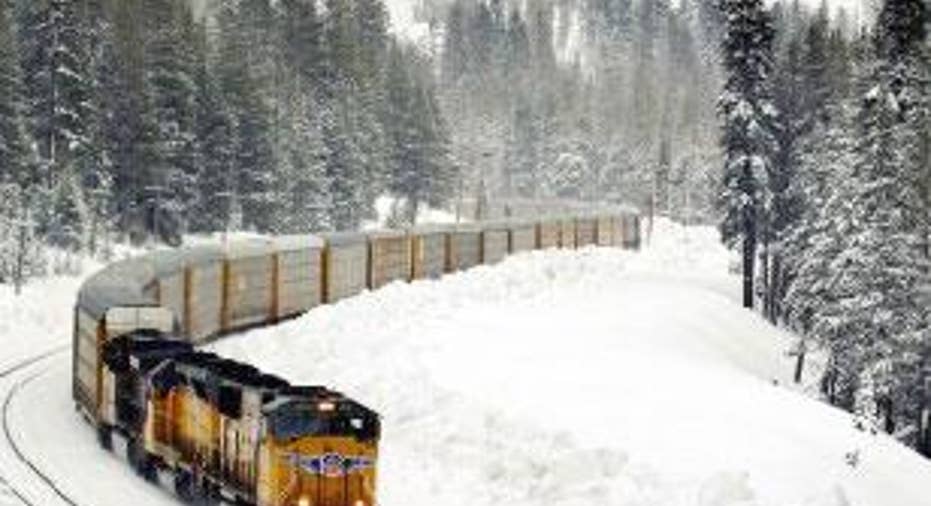 Image source: Trinity Industries.
Global economic and currency headwinds continued to plague Westinghouse Air Brake Technologies , or Wabtec, during the first quarter. While those headwinds pushed revenue backward, the company was able to mute the impact to earnings through cost reduction efforts and share buybacks. That has the company still on track to hit its target to deliver record earnings in 2016.
Checking in on the numbersWabtec's revenue slumped 6% to $772 million due to lower Freight Group sales as well as the impact of foreign exchange rates. The headwind from foreign exchange resulted in an $18 million reduction to total revenue. If currencies were held constant, revenue would have only dipped 4%.
The drop in Freight Group sales is a bit of a surprise after that group had been the stronger of the two over the past year. Instead, its sales slumped 14%, with the Transit Group picking up some of the slack after its sales rose 7%:
| | Q1 2016 Actuals | Q1 2015 Actuals | Growth (YOY) |
| --- | --- | --- | --- |
| Freight Group | $442.7 million | $511.9 million | -14% |
| Transit Group | $329.4 million | $306.7 million | 7% |
| Total | $772.0 million | $818.6 million | -6% |
Data source: Westinghouse Air Brake Technologies Corp.
That's in stark contrast to last year, when the Freight Group delivered a 19% increase in revenue, fully offsetting the 5% decline in Transit Group sales.
Earnings, meanwhile, were somewhat of a mixed bag. Income from operations slipped 3% year over year to $142.2 million, though it was higher as a percentage of net sales rising from 18.1% in the year-ago period to 18.4% during the first quarter thanks to the company's cost-reduction efforts. Net income was also slightly weaker on an absolute basis, falling 2% to $94.2 million. However, on a per share basis, net income increased 3% to 1.02 per share. That higher per share growth was partially attributable to a lower share count after Wabtec repurchased 1.95 million shares during the quarter, bringing its total share count down 5% over the past year. Further, net income per share would have been even higher if it wasn't for $0.03 per share in expenses relating to the company's Faiveley Transport transaction.
A look at the outlookDespite some challenges in the first quarter, Wabtec is affirming its full-year guidance for earnings between $4.30 to $4.50 per share, though revenue is expected to be slightly down for the full year. The company is keeping its guidance in tact because its results are expected to improve sequentially throughout the year thanks to the ongoing benefits of its cost-reduction initiatives as well as projects in the backlog that will begin ramping up. Further, the company's guidance does not include any contribution from Faively Transport, which is still expected to close by mid-year.
Overall, the railcar industry is under some pressure right now. Those challenges were detailed by the SVP & Group Presidentof Trinity Industries Rail and Railcar Leasing Groups,Steve Menzies,on the company's most recent earnings call. He noted:
That's why Trinity Industries, like Wabtec, is undertaking cost-reduction initiatives in order to respond to these conditions that are putting downward pressure on revenue. That being said, while the industry is facing challenges, demand is still healthy, with Trinity Industries maintaining its current expectations for railcar deliveries in 2016. In other words, times are tough, but they're not so bad as to make the railcar industry start reducing full-year guidance, which is good news for Wabtec.
Investor takeawayWabtec is facing some headwinds, but it has done a fairly decent job overcoming the top-line pressure by reducing its costs and its share count, which is boosting its bottom line. It doesn't see these headwinds strengthening; instead, it sees its ability to overcome them improving throughout the year, even before adding in the benefit of Faively Transport. That means the company remains on track to deliver a record year in 2016.
The article Challenging Conditions Cause Westinghouse Air Brake Technologies Corp's Sales to Slump originally appeared on Fool.com.
Matt DiLallo has no position in any stocks mentioned. The Motley Fool recommends Westinghouse Air Brake Technologies. Try any of our Foolish newsletter services free for 30 days. We Fools may not all hold the same opinions, but we all believe that considering a diverse range of insights makes us better investors. The Motley Fool has a disclosure policy.
Copyright 1995 - 2016 The Motley Fool, LLC. All rights reserved. The Motley Fool has a disclosure policy.