CES 2016: DISH Tries to Make Sling Easier to Use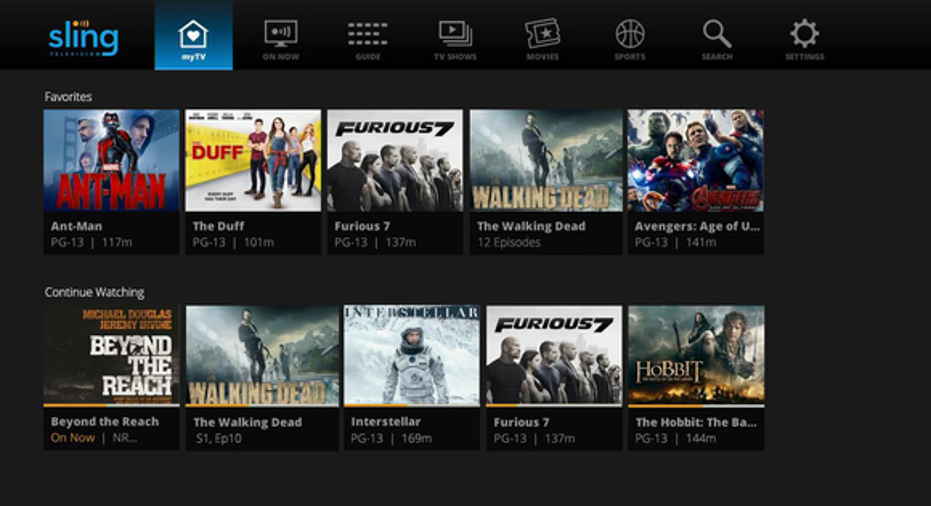 Last year DISH Networks had one of the most talked about product unveils at the Consumer Electronics Show with its Sling streaming television service.
A truly innovative offering, the service offers live-streaming TV without requiring a traditional cable or satellite subscription. Sony has a somewhat similar service, but its plans start at $49.99 a month -- in the vein of wired prices -- while DISH's Sling starts with around 20 channels for $20.
The Sony product, PlayStation Vue, is essentially an alternative to cable or satellite for people who want a streaming product. Sling instead targets cord cutters by offering them a package of top-tier cable channels including ESPN, TNT, TBS, Cartoon Network, and more, along with the ability to add on movie channels including HBO as well as sports, news, and family packages.
Sony has a streaming cable service that is an alternative to the current big players, but Vue is not a disruptive product. Sling has the potential to be exactly that and at this year's CES, DISH unveiled its latest iteration.
A bit about SlingSling, which I have a free subscription to that the company provides to media, does not entirely replace traditional cable. It has a number of popular networks and the presence of ESPN gives it a heavy dose of sports content (which is hard to find for cord cutters) but it lacks broadcast networks.
I enjoy using Sling when traditional television is not an option (generally when I'm traveling with my 11-year-old son and sharing a hotel room trying not to wake him up). The service works well as long as you have a decent Internet connection, but the interface does not really feel like you're flipping around as you would on traditional TV.
In part that's because there is a noticeable lag when switching stations and partly it's because the interface is a bit awkward. That's not a problem once you are watching a show, but it makes discovery harder. Broadly that's what the company is trying to correct with the new features it announced at a CES press conference, which was previewed in a December media event which I attended via phone.
What is DISH doing?At the CES event and in the prior embargoed media briefing DISH showed off a revised Sling user interface that the company said was designed to create a more personalized experience, as well as improve content discovery across the platform. It's not quite a one-UI-fits-all scenario as the interface will be tweaked depending upon which streaming device or computer platform a person is using.
It will launch later in the first quarter of 2016.
"TV is about being entertained, and for the first time, the new Sling TV experience will be able to tailor programming suggestions to your interests," Sling CEO Roger Lynch said in a press release. "The new interface will leverage real-time data to help users navigate the content depth that we've brought to Sling TV. This is the beginning of a reimagined experience, one more personalized and relevant to each viewer."
How will it work?According to the company the new UI will learn each user's viewing habits. "The UI will become contextually aware of viewing preference, location, device, time of day, popularity and more," according to the press release.
As an example the company notes that the UI will know if a user generally watches news in the morning or children's programming when watching on a tablet. It will then be able to take that information and made appropriate recommendations.
The new UI won't be the singular way to find or select content. Instead Sling subscribers will be able to pick from a variety of navigation options. These include:
MY TV: This view centers around favorite content showing a user's most-viewed channels and shows as well as offering access to previously started, but not-finished programs. This area will also offer suggested content based on past behavior and "hot" shows pulled from what other users are watching as well as social media trends.
On Now: This is closer to the current interface that allows viewers to browse live television choices. The new version aligns how options are presented to each user based on past choices.
Sports: This section will allow subscribers to filter sports content by several criteria including favorite team, sport, conference, and more.
TV Shows: In this area, TV programs will be displayed and viewers will have access to all available episodes including live and on-demand shows. A similar section will also be offered for movies.
The new interface is designed to make discovery easier. Source: DISH
Will it work?It's hard to know from early screenshots how well all of this will work, but interface is clearly Sling's biggest problem (as it generally has been for all streaming services). The challenge is that watching television is a long-standing experience that most people are very used to.
Sling works well when you log in and know what you want to watch, but it's less satisfying when you don't. That's a common problem in the streaming world where a number of services have quality content but have not quite figured out how to mimic flipping around.
In this case, Sling is attempting to get consumers to a show they may want to watch faster. That's a smart play given that actually watching shows is where the service excels.
These changes may help and every little bit matters because at $20 for the basic package Sling makes cord cutting more attractive. DISH does not break Sling numbers out in its quarterly reporting, but the service is unique and it should grow as traditional cable shrinks due to cord cutting.
This UI change is not a revolutionary one, but it's an evolutionary move that should bring the end, or at least the diminishing in importance, of the current pay-TV model a little closer.
The article CES 2016: DISH Tries to Make Sling Easier to Use originally appeared on Fool.com.
Daniel Kline has no position in any stocks mentioned. He still prefers regular TV even though it costs more. The Motley Fool has no position in any of the stocks mentioned. Try any of our Foolish newsletter services free for 30 days. We Fools may not all hold the same opinions, but we all believe that considering a diverse range of insights makes us better investors. The Motley Fool has a disclosure policy.
Copyright 1995 - 2016 The Motley Fool, LLC. All rights reserved. The Motley Fool has a disclosure policy.