CEO Pay Shrank Most Since Financial Crisis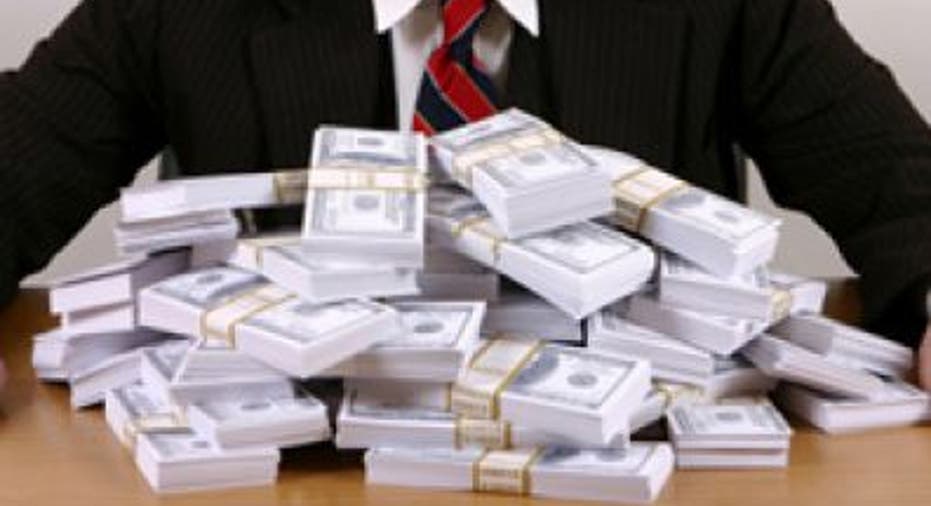 Compensation for the chief executives of the biggest U.S. companies fell more sharply last year than any year since the financial crisis, as weaker corporate performance slowed cash bonuses and accounting rules pared back pension growth.
Median pay for the CEOs of nearly 300 large publicly traded companies slipped 3.8% to $10.8 million last year from $11.2 million in 2014, a Wall Street Journal analysis of compensation data from MyLogIQ found. Half of those CEOs saw total pay either decline or rise by less than 1% -- also the worst showing for S&P 500 chiefs since the 2008 crisis.
"Increases in CEO pay have taken a bit of a pause this year," said John Roe, head of advisory services at ISS Corporate Solutions. Where pay is rising, Mr. Roe noted, "it's in the places shareholders like to see it coming from most: It's in equity."
The median rise in stock-based compensation -- the biggest component of most CEO pay packages -- was about 7%. The median rise in cash pay, including salary and annual bonus, was 2%, down from 5.6% growth in 2014, the Journal analysis found.
Many of the overall declines in pay were driven by slower growth in CEO pension values, a year after pension increases for many top executives swelled because of changes to the actuarial assumptions underlying them.
Companies in the Journal's analysis generated a flat median total shareholder return -- which includes reinvested dividends -- during the year for which pay was reported, according to FactSet. It was 17% a year earlier.
"It was a pretty tepid year when it comes to performance," said Andrew Goldstein, head of the North American executive pay practice at consulting firm Willis Towers Watson.
The Journal analyzed CEO compensation and performance data for S&P 500 companies that disclosed pay details for their 2015 fiscal years between July 1, 2015, and March 31, 2016. Most of the remaining companies in the index are expected to file proxies by early May. ( See an interactive graphic comparing CEO pay and company performance data for S&P 500 companies.)
Last year's broad pay trend can be seen at 3M Co., the Minnesota-based maker of Post-it Notes and industrial abrasives.CEO Inge Thulin's pay declined 3.4% to $19.4 million, with his cash incentive pay falling 33% but equity pay rising 25%. Total return for 3M's shareholders was minus 5.8%.
3M didn't respond to requests for comment.
Compensation for the top-paid CEOs didn't always track performance for investors. Total pay for Philippe Dauman of media conglomerate Viacom Inc. rose 22% to $54.15 million, on bigger stock grants. Total return for shareholders was minus 42% during the same period.
A Viacom spokesman said $17 million of Mr. Dauman's compensation came from a retention bonus he received when renewing his contract last year. The bonus vests over several years, and much of Mr. Dauman's pay is tied to the company's share price, the spokesman said. "If investors lose money in their Viacom investment, Philippe's compensation will also decline as well."
Pay for Honeywell International Inc. CEO David Cote rose 18% to $34.5 million thanks to $14.25 million in cash incentive payments, even as shareholder return was 5.8% at the industrial conglomerate.
Honeywell said the company beat its targets for growth in revenues and return on investment over the past two years, and that Mr. Cote's pay reflects performance for 2014 as well as 2015. That incentive compensation was reported in full for 2015, although he won't receive half the amount until 2017, a spokesman said. "Adjusted to an annual basis, Mr. Cote's compensation in 2015 declined year over year," he said.
Some bosses had big pay cuts on performance woes. The co-CEOs of Chipotle Mexican Grill Inc., Monty Moran and Steve Ells, lost their bonuses last year after a rash of illness outbreaks at its restaurants sickened customers and sent its share price tumbling. Total pay for the two CEOs fell by more than 50% each, to $13.5 million for Mr. Moran and $13.8 million for Mr. Ells.
A Chipotle spokesman declined to comment.
The Journal analysis used CEO pay figures as published in company proxy statements and annual reports under Securities and Exchange Commission disclosure rules. It generally excluded CEOs who changed jobs during the year.
Some big paychecks weren't reflected in the Journal analysis. Sundar Pichai, who in October was appointed chief executive of the Google online-search business, was paid $100.5 million in 2015, of which $99.8 million consisted of restricted stock that vests over two years. (Google co-founder Larry Page, by contrast, earned $1 cash as CEO of Alphabet Inc., the parent company.)
Just 17 women ran companies in the group -- about 6% of the total. All but two of the women made more than the S&P 500 median, and the highest-paid of them, Oracle Corp. co-CEO Safra Catz, made $53.2 million. ( Mark Hurd, her fellow co-CEO, made about $1,500 more than she did.)
An Oracle spokeswoman declined to comment.
Cash compensation continued to account for about a third of total pay, while stock and options accounted for about 60%, up slightly from years past. Perks accounted for about 2% of pay, while pensions and above-market interest on deferred compensation constituted about 6%, down from 13% in 2014.
Pension gains pushed CEO pay higher at many companies in 2014 because of changes to the standard assumptions -- including life expectancy -- used to calculate today's value for pensions that will be paid years in the future.
For 2014, "pension disclosures were an anomaly because of changes in the mortality tables as well as interest-rate fluctuations," said Mark Borges, a compensation consultant with Compensia Inc. "Those had the effect of distorting pay."
Year-earlier pension gains were also a significant factor in 2013 -- the previous time compensation declined for CEOs of S&P 500 companies. Then, median compensation slipped 2.4% to $10.2 million, although equity pay rose 10.2% and cash pay rose 7.1%.
Write to Theo Francis at theo.francis@wsj.com and Joann S. Lublin at joann.lublin@wsj.com