Central Bank Puts the Spotlight On Mexico ETF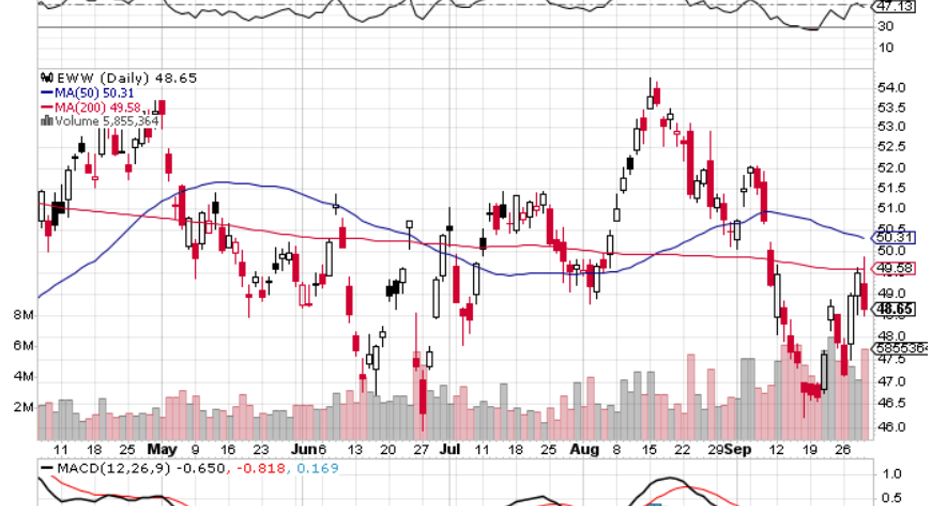 The iShares MSCI Mexico Capped ETF (NYSEArca: EWW), the largest ETF tracking stocks in Latin America's second-largest economy, has been a relative laggard this year when measured against other single-country Latin America exchange traded funds and the peso is a big reason why.
Earlier this year, Mexico's central bank surprisingly raised interest rates in a bid to halt the peso's slide, a decline that was worsened by Brexit. However, some market observers are enthusiastic about Mexico's long-term prospects as the country aims to be home to one of the world's 10 largest economies.
Related: How Central Banks Affect LatAm ETFs
Although Mexico's central bank said the first rate hike earlier this year was not the start of a new tightening cycle, the central bank surprised global investors Thursday when it boosted borrowing costs by 50 basis points to 4.75%, which is good for the country's highest interest rate since 2009.
With Mexico's economy showing signs of lethargy, investors were likely caught off guard by the rate hike as many market observers were expecting Mexico's central bank to hold off on monetary policy changes until after the U.S. presidential election in November. Republican nominee Donald Trump is, in the eyes of some market observers, a potential negative for the Mexican peso.
"Mexico has become a favored macro short, in part to hedge other EM currency exposure that is either too expensive due (Brazil) or illiquid, and in part because the trade has worked well until this point. In recent weeks the currency has also been used as a U.S. election proxy, being sold whenever a Trump presidency seems more likely to be chosen," according to a Markfield Asset Management note posted by Dimitra DeFotis of Barron's.
Emerging markets, notably Mexico and Indonesia, were among the winners of Monday's debate as many investors believed a Clinton win would mean more favorable foreign trade relations.
Trump has exhibited strong protectionist rhetoric on international trading, vowing to renegotiate some trade agreements in his "America First" platform. Consequently, many emerging countries, notably those involved in the Trans-Pacific Partnership, could suffer under a Trump administration focused on protecting American industries.
Related: The Best LatAm ETFs
"The greatest danger:  raising the Base Rate to the point that material damage is done to the domestic economy. 4.75% is a relatively high rate … [that]  in place for long enough [could] slow local economic activity. Against this there is the potential for a virtuous cycle of strengthening currency forcing shorts to cover and allowing the central bank to cut rates," according to the Markfield note posted by Barron's.
For more information on the Mexico ETF market, visit our Mexico category.
iShares MSCI Mexico Capped ETF
The opinions and forecasts expressed herein are solely those of Tom Lydon, and may not actually come to pass. Information on this site should not be used or construed as an offer to sell, a solicitation of an offer to buy, or a recommendation for any product.
This article was provided by our partners at ETFTrends.