Celator Pharmaceuticals' Latest Data May Help Vyxeos Become Standard of Care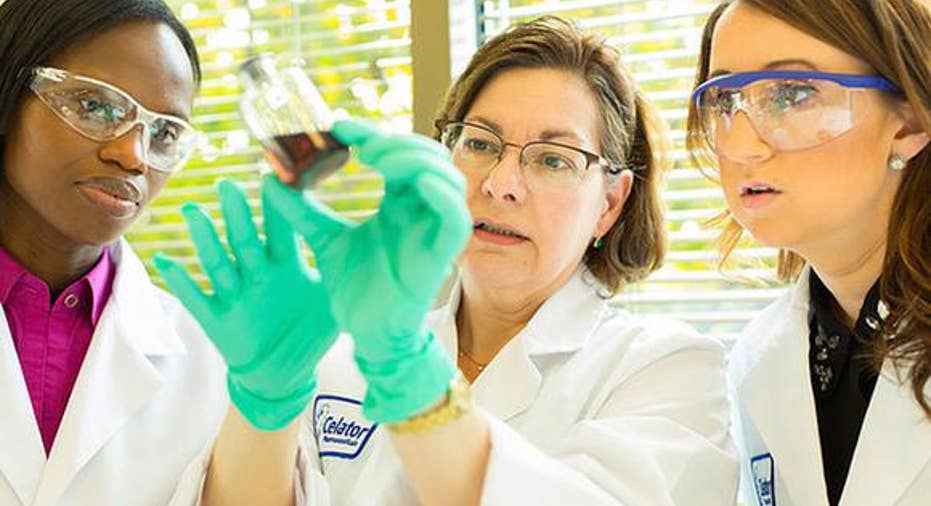 IMAGE SOURCE: CELATOR PHARMACEUTICALS, INC.
Still enjoying a honeymoon with investors following the release of impressive phase 3 data last month, Celator Pharmaceuticals announced additional study data earlier this week that could further entrench its lead product candidate, Vyxeos, as the next standard of care in the treatment of acute myeloid leukemia.
Building a moatPreviously, Celator Pharmaceuticals Vyxeos extended overall survival in secondary AML to 9.56 months from 5.95 months for patients receiving the current standard of care: the 7 + 3 chemotherapy regimen.
Vyxeos extended overall survival without increasing safety risks and that performance could mean that Vyxeos, which is an optimized combination of the chemotherapy drugs used in the 7 + 3 approach, may enjoy widespread adoption if it's eventually approved by the Food and Drug Administration.
The 7 + 3 therapy, which is named for the duration of days patients receive the chemotherapy drugs cytarabine and daunorubicin, respectively, has been standard of care in AML for four decades and, sadly, little innovation in this indication means that AML survival rates remain far too low. According to the National Cancer Institute, 19,950 new cases of AML are diagnosed in the U.S. every year, and roughly three-quarters of AML patients succumb to their cancer within five years.
Given that backdrop, Vyxeos would seem to be the biggest advance in AML treatment in a generation; especially for tough to treat patients. Vyxeos results came in trials for use in secondary AML, or cases that stem from environmental, occupational, or therapeutic exposure to radiation. Secondary AML accounts for roughly 25% of all AML cases, and while over half of secondary AML patients respond to 7 + 3 as a first-line therapy, most secondary AML patients relapse and, despite intensive post-remission therapy, long term survival rates are only about 10%.
On Monday, the company presented additional data showing that Vyxeos could offer these patients new hope. Specifically, in ex-vivo studies, AML cells harboring the FLT3-ITD+ mutation removed from newly diagnosed AML patients responded strongly to Vyxeos.
Historically, the FLT3-ITD+ mutation has led to poor patient outcomes, yet in this study, AML cells exhibiting FLT3-ITD were roughly five times more sensitive to Vyxeos than cells were with normal FLT3. Since roughly 24% of AML patients exhibit a FLT3 mutation and roughly 27% to 34% of those patients exhibit the FLT3-ITD mutation, this finding is incredibly intriguing because it could give cancer centers more confidence to embrace it, rather than 7+3, in this subset of patients.
Looking aheadCelator Pharmaceuticals hasn't filed for FDA approval of Vyxeos yet, but it hopes to do so in the third quarter, and if it sticks with that timeline, then the FDA fast-tracked Vyxeos could win the regulatory green light in the second quarter of 2017.Assuming that it does, Vyxeos' effectiveness in AML patients could allow it to quickly capture a meaningful share of the AML treatment market. Since estimates value this market at $900 million by 2020, capturing even one-third of itwould seem to justify a higher market cap for this company. For that reason, risk-tolerant investors might want to consider Celator Pharmaceuticals shares.
The article Celator Pharmaceuticals' Latest Data May Help Vyxeos Become Standard of Care originally appeared on Fool.com.
Todd Campbell has no position in any stocks mentioned. Todd owns E.B. Capital Markets, LLC. E.B. Capital's clients may have positions in the companies mentioned. The Motley Fool has no position in any of the stocks mentioned. Try any of our Foolish newsletter services free for 30 days. We Fools may not all hold the same opinions, but we all believe that considering a diverse range of insights makes us better investors. The Motley Fool has a disclosure policy.
Copyright 1995 - 2016 The Motley Fool, LLC. All rights reserved. The Motley Fool has a disclosure policy.