Cavium Inc.'s Thunder X2 Aims for Microsoft Corporation's Cloud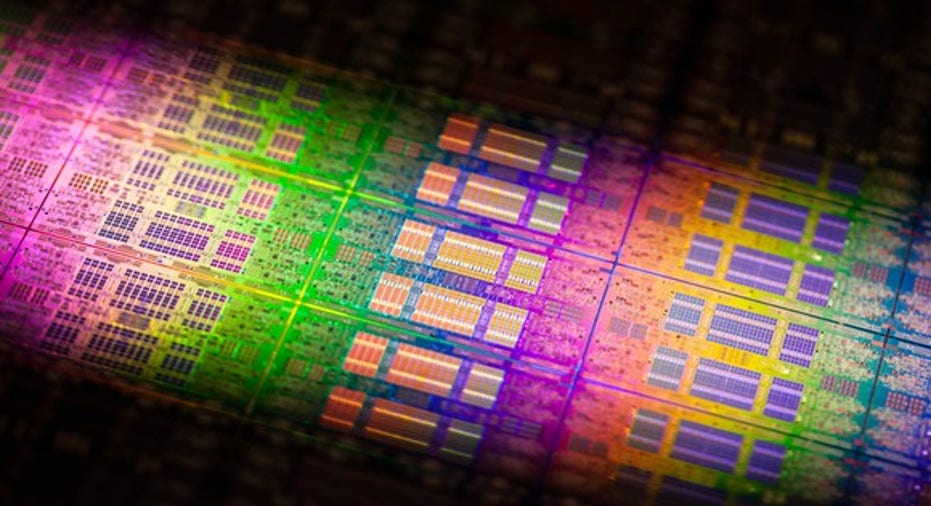 Data center chipmaker Cavium (NASDAQ: CAVM) announced on March 8 that it is "collaborating with Microsoft (NASDAQ: MSFT) on evaluating and enabling a variety of cloud workloads running on [its] flagship Thunder X2 ARMv8-A Data Center processor for the Microsoft Azure cloud platform."
The announcement goes on to say that Cavium and Microsoft are "demonstrating web services on a version of Windows Server developed for Microsoft's internal use running cloud services workloads on Thunder X2."
Image source: Intel.
This announcement is similar to one that fellow ARM-based server processor maker Qualcomm (NASDAQ: QCOM) made at the same time.
Let's take a closer look at what this announcement means for Cavium in the near term and potentially over the long term.
Near term? Probably not much
The wording of Cavium's press release appears carefully constructed to avoid giving the impression that Microsoft is planning to buy and deploy a bunch of Cavium's Thunder X2 chips in its data centers anytime soon.
Indeed, the phrases "evaluating and enabling" as well as the word "demonstrating" seem aways away from "planning to deploy in significant quantities."
So, in the near term, I don't expect the joint work that Microsoft and Cavium are doing to lead to significant revenue for Cavium anytime soon. The work that these two companies are doing is much more likely to lay the groundwork for Microsoft to be able to deploy potential successors to the Thunder X2 -- should those products meet Microsoft's needs for certain workloads.
Taking a longer-term view
At this point, it's starting to look as though Cavium and Qualcomm are the only two merchant ARM-based server processor vendors left in in the game (there are companies building chips for their own internal use like Huawei, for example).
Cavium's edge appears to be its heritage is as a data center/networking processor vendor (Qualcomm hails from a mobile processor background), but Qualcomm has significantly greater financial resources to try to slug it out with market incumbent Intel (NASDAQ: INTC).
It's likely not going to be easy for either company to wrest away significant market share from Intel to begin with (which invests more in data center-specific technologies and marketing than either Qualcomm or Cavium -- probably more than both combined), and that difficulty is compounded by the fact that Cavium and Qualcomm must compete against each other, too.
Success for ARM server chip vendors like Qualcomm and Cavium is, in general, not something that's guaranteed to come at all, and if it does come, it'll be hard won over multiple years after substantial investments in research and development, software/ecosystem enablement, and marketing efforts.
It's worth noting that on Cavium's most recent earnings call, CEO Syed Ali said that the company "expect[s] to release [its] next generation products" in 2017. Given that the company had previously said that it would begin sampling Thunder X2 in the beginning of 2017, I'd expect shipments for revenue to occur late in the year.
What investors need to keep an eye on, then, is what kind of revenue ramp Cavium ultimately begins to experience with Thunder X2 and the impact it starts having on the company's financials, independent of this announcement from Microsoft.
10 stocks we like better than Cavium NetworksWhen investing geniuses David and Tom Gardner have a stock tip, it can pay to listen. After all, the newsletter they have run for over a decade, Motley Fool Stock Advisor, has tripled the market.*
David and Tom just revealed what they believe are the 10 best stocks for investors to buy right now... and Cavium Networks wasn't one of them! That's right -- they think these 10 stocks are even better buys.
Click here to learn about these picks!
*Stock Advisor returns as of February 6, 2017
Teresa Kersten is an employee of LinkedIn and is a member of The Motley Fool's board of directors. LinkedIn is owned by Microsoft. Ashraf Eassa owns shares of Intel and Qualcomm. The Motley Fool owns shares of and recommends Qualcomm. The Motley Fool recommends Intel. The Motley Fool has a disclosure policy.