Carnival Stock Has a Lot to Prove on Tuesday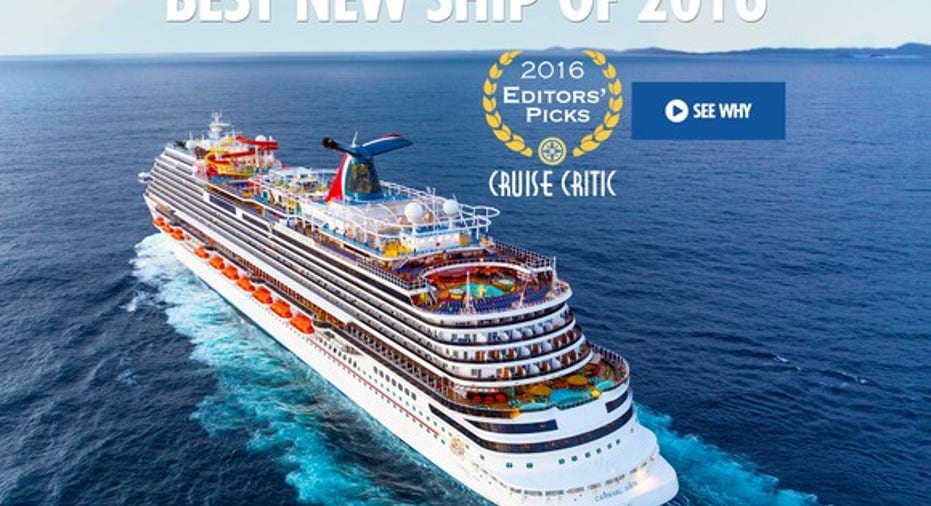 Carnival Corporation & plc (NYSE: CCL) (NYSE: CUK)shareholders have to be feeling pretty good these days. The stock hit yet another new high on Friday, and the stock is trading 13% higher so far in 2017.It's been smooth sailing so far this year, but the first big test comes on Tuesday morning when the world's largest cruise line operator reports financial results for its fiscal first quarter.
We know what Wall Street's expecting. Analysts see a profit of $0.35 a share during the holiday quarter, less than the $0.39 a share it posted a year earlier. They also see revenue climbing 3.5% to $3.78 billion.
The mixed showing that analysts are modeling is in line with its own guidance back in late December. Cumulative advance bookings for the first three fiscal quarters of 2017 were running ahead of the prior year and at higher price points. It would be a shock if Carnival's top line didn't inch higher in that environment.
A decline on the bottom line may seem harder to stomach, especially since adjusted earnings rose 26% in its previous third quarter on a modest 6% top-line advance. However, fuel costs are higher than they were a year earlier, and that's a big component in running the world's largest fleet of cruise ships. Currency fluctuations are also working against Carnival. Its late December guidance was calling for the uptick in fuel prices and changes in foreign currency rates to chop off $0.13 a share in earnings for its fiscal first quarter. If actual adjusted earnings drop by just $0.04 a share, it would still be pretty heady growth on an apples-to-apples basis.
Image source: Carnival.
Setting sail for a new port of call
William Blair analyst Sharon Zackfia upgraded the stock last week, taking her rating from market perform to outperform on Tuesday. She sees solid cruising trends in the Caribbean and strength in Europe and Alaska. She feels that Carnival will beat on the bottom line when it reports this week, raising its guidance for the entire fiscal year or narrowing it to the high end of its initial guidance range of earnings per share between $3.30 and $3.60 in fiscal 2017.
Zackfia boosted her estimate for Tuesday morning's report to $0.38 a share. Carnival's own guidance was only targeting adjusted net income of $0.31 to $0.35 a share. History is on her side. Carnival landed ahead of Wall Street's profit targets during every single quarter in fiscal 2016.
Outside of another potential earnings beat and updated guidance, it will be interesting to see what Carnival has to say about the new interactive technology it will start rolling out on its vessels this year.Carnival Ocean -- unveiled in January -- will outfit passengers with wearable devices that can enhance the overall cruising experience. As the world's top dog in the cruise industry, it's fitting that it should be Carnival to raise the bar in onboard tech. Now all it needs to do on Tuesday morning is raise the bar on expectations, too.
10 stocks we like better than CarnivalWhen investing geniuses David and Tom Gardner have a stock tip, it can pay to listen. After all, the newsletter they have run for over a decade, Motley Fool Stock Advisor, has tripled the market.*
David and Tom just revealed what they believe are the 10 best stocks for investors to buy right now... and Carnival wasn't one of them! That's right -- they think these 10 stocks are even better buys.
Click here to learn about these picks!
*Stock Advisor returns as of February 6, 2017
Rick Munarriz has no position in any stocks mentioned. The Motley Fool recommends Carnival. The Motley Fool has a disclosure policy.