Car Shoppers Shrug Off Brexit Volatility in June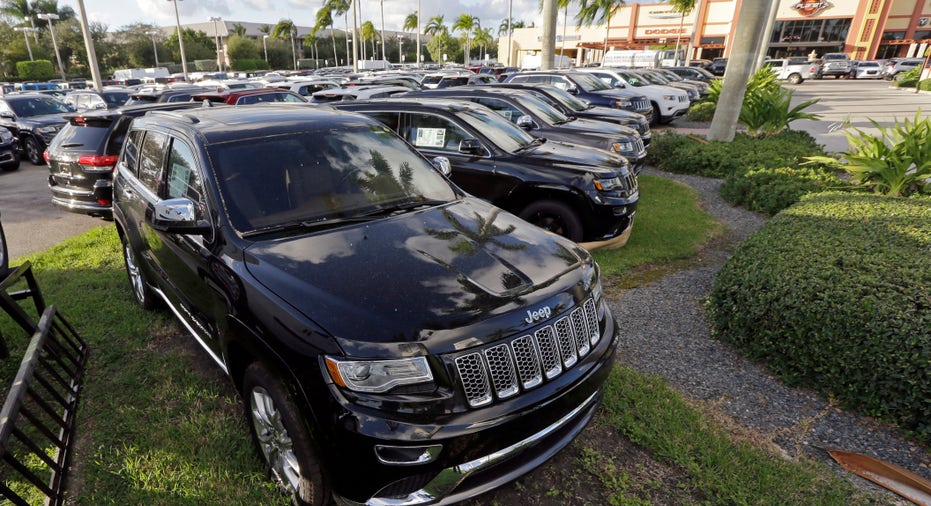 The stock-market turmoil fueled by the U.K.'s Brexit vote didn't dissuade car shoppers in June, as U.S. auto sales accelerated through the month's final days amid strong gains for trucks and sport-utility vehicles.
Following a lackluster May, Ford (NYSE:F) and Fiat Chrysler Automobiles (NYSE:FCAU) reported seeing an upswing in sales of SUVs and trucks, while General Motors' (NYSE:GM) sales dipped slightly overall. For the entire auto industry, Kelley Blue Book forecasted 5% growth compared to the same month last year, which would lift sales to a six-month total of 8.66 million units. That would reflect a 2% increase year-over-year and the highest first-half sales tally ever recorded.
Mark LaNeve, Ford's vice president of U.S. marketing, sales and service, said sales were especially strong during the final week of the month, at the same time that financial markets turned volatile after U.K. voters decided to exit the European Union. LaNeve, speaking during a conference call Friday, suggested the trend is a positive sign for consumer demand moving forward.
Fiat Chrysler, whose sales rose 7% in June, indicated that buyers were unfazed by the hit to their investment portfolios early this week.
"In spite of some severe stock market volatility in June, the American consumer stayed focused on buying new vehicles and propelled FCA to six vehicle sales records last month," said Reid Bigland, senior vice president of sales for FCA North America.
The last few days of June were pretty strong for GM as well, a spokesperson for the company told FOXBusiness.com.
The rate of new-vehicle sales in the U.S. has slowed a bit this year, but automakers still expect to beat the annual sales record of 17.5 million set in 2015. Most of the catalysts for auto sales remain in place, as cheap gasoline prices and low interest rates encourage Americans to upgrade. June sales helped turn the page from weak results in May, a month in which results were skewed by a shorter sales calendar. Analysts at Kelley Blue Book were projecting the best June volume since 2005.
Ford's June sales were up 6.4%, wrapping up a blockbuster month for its truck lineup. F-Series sales climbed 24% to 70,937, and the F-150 alone increased 40%. The company said the average selling price for all F-Series trucks was $42,800. Meanwhile, Ford and Lincoln SUVs combined for a 7.3% gain and set a new all-time high for the first six months of the year. Growth in truck and SUV volume offset weakness in car sales, which fell 12.1%.
Jeep booked its 33rd straight month of year-over-year sales growth with a 17% surge in June. Between Jeep and a 14% sales increase for Ram, Fiat Chrysler said it recorded its best June sales in 11 years. The most popular Jeep SUV was the Wrangler, while the soon-to-retire Compass model had the largest sales increase.
Like Ford, Fiat Chrysler saw declines across its portfolio of passenger cars. Chrysler sales were down 20%, although the brand delivered 7,207 of the new Pacifica minivans.
GM sales dropped 1.6%, the third consecutive month of negative sales. However, GM is aggressively cutting its sales to rental companies, a less-profitable business. June rental deliveries fell 22%. Meanwhile, GM's retail deliveries—or sales to individual consumers—edged 1.2% higher.
GM reported stronger sales of certain SUVs and crossovers, including the Chevrolet Tahoe, Chevrolet Suburban, Buick Encore and Cadillac Escalade. On the truck side, GM's hot-selling midsize pickups, the Chevrolet Colorado and GMC Canyon, logged sales growth of 37% combined. Sales of the Chevrolet Silverado and GMC Sierra full-size trucks decreased 3.7% and 7.8%, respectively.
Honda (NYSE:HMC) said its best-ever June sales of trucks and SUVs contributed to a 3.2% improvement in total sales. Toyota (NYSE:TM) reported June sales that fell 5.6%.