Capital One Quarterly Profit Gets Boost From Deposits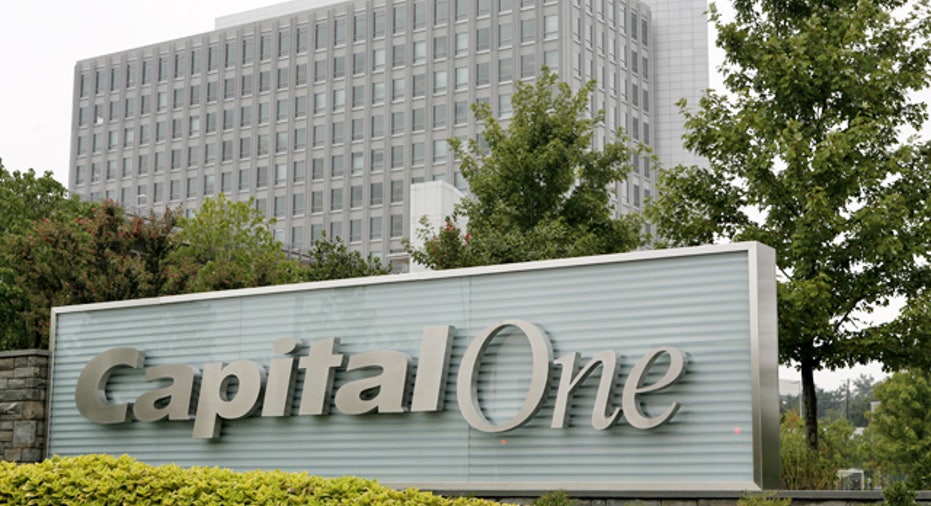 Shares of Capital One (NYSE:COF) climbed nearly 5% Thursday morning after the card lender revealed a stronger first-quarter profit, lifted by an improving credit environment and higher deposits.
The McLean, Va.-based company posted net income of $1.02 billion, or $2.21 a share, compared with $636 million, or $1.58 a share, in the same quarter last year, trumping average analyst estimates polled by Thomson Reuters of $1.55 a share.
Revenue for the bank holding company was $4.1 billion, up 3% from $4.3 billion a year ago, beating the Street's view of $3.88 billion. Net interest income climbed 3.9% to $3.14 billion from $3.23 billion in the year-earlier period, with average total deposits up 2% to $124.2 billion.
"We are gaining momentum across our businesses, and the period of shrinking loans through the Great Recession came to an end in the first quarter," Capital One CEO Richard Fairbank said in a statement. "Our solid first quarter results and our strong and resilient balance sheet put us in a good position to continue to generate capital and deliver strong and sustainable returns to our shareholders."
Cushioning the results was a 1.41% drop in cost of funds, driven by the mix shift toward lower-cost deposits, and a $305 million decrease in provision expenses, partially offset by a 3.4% increase in non-interest expense to $2.2 billion.
In a sign the economy is improving, net charge-offs as a percentage of average loans were only 3.66% compared with 6.02% in the first-quarter of 2010. Domestic card purchase volumes were up 13.8% during the period.