Canada May Be Readying to Fully Legalize Marijuana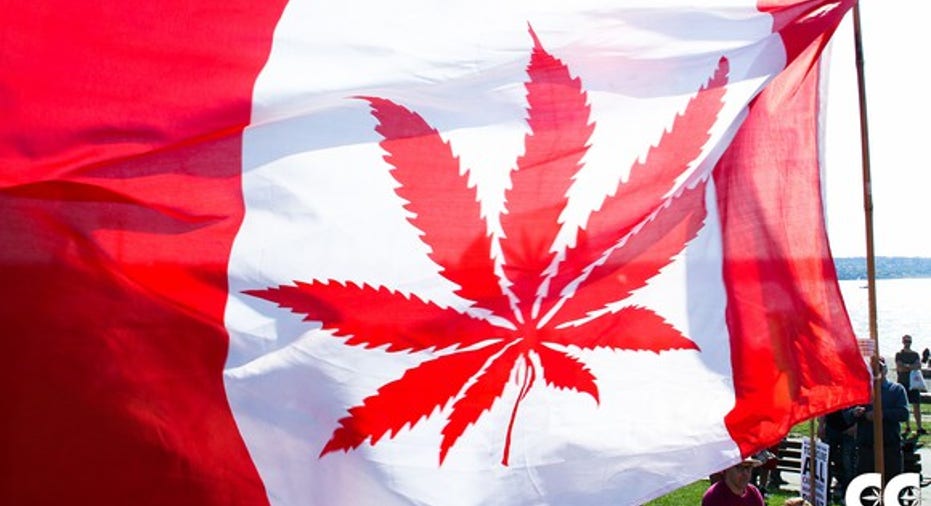 Image source: Getty Images.
The growth prospects for the U.S. marijuana industry are phenomenal. Investment company Cowen & Co. anticipates that today's $6 billion in legal sales could turn into $50 billion in legal sales by 2026, while cannabis research ArcView has suggested that compound annual growth for the industry could average about 30% through 2020.
The impetus behind this rapid growth is the dramatic shift in public opinion toward marijuana. National pollster Gallup has shown that in roughly two decades, support for nationwide legalization has jumped from just 25% to an all-time high of 60%.
We've also witnessed a number of states getting behind the idea of regulating the drug in an effort to boost taxable revenue. California, which is one of the eight states out of nine where residents approved a marijuana initiative or amendment in the November elections, stands to see another $1 billion-plus in tax revenue generated annually from the legalization of recreational pot.
Despite this whirlwind expansion, the U.S Drug Enforcement Agency remains firmly entrenched in its view of cannabis as a schedule 1, and therefore illegal, substance. In August, the DEA announced a ruling to two petitions that sought to reschedule, or deschedule, weed. The DEA, with the aid of a recommendation from the Department of Health and Human Services, declined to alter marijuana's federal scheduling on account of there being little known about the medical benefits and safety of the drug. While its expansion continues at the state level, cannabis' federal advancements have been seemingly slower than molasses in winter.
For our neighbor to the north, though, that isn't the case.
Image source: Cannabis Culture via Flickr.
Canada may be on the precipice of legalizing cannabis
Last week, the Task Force on Marijuana Legalization and Regulation in Canada announced that it had completed its five-month research project and plans to submit a report in both English and French to government regulators by mid-December. The report involved getting roughly 30,000 responses to an online questionnaire, meeting with the individual territorial and provincial governments, interviewing cannabis experts, visiting with patients already on medical cannabis, and even heading to Colorado and Washington to see how their recreational pot industries were being regulated. This report could very well determine if Canada becomes the second country worldwide (Uruguay being the first) to legalize marijuana.
The idea of regulating marijuana within a controlled marketplace would not only be a tax revenue generator for Canada, it would also be a substantial cost-saving maneuver. According to the Canadian federal government, the marijuana black market is estimated at $5.3 billion in annual sales, while regulating the black market costs $1.7 billion annually. Presumably, legalizing marijuana would stomp out a good portion of underground pot sales, and it would likely reduce the regulatory costs spent on enforcement.
Initial estimates from analysts suggest that there could be 3.8 million recreational weed users across Canada by 2021 demanding approximately 1.27 million pounds of product per year. All told, this would work out to a $4.5 billion legal industry by 2021. If approved in 2017 by Canada's federal government, sales of recreational marijuana would be expected to commence sometime in 2018.
Regardless of what Canada does as a whole, Ottawa, the capital city of Canada, has made its intentions known that it plans to present a recreational marijuana measure in the spring of 2017 with the intent of legalizing the drug.
The U.S. remains pot's path to prosperity (and also its biggest thorn)
On one hand, legalizing cannabis in Canada would create a new and relatively easypathway for legal pot businesses to earn extra money. Although we don't know what the scope of the regulations could entail, $4.5 billion in sales by 2021 is nothing to overlook.
Image source: Getty Images.
However, in the grand scheme of things, a $4.5 billion legal marijuana industry in Canada is still a drop in the bucket compared to what could be a $50 billion industry in the United States by 2026 if the laws surrounding marijuana are altered in favor of legalization. Unfortunately, change in the U.S. at the federal level could still be a long time coming.
One of the biggest issues for the U.S. government is that the DEA is unlikely to change its stance anytime soon. In somewhat of a catch-22, the DEA denies there are medical benefits to cannabis and admits there are no Food and Drug Administration-approved clinical studies to reference. However, keeping the drug as an illicit substance keeps researchers from completing these clinical studies and giving the DEA evidence that may otherwise cause it to reverse its long-standing position on marijuana. Given its recent ruling, it's unlikely the DEA will revisit the idea of rescheduling marijuana for at least a few years.
Rep. Jeff Sessions (R-Al.). Image source: Jeff Sessions Senate website.
There's also concern that President-elect Donald Trump's Attorney General appointee, Jeff Sessions (R-Al.), could clamp down on the freedoms marijuana businesses have enjoyed in legal states. Sessions is a well-known opponent of marijuana's legalization, and were it not for Trump's support of medical marijuana and his expected hands-off approach to legal states, Sessions would likely seek to reestablish federal precedence (i.e., that marijuana is illegal). As long as Sessions is the Attorney General, the likelihood of any federal progress is minimal for cannabis or cannabis-based businesses.
Even if Trump gets his way and medical weed is legalized nationally, the marijuana industry's opportunities could still be limited. Rescheduling marijuana to schedule 2 would open the door for strict regulation by the FDA. Aside from controlling the marketing, packaging, growing, and processing of pot, the FDA could also mandate that tightly regulated clinical trials need to be run to determine the medical benefit of marijuana for select ailments. These added regulatory expenses could cripple the industry -- or at least the smaller businesses within it.
While there remains plenty to cheer about if you support the legalization effort, there still doesn't appear to be a viable pathway as of yet for investors to take part in the industry's growth.
A secret billion-dollar stock opportunity The world's biggest tech company forgot to show you something, but a few Wall Street analysts and the Fool didn't miss a beat: There's a small company that's powering their brand-new gadgets and the coming revolution in technology. And we think its stock price has nearly unlimited room to run for early-in-the-know investors! To be one of them, just click here.
Sean Williamshas no material interest in any companies mentioned in this article. You can follow him on CAPS under the screen nameTMFUltraLong, and check him out on Twitter, where he goes by the handle@TMFUltraLong.
The Motley Fool has no position in any of the stocks mentioned. Try any of our Foolish newsletter servicesfree for 30 days. We Fools may not all hold the same opinions, but we all believe thatconsidering a diverse range of insightsmakes us better investors. The Motley Fool has adisclosure policy.