Canada Goose IPO: What Investors Need to Know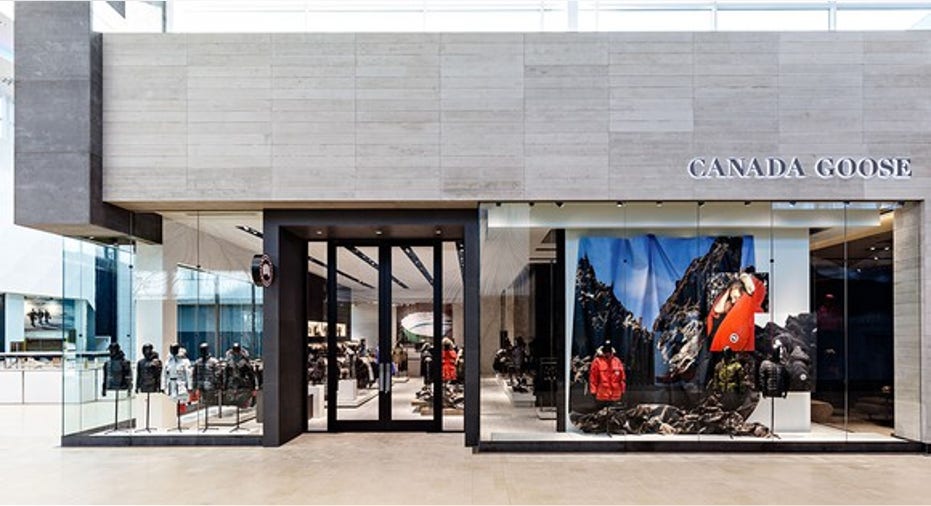 In what has to be considered a model case of coincidental timing in the IPO world, winter coat specialistCanada Goose Holdings is about to make its stock market debut on the tail of a snowstorm. It's hoping investor sentiment is kinder than the weather; the issue aims to raise gross proceeds of at least 280 million Canadian dollars ($208 million). The Wall Street Journal reported Tuesday that a person familiar with the matter had said Canada Goose would price its IPO Wednesday afternoon and that shares were expected to start trading in Canada and on the NYSE under the symbol GOOS.
Here's a closer look at the particulars.
Warming up to the market
Known for its down-stuffed coats for men, women, and children, Canada Goose generally concentrates on that form of apparel, with a handful of offerings in the accessories category.
Founded in 1957, it established itself as a maker of such goods as vests, raincoats, and snowmobile suits. Over the past few years, it's gone upscale in the hunt for a more well-heeled clientele. These days, its heavy coats retail from $725 to $1,500 in the U.S., and can be bought at a selection of upper-tier retailers that includeMacy's (NYSE: M) Bloomingdales, Nordstrom (NYSE: JWN), and Saks Fifth Avenue.
IMAGE SOURCE: CANADA GOOSE HOLDINGS.
For most of its existence, it's been a family business. Dani Reiss, the grandson of the company's founder, has been CEO since 2001. The family is in the minority these days, however, as it sold the bulk of the company to Bain Capital in 2013 for an undisclosed amount. Bain will retain a controlling stake in Canada Goose after the IPO, with almost 70% of total shareholder voting power.
The company was a modest presence in its niche until 2013. That year, popular model Kate Upton was featured wearing one of its coats on the cover of Sports Illustrated's annual swimsuit Issue. That produced invaluable publicity for the company, and since then, its wares have been worn by numerous celebrities.
Canada Goose has been doing well lately, posting a 33% year-over-year gain in revenue (to nearly CA$291 million, or $216 million) in its most recent fiscal year. Its adjusted net profit came in at just over CA$30.1 million ($22.4 million), well up from the CA$21.4 million ($15.9 million) of the previous year.
However its debt load is burdensome; it stood at over CA$278 million ($206 million) at the end of last year.
Competition and potential
Canada Goose isn't the only game in town for high-end outerwear. The competition is fairly scattered, however, so the segment doesn't have a dominant player.
VF Corporation's (NYSE: VFC) North Face is a rival, but the brand is part of a disparate collection of product lines. Italy based luxury outerwear specialistMonclercan be considered a more direct competitor, yet it derives only around 17% of its revenue from the Americas, where Canada Goose gets the majority of its revenue.
Both companies, like Canada Goose, have luxury retailer net margins (higher-end clothiers tend to be more profitable). VF Corporation's over the past few years has held more or less steady at around 10%. VF Corporation has about two dozen brands, including Lee, Timberland, and Wrangler. Moncler is averaging nearly twice that figure, while Canada Goose's has hovered a bit under the 10% mark.
I think the Canadian company has a fine chance to raise its number, while boosting its top and bottom lines. It's managed to grow revenue at very encouraging rates, both in the U.S. and the rest of the world. The compound annual growth rate from fiscal 2014 to 2016 was almost 76% in the U.S. market and 42% outside of North America (Canada, by contrast, rose by just under 15% across that span of time).
Both of those markets, it seems to me, still have plenty of momentum given the brand's increasing visibility and growing popularity. The Canada Goose products on the shelves of Macy's Bloomingdales, and Nordstrom help give the company a good presence in the U.S.
Meanwhile, in the IPO prospectus, Canada Goose writes about its desire to "strengthen and expand our geographic footprint." It's a North American company with strong branding and quality product lines, a mix that is very appealing in both emerging economies and more mature markets abroad.
I think this will be an attractive stock, even if those margins aren't (yet) at the level of rivals such as VF Corporation or Moncler. A relatively high debt level is a concern as well, but if Canada Goose keeps expanding at the rate it's been going, it should be able to put a nice dent in it before too long.
The details
Twenty million shares of Canada Goose are expected to be sold in the company's IPO. The IPO price range is CA$14 to CA$16 ($10.39 to $11.87) per share.
It should be noted that the issue consists entirely of subordinate voting shares -- these confer one vote per share, in contrast to "multiple" shares, which carry 10 votes.
Slightly over 12 million shares are being sold by Bain Capital, with the remainder being unloaded by the company. Canada Goose said it will use its approximately $100 million in proceeds to retire debt. It does not intend to pay a dividend.
10 stocks we like better thanWal-MartWhen investing geniuses David and TomGardner have a stock tip, it can pay to listen. After all, the newsletter theyhave run for over a decade, the Motley Fool Stock Advisor, has tripled the market.*
David and Tomjust revealed what they believe are theten best stocksfor investors to buy right now... and Wal-Mart wasn't one of them! That's right -- theythink these 10 stocks are even better buys.
Click hereto learn about these picks!
*StockAdvisor returns as of March 6, 2017The author(s) may have a position in any stocks mentioned.
Eric Volkman has no position in any stocks mentioned. The Motley Fool has no position in any of the stocks mentioned. The Motley Fool has a disclosure policy.