Can Zoe's Kitchen Stock Bounce Back From Last Week's 15% Drop?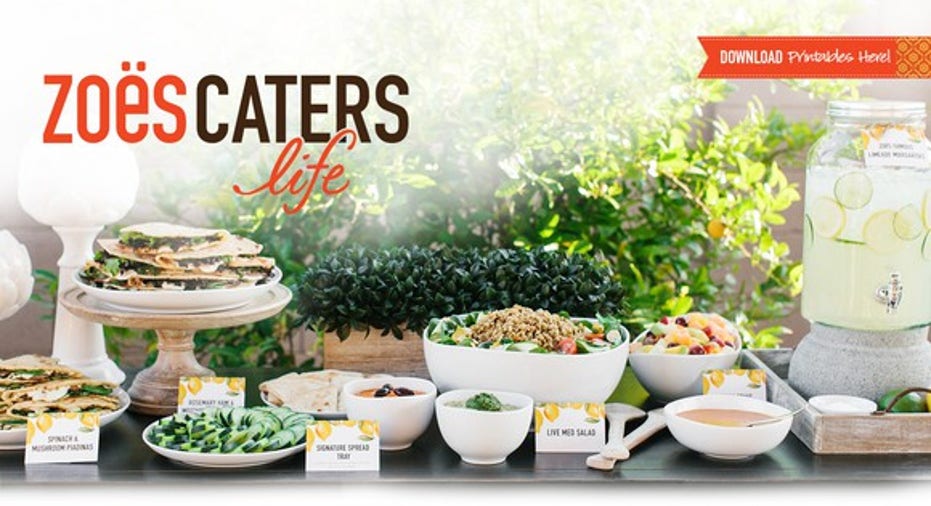 Image source: Zoe's Kitchen.
Share's ofZoe's Kitchen (NYSE: ZOES)dropped 14.98% last week, closing in on October's all-time low of $20.20. There was no company-specific news breaking on the week, and no major analysts had anything new to say about the growing chain of fast-casual restaurants specializing in Mediterranean cuisine.
The one material event that did happen was Zoe's Kitchen presenting at the annual ICR XChange conference, but there were no bombshells dropped at the presentation. Zoe's has a good story to tell, and it typically serves the stock well when it has a chance to tell its tale to the investing community.
Zoe's Kitchen is expanding quickly, using a "hub and spoke" approach where it fleshes out regional territories to cash in on synergies before moving on to new turf. This has limited Zoe's Kitchen presence to the south and southeastern states, but it has proven to be a successful concept in most of its expansion markets. Zoe's Kitchen points out that its 20 best-performing locations are scattered across eight different states.
Consumers are digging Zoe's Kitchen, with a streak of positive comps dating all the way back to 2009. Zoe's Kitchen has a distinctive clientele in that 78% of its customers are female. The healthy and differentiated menu helps it stand out. The chain's eat-in business accounts for just 53% of its orders, as nearly half of its customers prefer to take their meals with them. Lunch accounts for 60% of its sales.
Getting things to heat up again in the Kitchen
Folks don't tire of Zoe's Kitchen. The chain has modeled its average unit volume to grow from $1.3 million in an eatery's first year to $1.5 million by the third year. With margins expanding in the process, the cash-on-cash return should grow from 16% to 19% in the first year to 30% by the third year. That's the model. Reality has been far kinder, with average unit volumes topping $1.7 million by the third year with a 47% cash-on-cash annual return on its initial $825,000 investment.
These are the kind of metrics that would normally get the market behind you, but Zoe's Kitchen had the misfortune of delivering decelerating growth and lowering its sales guidance twice during the latter half of 2016. Comps remain positive, but the 2.4% uptick in its most recent quarter is the chain's worst showing during its streak of positive same-restaurant sales.
The stock took a 14% hit last year, and is trading 9% lower so far in 2017 after last week's decline. Restaurant stocks initially popped higher on Donald Trump's election -- on the sentiment that lower corporate tax rates and a reluctance to raise wages would help the industry's bottom line -- but that mindset took a breather last week, with many popular eateries' stocks retreating.
Zoe's Kitchen remains a unique player in the fast-casual category that has fallen out of favor, but it can avoid back-to-back years of negative stock returns if it turns things around. Living up to its sales guidance, accelerating comps growth, and beating Wall Street's profit targets after merely meeting expectations in its two most recent quarters are three ways to win back the faith of the investing community. Last week's presentation was encouraging despite the stock's slide. Now it's time for Zoe's Kitchen to live up to the presentation.
10 stocks we like better than Zoe's Kitchen When investing geniuses David and Tom Gardner have a stock tip, it can pay to listen. After all, the newsletter they have run for over a decade, Motley Fool Stock Advisor, has tripled the market.*
David and Tom just revealed what they believe are the 10 best stocks for investors to buy right now... and Zoe's Kitchen wasn't one of them! That's right -- they think these 10 stocks are even better buys.
Click here to learn about these picks!
*Stock Advisor returns as of January 4, 2017
Rick Munarriz owns shares of Zoe's Kitchen. The Motley Fool owns shares of and recommends Zoe's Kitchen. The Motley Fool has a disclosure policy.