Can You Guess Which Company Just Made the World's First 3D-Printed Running Shoe?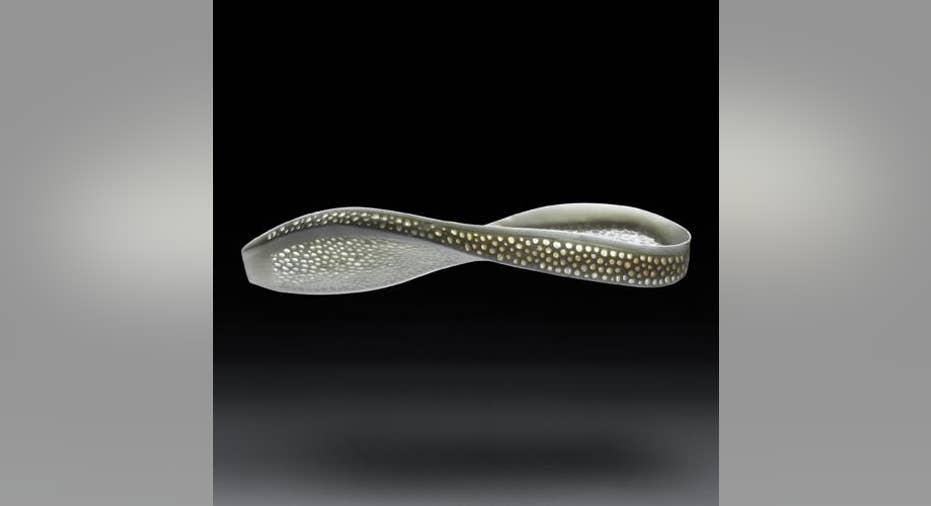 Image source: New Balance.
If you guessed Nike or Adidas was the first company with plans to launch a 3D-printed running shoe, you'd get an "A" for thought process. After all, they're the global giants in the athletic shoe industry, and both recently announced plans to rev up their 3D-printing initiatives.
However, you'd be wrong, as the two goliaths were beaten by smaller, privately held, Boston-based New Balance in the race to 3D-print a customized midsole for a running shoe. And unless Nike and Adidas move into sprint modes, New Balance will also be the first to commercially launch such a shoe.
Here's what you should know:
New Balance's impressive feat
Image source: New Balance.
New Balance, working in an exclusive collaboration with 3D Systems , 3D printed an elastomeric material into a honeycomb-like structure to form a customized midsole of a running shoe. The material used was 3D Systems' newly developed elastomeric powder, DuraForm Flex TPU, which was 3D-printed using the company's selective laser sintering (SLS) 3D-printing technology. Elastomers are polymers that are light and flexible, yet strong.
The midsole was designed based on underfoot pressure data from where the runner's foot strikes the surface, with more cushioning elements in areas of higher-than-average pressure. As one might expect, this project involved collaboration among experts in various fields. "To deliver this level of performance with a 3D-printed component, we paired experts in running and biomechanics with leaders in plastics engineering, material development and generative design," said Sean Murphy, New Balance senior manager of innovation and engineering, in the press release.
New Balance's limited edition 3D-printed running shoe will launch first in Boston in April 2016 -- no doubt to coincide with the Boston Marathon -- and then in select New Balance retail locations around the world. Thecompany reportedly plans to roll out customized versions in 2017, though no details were provided as to the logistics of customizing shoes for the general public. The 3D-printed running shoes will also be on display at the 3D Systems booth at the 2016 Consumer Electronics Show (CES) in January.
Nike;s and Adidas' 3D-printed shoe plansNike and Adidas, along with New Balance, have been increasingly embracing 3D printing for prototyping and have more recently used the innovative technology to make extremely limited edition, customized spikes for athletic shoes. In October, however, Nike and Adidas both announced tentative plans to significantly step up their use of 3D printing to produce customized athletic shoes for the general consumer market.
Adidas' Futurecraft concept. Image source: Adidas.
Adidas in October unveiled Futurecraft 3D, its concept for producing a running shoe with a 3D-printed midsole customized to provide the right fit and cushioning for a consumer's foot. Belgium-based Materialise is Adidas' 3D-printing partner in Futurecraft. This concept involves customers having their feet scanned at an Adidas store to produce a digital 3D model, and running on a treadmill to gather data on stride, foot strike, etc. The model and data would then be used to produce a customized 3D-printed midsole that could then be included in any Adidas shoe.
Nike's announcement was less specific. At its investors day in October, the Oregon-based behemoth implied that 3D-printed customized cushioning systems -- or midsoles -- for athletic shoes were on the company's near-to-intermediate horizon. Said Chief Operating Officer Eric Sprunk: "Very recently, we've made a series of design and manufacturing discoveries with 3D printing that we believe will allow us to deliver a completely new, personal, performance cushioning system."
It's likely, in my opinion, that we'll learn that Nike is partnering with Carbon3D, a well-funded 3D printing start-up that plans to bring to market a 3D printer in 2016. Carbon3D's Continuous Liquid Interface Production (CLIP) technology is reportedly super-speedy and excels at producing objects made of elastomers. The Silicon Valley-based company announced last spring that its early access partners include an unnamed athletic apparel company. It seems probable that it's Nike, as surely Carbon3D would approach the No. 1 player in the industry before its competitors. And it's hard to imagine the innovative Nike turning down the offer to be among the first to test ride a seemingly game-changing new technology that could advance its revenue and profit game.
Of course, there's always the possibility that the unnamed athletic apparel company could be another company, such as fast-growing, relative newcomer Under Armour .
3D printing athletic-shoe profitsIt seems probable that within a few years 3D-printed athletic shoes will be a major new product class. Nike, Adidas, and New Balance have made significant advances in this realm, with more surely on the near-term horizon.
3D-printed shoes should help the athletic shoe companies not only increase revenue but also increase profit margins because these customized shoes will surely be priced at a premium. While New Balance is privately held, investors looking to profit from the 3D-printed athletic shoe trend can invest in the stocks of Nike and Adidas, both of which have been on a tear in 2015. Year to date, Adidas and Nike's total returns of 45% and 35%, respectively, are pulverizing the S&P 500's 1.3% return.
The article Can You Guess Which Company Just Made the World's First 3D-Printed Running Shoe? originally appeared on Fool.com.
Beth McKenna has no position in any stocks mentioned, though feels some pride that "her" running shoe company notched asignificantfirst. TheMotley Fool owns shares of and recommends NKE and UA. The Motley Fool recommends 3D Systems. Try any of our Foolish newsletter services free for 30 days. We Fools may not all hold the same opinions, but we all believe that considering a diverse range of insights makes us better investors. The Motley Fool has a disclosure policy.
Copyright 1995 - 2015 The Motley Fool, LLC. All rights reserved. The Motley Fool has a disclosure policy.