Can You Guess the Hottest Girls' Toy This Christmas?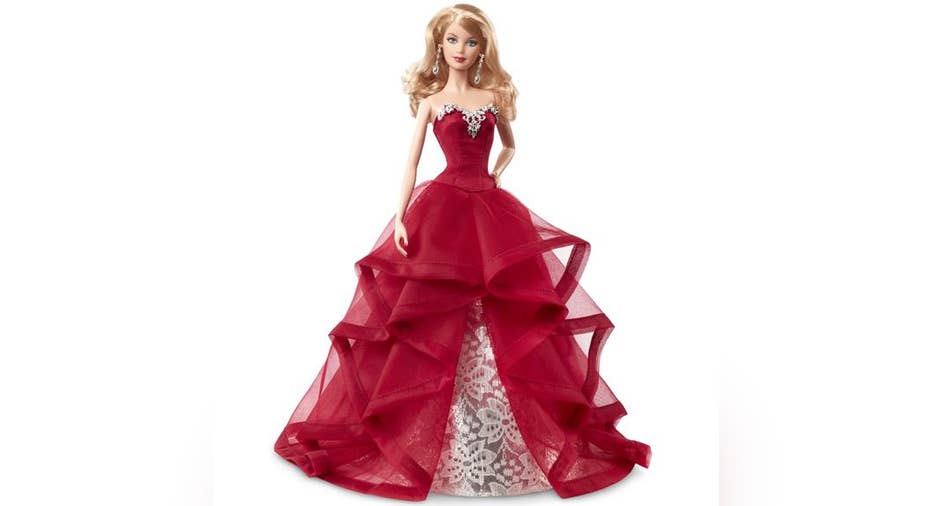 The Frozen family of characters is still in high demand despite the movie's release over two years ago. Image: Disney
After 11 years as the reigning queen of girls' toys, Mattel's Barbie doll was knocked off its pedestal last year by the sisters Anna and Elsa from the mammoth Disney movie sensation,Frozen.
The animated film broke all sorts of box office records when it burst onto movie screens in November 2013, quickly becoming the highest grossing animated film of all time with almost $1.3 billion in worldwide receipts, which also made it the eighth highest grossing movie of all time as well. So it wasn't a surprise that when it came to must-have toys for Christmas, it would also be able to take down the diva of dolls. Last year, some 20% of all parents said they would be buying Frozen toys, while less than 17% were putting Barbie under the tree.
And now, two years later, Anna, Elsa, Olaf, and the rest of the cast of Frozen still command the attention of children everywhere. According to the National Retail Federation's Holiday Top Toys Survey, more than one in 10 parents say they still plan on buying Disney's ice princesses for their own little princesses this Christmas.
The survey is conducted for the retail industry trade group by Prosper Insights & Analytics, which asks holiday shoppers who have already compiled their naughty and nice lists what toys they plan to buy. Some 13% of those responding said Frozen was at the top of their list. While that's down substantially from last year, it shows the staying power the franchise has, although that was only good enough for second place this year.
Barbie is the reigning queen of girls' toys once again, as parents chose the iconic doll over all other toys as the must-have gift in 2015. Image: Mattel
Regaining her title as the top toy for girls was the 50-year old Barbie, which was chosen by over 21% of the survey respondents. According to the NRF, this was the breakdown of the top five must-have toys for 2015:
Barbie 21%
Frozen 13%
Dolls (generic) 10.2%
Monster High 5.6%
American Girl 3.5%
That has to come as a welcome reprieve for Mattel, which has a stake in all five of those categories, just as it did last year. Still, the company reported that during the third quarter, even absent unfavorable currency exchange, sales of those properties were down across the board.
Barbie merchandise fell 4% globally year-over-year and was down 8% in North America. Year-to-date, sales of the iconic doll are down 6% to $578 million. Sales of Monster High goods were also down 17% in the quarter and was the leading cause of the 20% drop in its Other Girls segment sales. American Girl brand sales were down 2% absent the impact of foreign exchange rates.
Of course, Mattel's new worry is that rival Hasbro will climb the toy list next year to surpass it. Disney will be working with Hasbro as the exclusive developer of dolls based on Frozen characters in 2016. Hasbro will have the global rights to develop dolls based on Frozen and other Princess characters, including Cinderella, Belle, and Ariel.
The National Retail Federation has estimated Christmas sales will grow 3.7% this year, and retailers have been hyping big promotions for the holidays to get consumers out and spending. While Black Friday sales fell this year to $12.1 billion, retailers have extended the shopping event well into Thanksgiving day. Indeed, Amazon.combegan running its "Black Friday" promotion a week in advance, and it moved up the start of so-called Cyber Monday sales to Saturday.
That's not to suggest consumers aren't being cautious, but this year, it may truly require waiting for the accounting to be done the day after Christmas to determine how the season went. Mattel and Barbie, though, seem to have one plastic leg up on the competition.
The article Can You Guess the Hottest Girls' Toy This Christmas? originally appeared on Fool.com.
Rich Duprey has no position in any stocks mentioned. The Motley Fool owns shares of and recommends Amazon.com, Hasbro, and Walt Disney. Try any of our Foolish newsletter services free for 30 days. We Fools may not all hold the same opinions, but we all believe that considering a diverse range of insights makes us better investors. The Motley Fool has a disclosure policy.
Copyright 1995 - 2015 The Motley Fool, LLC. All rights reserved. The Motley Fool has a disclosure policy.