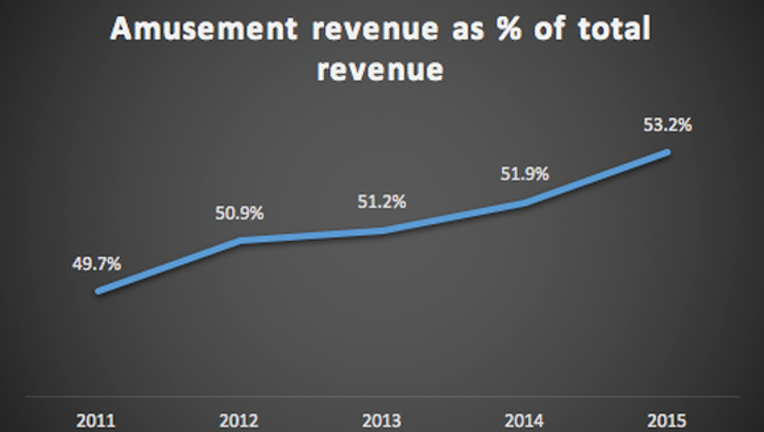 Image source: Dave and Buster's.
It has been an interesting year for restaurant stocks. Chipotle Mexican Grill , which was once a Wall Street darling, is down 31% over the past year thanks in part to a food-safety situation. Meanwhile, McDonald's, which was left for dead at the beginning of 2015, is up about 30% during the same time period thanks in part to the popularity of all-day breakfast.
McDonald's has more than 35,000 restaurants worldwide and Chipotle is growing its location count by more than 200 restaurants per year, with about 2,000 open now. When it comes to headlines, these two companies tend to dominate. However, the best-performing restaurant stock over the past year -- Dave and Buster's Entertainment Inc. stock claims the title with a 38% jump over the past 52 weeks -- has only 84 locations and plans to increase its store count by just nine to 10 restaurants in 2016.
"Eat, Drink, Play, and Watch" is the tag line for Dave and Buster's Entertainment Inc. Each of Dave and Buster's locations offers full bar service and a typical chain restaurant menu that includes its own twist on salads, burgers, pasta, steak, and seafood. Where Dave and Buster's seeks to differentiate itself is combining the "Eat, Drink" portion of its motto with "Play, and Watch."
Dave and Buster's is frequently called aChuck E. Cheese's for adults. The average Dave and Buster's offers over 150 redemption and simulation games. Whether you are trying to relive your childhood with a game of Pac-Man or attempting to get enough tickets to win your date a giant teddy bear, Dave and Buster's has you covered. In addition to games, a standard Dave and Buster's location will have 40 televisions, including 100-plus-inch high-definition sets.
A strategy of offering fun to its customers has trickled down to reward shareholders. With 38% returns over the past year, and a 10% jump in stock price after its latest earnings report last week, shareholders have plenty to cheer about. Let's take a closer look at what Dave and Buster's is doing right.
High profit margins
It's no secret in the restaurant business that alcohol carries high profit margins. With its sports bar atmosphere, Dave and Buster's has been able to take full advantage of this. However, even more profitable than beer and cocktails are video games.
Over the last 12 months, Dave and Buster's has been able to achieve 74% margins on its food and beverages. Meanwhile, amusement margins over the past year came in at an impressive 88%. For 2015, Dave & Buster's said amusement and other revenues accounted for 53.2% of total revenue, while food and non-alcoholic drinks accounted for 31.6% and alcoholic beverages accounted for 15.2%.
Data source: Company filings.
With more than half of its revenue coming from highly profitable sources outside food and beverages, Dave and Buster's has been able to crush the competition in both gross and operating margins.
| Company | Gross Profit Margin (TTM) | Operating Profit Margin (TTM) |
| --- | --- | --- |
| Dave and Buster's | 29.28% | 12.86% |
| Buffalo Wild Wings Inc | 22.96% | 7.56% |
| Darden Restaurants Inc | 22.28% | 8.51% |
| BJ's Restaurants Inc | 20.17% | 7.19% |
Data source: S&P Global Market Intelligence.
Building on momentum
After its first-quarter earnings call on June 7, shares in Dave and Buster's shot up 10% the next day. Highlights of the quarter included:
Comparable same-store sales increase of 3.6%
Operating income increase of 19.5%
Net income increase of 59.5%
In other good news, management increased its guidance for the remainder of the year in several key operating metrics.
| Metric | Updated Annual Guidance | Prior Annual Guidance |
| --- | --- | --- |
| Total revenue | $983 million to $985 million | $967 million to $987 million |
| Comparable-store sales increase | 3.25% to 4.25% | 2% to 4% |
| Net income | $80 million to $85 million | $74 million to $80 million |
Data source: Company filings.
Additionally, the Board of Directors approved a $100 million authorization to repurchase shares through the end of fiscal year 2018.
By the end of the fiscal year, which ends Jan. 31, 2017, management expects to have about 90 restaurants across 33 states. That is still less than half of its overall long-term plan of more than 200 restaurants in North America. If the company can execute on that goal while continuing to deliver strong profitability, Dave and Buster's may be able to extend its lead as the best-performing restaurant stock.
The article Can You Guess the Best-Performing Restaurant Stock Over the Past Year? originally appeared on Fool.com.
Palbir Nijjar has no position in any stocks mentioned. The Motley Fool owns shares of and recommends Buffalo Wild Wings and Chipotle Mexican Grill. The Motley Fool recommends BJ's Restaurants and Dave & Buster's Entertainment. Try any of our Foolish newsletter services free for 30 days. We Fools may not all hold the same opinions, but we all believe that considering a diverse range of insights makes us better investors. The Motley Fool has a disclosure policy.
Copyright 1995 - 2016 The Motley Fool, LLC. All rights reserved. The Motley Fool has a disclosure policy.