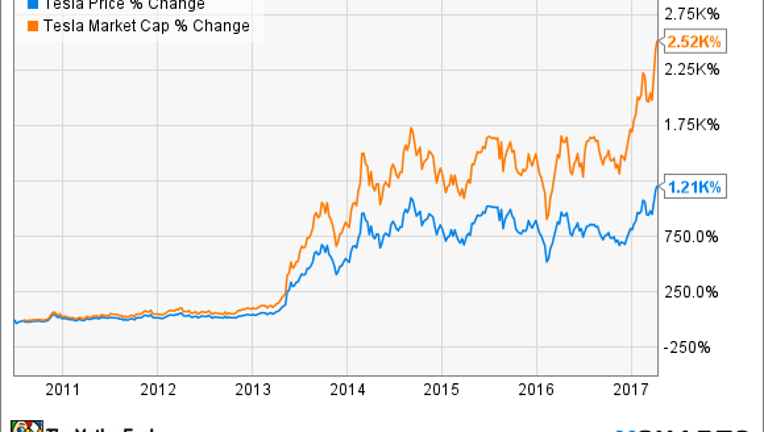 There are so many reasons to like Tesla, Inc. (NASDAQ: TSLA). Over the long term, the cost advantage of recharging a vehicle compared to purchasing gasoline is significant, and with instant torque, electric vehicles like the Model S are changing the way we view EVs -- the Model S is arguably closer to a Lamborghini than to an electric golf cart. Tesla's CEO, Elon Musk, is also well known for dreaming up the Hyperloop and creating reusable rockets. What other company leader can boast those things?
But there are also reasons to dislike Tesla, and the chief concern at the moment is simply its eye-popping and mind-boggling valuation.
Just the numbers
In fairness, it's difficult to compare Tesla's valuation metrics with that of other automakers because the companies are wildly different and at different stages of growth. Still, the numbers are ridiculous. Tesla's price-to-book and price-to-sales ratios check in at 10.4 and 6.2, respectively. Meanwhile, Ford Motor Company's (NYSE: F) price-to-book and price-to-sales are 1.5 and 0.3; General Motors' (NYSE: GM)are a similar 1.2 and 0.3. Tesla's market capitalization has skyrocketed into the stratosphere to eclipse Ford's at $44 billion, and is currently matching General Motors' near $51 billion -- that's insanity.
The classic retort that Tesla is valued on its future potential is growing a little tiresome. It's as if Tesla is being valued on its potential to sell millions of cars and make profits -- while Detroit automakers that are already achieving that annually and are also investing in EVs are being rewarded with a paltry price-to-earnings ratio of 6. For context, even though it's a tough comparison, if Tesla manages to reach its forward earnings estimates, per Morningstar.com, its forward price-to-earnings is a staggering 160. In other words, Tesla is largely being valued on its ability to become in large part what Wall Street refuses to buy into today.
Tesla's Model 3. Image source: Tesla, Inc.
Other factors to consider
With Tesla's rich valuation, jumping on board now is loaded with risks, as the future has to play out precisely according to plan for investors to get any material value over the next decade. Alex Scherer, director of research for The Motley Fool's investing services, put it perfectly back in September:
Not only does the rich valuation make it more difficult to generate return on investment down the road, but Tesla also has a history of diluting shareholders. Since 2013, Tesla's shares outstanding have increased rapidly, from around 115 million to 163 million, and the dilution has created a noticeable difference in value. Dilution is more of a concern because an increasing stock price is the only way Tesla can return value, since it doesn't dish out a dividend. As Tesla dilutes its shareholders, the gap between the company's growth and the stock price growth can be seen in the graph below. It's necessary to note Tesla's most recent capital raise, however, had less dilution than past capital raises; we'll see if that's a new trend or a one time development.
Of course, nobody would sneeze at a 1,210% gain, and Tesla has thus far been a wild success for most investors -- unless you're short the stock. There's a lot to like about Tesla, and nobody could be blamed for enjoying the ride if you bought in years ago. However, at these insane valuations, starting a position in Tesla now carries a load of uncertainty, and a slower-than-anticipated mass adoption of EVs, execution hiccups, executive turnover, excessive dilution, or a lack of capital could bring this valuation back down to earth pretty quickly.
10 stocks we like better than TeslaWhen investing geniuses David and Tom Gardner have a stock tip, it can pay to listen. After all, the newsletter they have run for over a decade, Motley Fool Stock Advisor, has tripled the market.*
David and Tom just revealed what they believe are the 10 best stocks for investors to buy right now... and Tesla wasn't one of them! That's right -- they think these 10 stocks are even better buys.
Click here to learn about these picks!
*Stock Advisor returns as of April 3, 2017
Daniel Miller owns shares of Ford and General Motors. The Motley Fool owns shares of and recommends Ford and Tesla. The Motley Fool has a disclosure policy.