Can Vonage Keep Going After Last Week's 17% Pop?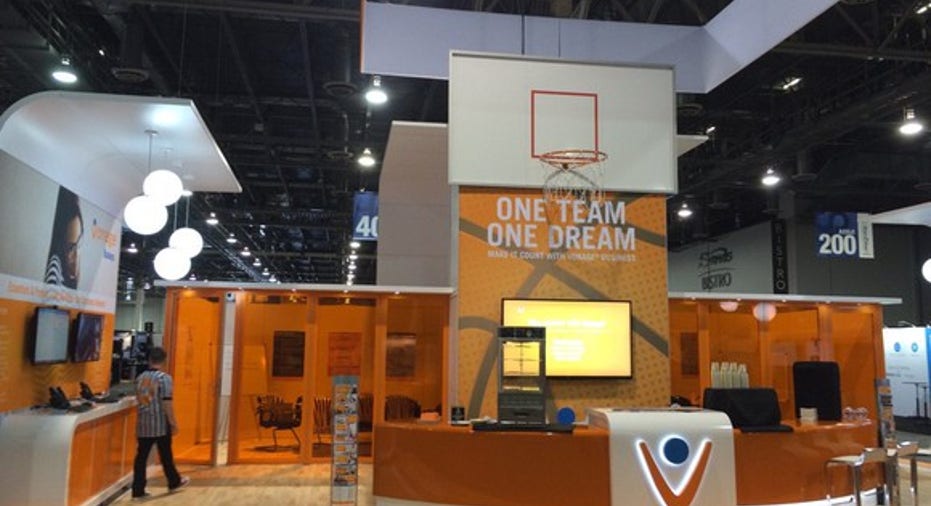 Image source: Vonage.
Shares of Vonage moved sharply higher last week, soaring 17% after a timely analyst upgrade. Citigroup analyst Michael Rollins upgraded the stock -- from Neutral to Buy -- on the strength of its internet-based communications platform for businesses.
Rollins is also boosting his price target from $4.75 to $8, a bold step up that suggests that there's 47% of upside even after last week's pop.
Citi's analyst sees value in the stock as it grows its business revenue and harvests its consumer-facing operations, generating gobs of free cash flow along the way.
Vonage's recent financial performance may not impress right away. Revenue of $227 million in this year's first quarter was only marginally ahead of the $220 million it scored a year earlier. Vonage's operating profit of $19 million was flat. However, adjusted EBITDA rose 11% to $42 million, Vonage's best performance in five years.
It's important to break out the success of Vonage Business within the ho-hum top-line showing. Vonage Business clocked in at $74 million. That may be less than a third of its revenue, but that segment grew at a 76% clip. Growth there is masking the 14% year-over-year slide in revenue for its original consumer services. Vonage's enterprise business pipeline continues to grow as more companies embrace Vonage's cloud-based solutions.
Getting it right the last time
Vonage has had a rough run, dating back to its flop of an IPO. Vonage went public a decade ago at $17. It was a tough time to go public, with the market fearing how Vonage's namesake platform would fare as major telcos and cable providers jumped into the niche. Within a couple of days, the stock had fallen into the pre-teens. Within weeks, it was in the single digits, and that's where it has remained over the past decade.
The IPO made headlines for all of the wrong reasons, largely becauseitsaved some of the freshly minted shares for its customers. Many customers refused to pay for the stock after the offering became a busted IPO, and Vonage made the unsavory move of having to go after its own accounts.
Sentiment is starting to improve these days, even if the stock hasn't poked its head out of the single digits since 10 summers ago. The stock has beaten the market for three consecutive years, soaring 41%, 14%, and 51% in 2013, 2014, and 2015, respectively.
Along the way, Vonage continues to pad its patent portfolio. Its recent Nexmo acquisition will help it grow its fast-growing cloud communication offerings, a move that will render its business-facing operations that much more of a difference maker in the future. Vonage has quietly transformed itself into a market darling over the past few years, and Citi's move is a welcome and just acknowledgment.
The article Can Vonage Keep Going After Last Week's 17% Pop? originally appeared on Fool.com.
Rick Munarriz has no position in any stocks mentioned. The Motley Fool has no position in any of the stocks mentioned. Try any of our Foolish newsletter services free for 30 days. We Fools may not all hold the same opinions, but we all believe that considering a diverse range of insights makes us better investors. The Motley Fool has a disclosure policy.
Copyright 1995 - 2016 The Motley Fool, LLC. All rights reserved. The Motley Fool has a disclosure policy.