Can Time Warner Save Its Justice League by Copying Disney's Avengers?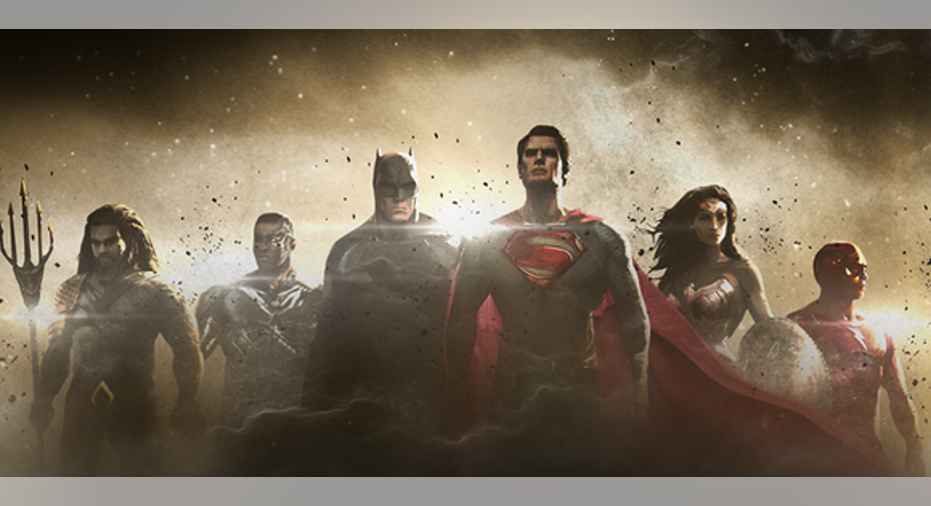 Image source: Time Warner.
Time Warner is taking the wraps off its 2017 Justice Leaguefilm in an effort to wash away some of the bad taste left by Batman v Superman. From an early look at the project,there are two main takeaways.
First, Justice Leaguewill now be a stand-alone movie, and no longer the first installment in a two-partseries filmed back-to-back. Second, while less explicitly acknowledged by the project's production crew, the movie will be closer in line with the tone of Disney's Avengersfilms.
The big shifts are efforts by Warner to salvage its DC Extended Universe franchise, which presumably has dropped to nine films planned for release through 2020, now thatJustice League: Part Twois no longer part of the plan.
The changes seem like a good idea following the dour and disappointing Batman v Superman, but theproject still has big obstacles to overcome, and a more direct attempt at replicating the Marvel Cinematic Universe is far from a surefire formula for success.
The Dark Knight develops a sense of humor
Now that Warner has entered the promotional stage for its November 2017Justice League film, the production unit is eager to make clear that the film will be a big departure fromBatman v Superman. The company recently showcased an early scene featuring Barry Allen (the plainclothes alter ego of the Flash) talking with Bruce Wayne, and the early promo features the type of witty banter and meta-comedy that has come to define Disney's MCU.
On how his character will have changed inJustice League,Batman actor Ben Affleck has stated that the character will demonstrate"a little bit more sardonic humor, a little more irony." In other words, he will be more like an MCU character, and Zack Snyder's comments that the Flash and Cyborg will help bring in younger audiences and inject more fun into the picture indicate that other superheroes in the DCEU will follow suit.
Change of superplans
Early in Warner's plans to launch an Extended Universe, following its 2013Superman filmMan of Steelwith a semi-sequel featuring Batman and other Justice League members, the company made clear that it was not interested in copying Disney's MCU. Of course, the basic idea of building an extended movie universe around DC Comics characters was heavily influenced by the success of theAvengersmodel, but those close to the project repeatedly stated that the DCEU would not follow the lighthearted, joke-heavyroute established by Disney's hit franchise.
This sounded good in theory, and it would have been great ifBatman v Supermanlanded as a success and established a workable tonal template for the rest of the franchise, but the movie was something of a disaster with regards to establishing likable characters and building the world for a franchise of connected films.B v S exploded out of the gate with a $420 million international opening weekend, still the best global opening of 2016, but the film sputtered out after failing to connect with audiences and generating poor word of mouth.
With a production and marketing budget somewhere in the neighborhood of $400 million and the world's most recognizable superheroes to drive interest, the film's roughly $870 million in worldwide ticket sales did not live up to its potential.
For comparison, Captain America: Civil Warrecently crossed $400 million in American ticket sales and has done roughly $1.15 billion at the global box office. Perhaps even more importantly, the film was highly regarded, and will function as yet another favorable springboard for future MCU releases.
Warner is scrambling to save the Universe
The trimming ofJustice Leaguefrom a two-parter to a stand-alone feature and the move to adopt a lighter, more comedic tone indicate that Warner is shifting away from Zack Snyder's vision for the DCEU, but damage to the franchise has already been done.Justice League faces considerable pressure in righting what went wrong withMan of SteelandBatman v Superman, and big production changes indicate that the film will not have the careful planning which has benefited the MCU.
In fact, much of the DC Extended Universe seems to be in flux. Big changes for Justice Leaguesignal some manner of shake-up for Warner'sWonder Woman, which is set for a June 2017 release date. Additionally, the company'sThe Flashfilm recently underwent a change of director following irreconcilable creative differences, and in recent monthsrumors that Aquamancould lose its director have also surfaced.
The superhero race is high-stakes
With huge budgets involved, and the benefits that a successful, overarching superhero franchise could deliver for Warner's film, network, and video game businesses, failing to get the DCEU working could add up to a multibillion-dollar missed opportunity for the company.
The 13 films in Disney's Marvel Cinematic Universe have generated an average of $10.2 billion in unadjusted global ticket sales, making the MCU one of the most successful film franchises ever. The series' incredible box-office power didn't come together overnight, and it wasn't overly dependent on the popularity of Iron Man, Captain America, and other characters.
Ironically, Batman is famous with comic book fans for his use of planning and prep time to overcome near-impossible odds. Warner's DC film universe, however, has the appearance of a rush job.
The article Can Time Warner Save Its Justice League by Copying Disney's Avengers? originally appeared on Fool.com.
Keith Noonan has no position in any stocks mentioned. The Motley Fool owns shares of and recommends Time Warner and Walt Disney. Try any of our Foolish newsletter services free for 30 days. We Fools may not all hold the same opinions, but we all believe that considering a diverse range of insights makes us better investors. The Motley Fool has a disclosure policy.
Copyright 1995 - 2016 The Motley Fool, LLC. All rights reserved. The Motley Fool has a disclosure policy.