Can This Military Drone Company Go Commercial?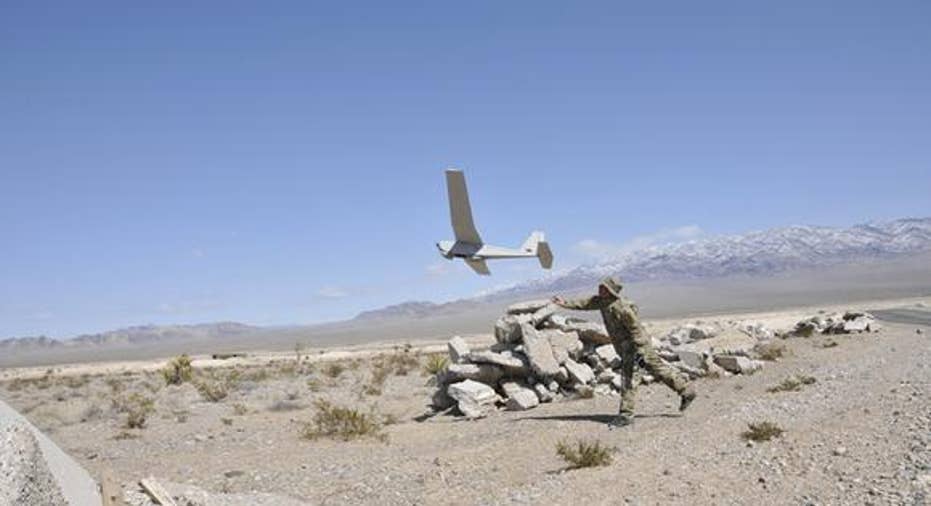 Media attention on drones today tends to revolve around companies thatmightsomeday use drones forsomething. Though companies likeAmazon, Google, and GoPro have been talking about it for a long time, there's so far been very little action when it comes to putting drones in consumers' hands or delivering packages with drones.
The story is different for AeroVironment , which has quietly become the U.S. military's largest small drone supplier and has built a very large business building drones that are already in use. And its recent earnings report shows that a bright future could be ahead for the company.
Image source: AeroVironment.
How drones lifted AeroVironment's fortunes AeroVironment recently reported a 23% increase in fiscal second-quarter revenue to $64.7 million, dominated by the Unmanned Aircraft Systems (UAS) segment, also known as drones. UAS sales increased from $43.0 million a year ago to $56.6 million, and bookings for the quarter hit $66 million.
A vast majority of this demand was for military drones, which have become popular as the U.S. moves away from putting boots on the ground in military operations. Drones can perform surveillance or even missile strikes with AeroVironment's Switchblade kamikaze drone.
But the near-term results are really a baseline from which AeroVironment hopes to build its future growth. And that's where the questions about the company begin.
AeroVironment is trying to turn its military drones into commercial ones. Image source: AeroVironment.
What AeroVironment sees next Growth in existing products is great, but military demand for drones ebbs and flows with operations on the ground. For AeroVironment to be a truly revolutionary company -- and a big hit for investors -- it has to execute on emerging growth opportunities. And that's a little more uncertain than even bullish investors would like to see right now.
The commercial drone market is the most visible of those growth opportunities. AeroVironment has been working with 10 potential commercial customers on "nearly 20" different applications drones can be used for. This includes mapping for oil drilling and field monitoring in agriculture, where the company is essentially trying to prove out a business model for customers. In the next year or two, that's its biggest potential growth market, and with all the testing, there are at least some signs of traction.
But we don't know how big the commercial UAS market will be for AeroVironment, and management has said investments in developing and launching commercial UAS "could offset the operating profit that we would otherwise generate from the revenue and the gross profit we expect to produce this year." In other words, management is going to spend any profit today on an unknown opportunity in the future.
This might be the right strategy, but execution on other long-term investments hasn't worked out well. After being involved in the first two phases, AeroVironment wasn't chosen for phase 3 of the DARPA TERN program -- a program that could be worth $4.4 billion, according to fellow Fool Rich Smith.
The Global Observer platform was essentially abandoned by the Pentagon and a number of potential agency partners, so AeroVironment went about development alone. It was supposed to be a high-altitude drone with market potential for surveillance and a number of other applications. Now, management simply says, "We have yet to translate our large UAS developments to adoption and deployment of production businesses."
That's not exactly a ringing endorsement of one of the company's biggest potential growth opportunities.
To buy or not to buy? Right now, AeroVironment is performing well as the military expands drone usage and Switchblade sales grow. For investors, however, the company's future comes down to the potential in commercial drones and high-altitude drones, which AeroVironment has spent years developing. According to market research company Radiant Insights,the commercial drone market alone could be worth $4.8 billion worldwide by 2021,so I think the potential is there.
What shouldn't be overlooked is the missed investment opportunities in just the last few years alone with TERN and Global Observer. Is management making the same mistake by eating up potential profit today to try to develop these unknown opportunities for the future? Or is it about to enter a phase of massive growth as it leverages its established drone business to enter commercial markets?
I'm still long AeroVironment, if nothing else because it's one of only a few companies with hundreds of millions in drone revenue today. That provides a head start over the competition, but it's no guarantee the company can execute effectively on its growth projects. There's upside potential, but as an investor, I'm looking at this stock skeptically and am ready to abandon AeroVironment if it can't show progress with commercial drones in the next few quarters.
The article Can This Military Drone Company Go Commercial? originally appeared on Fool.com.
Travis Hoium owns shares of AeroVironment and GoPro. Suzanne Frey, an executive at Alphabet, is a member of The Motley Fool's board of directors.The Motley Fool owns shares of and recommends Alphabet (A and C shares), Amazon.com, and GoPro. The Motley Fool recommends AeroVironment. Try any of our Foolish newsletter services free for 30 days. We Fools may not all hold the same opinions, but we all believe that considering a diverse range of insights makes us better investors. The Motley Fool has a disclosure policy.
Copyright 1995 - 2015 The Motley Fool, LLC. All rights reserved. The Motley Fool has a disclosure policy.